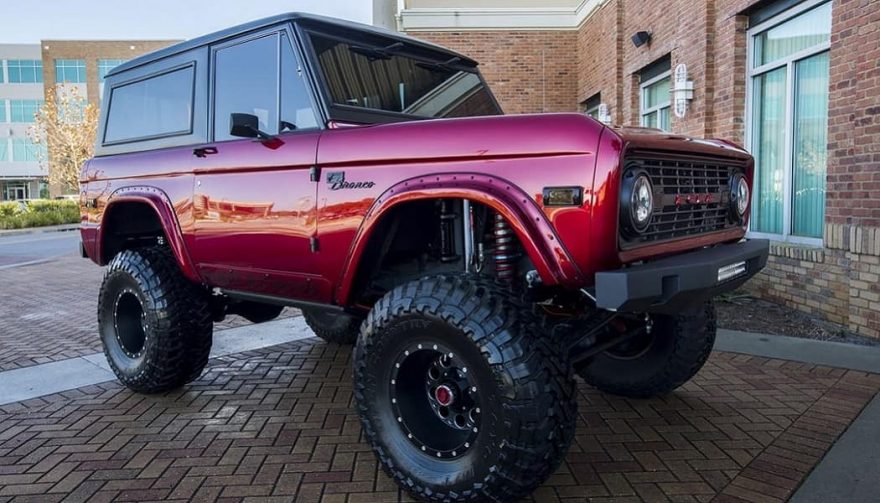 Velocity Restoration gave this 1976 Ford Bronco a complete resto-mod
Completely Custom '76 Ford Bronco Resto-Mod Is Eye "Kandy"
Maybe this 1976 Ford Bronco can tide you over until the new Bronco comes out.
Ford let it slip that a 2020 Ford Bronco is in the cards. Its return will have throwback styling cues paying homage to the early Ford Bronco model. But why would you wait for 2020 when you could have an absolutely stunning 1976 Ford Bronco today?
Completely restored from top to bottom, this is the 1976 Ford Bronco "Kandy." It's a one-of-a-kind masterpiece, combining the best of the Bronco's former glory with a few finer modern technologies.
Velocity Restorations out of Pensacola, Florida, specializes in early-model Ford Bronco restorations. That's where Kandy comes from, having spent months being stripped down, repaired, reinforced, re-assembled and dressed up. The restoration professionals left no aspect of this beauty go neglected.
Most of all it's important to note that Velocity Restorations performed all the work absolutely in-house. Fabrication, upholstery, welding, bodywork, electrical, paint, wheels, suspension, powertrain – it didn't leave the shop for anything.
What's So Special About Kandy?
At its heart, this 1976 Ford Bronco holds a brand new Coyote 5.0-liter crate engine, spinning up 345 horsepower. A 4R70W transmission and 2-speed Atlas transfer case are mated to it, rounding out a bullet-proof powertrain.
Seems like this is more than a slight improvement from the stock 302 V8 engine putting out a "whopping" 190 horsepower.
If you've got a thing for off-roading, Kandy can hang. Lifted 5.5 inches, supported by Fox coilovers, and resting on a redone steering and suspension system with extended radius arms, Kandy isn't just eye-candy – she's extremely capable.
Then there's the wheels. Toyo Open Country M/T 35-inch tires on gorgeous black wheels. In the front, the red manual locking hubs have been painted red. These little extra details are what Velocity Restorations is known for.
The Devil in the Details
This Kandy Red paint job is the visible completion of the project, but what's underneath is important too. The 1976 Ford Bronco was a complete frame-off restoration, and everything received the same attention to detail.
A matte-black grille, hardtop, and blacked-out side mirrors and marker lights add to the attitude. An LED light bar is inset into the front bumper, as are LED fog lights. The round headlights aren't your typical sealed-beam assembly, they're also LED for both high- and low-beam operation.
Notice those fender flare rivets? Each one is meticulously spaced because, well, why would you skimp on accuracy once you're in this deep?
But because it's a resto-mod, some things won't change. Those exposed door hinges, the classic "Bronco" badging on the sides, and the push-button mechanical door handles had to stay.
View on One Page