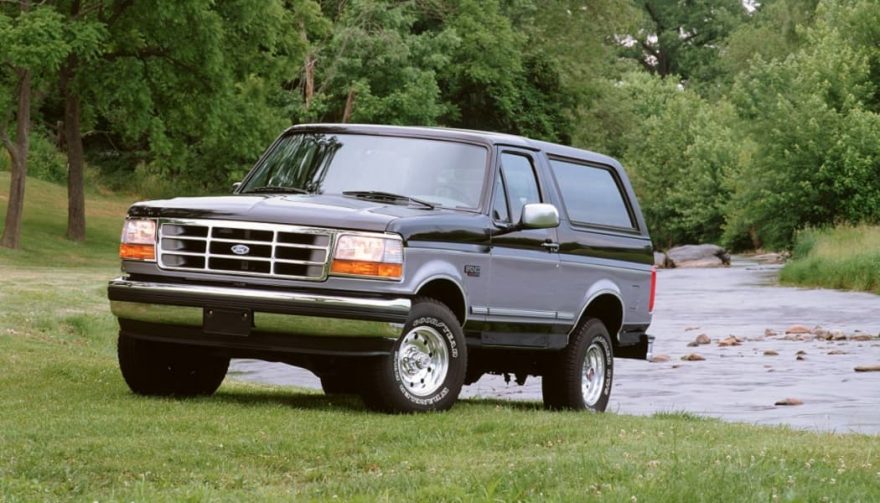 If the new Ford Bronco is to succeed, it will need to have trail chops
Could the New Ford Bronco Run with Jeep Wranglers?
Rumors have been running wild about the revival of a new Ford Bronco. Rumors are the grease that make the automotive industry run, so I took all of that with a grain of salt. Then last year a union chairman let it slip that the Bronco was indeed returning.
Now, Ford's confirmed the Bronco will once more rumble down American streets. Speculation has been rampant about what the new iteration of the classic SUV will be like. Everyone seems to have a theory about the new Ford Bronco, with all kinds of renderings flying around.
It's not too far-fetched to say Ford wants to bring the Bronco back so it can take on the Jeep Wrangler. After all, Jeep has been surging, and the Blue Oval likely wants a slice of that pie.
But taking on the Wrangler won't be easy. Just look at other off-roaders that have come and gone after failing to capture enough sales year after year. The Toyota FJ Cruiser is one recent example, with the Nissan Xterra being another good one.
How can the Ford Bronco be successful where so many others have failed? There are a few points the new SUV must hit for it to even have a shot.
Trail Chops
To say the Wrangler is an off-road champ is stating the obvious. Even among Jeeps, it's special. After all, each current Wrangler model is Trail Rated. To earn that badge, Jeep models must go through a rigorous test, so it's a big deal.
The Bronco can't be some plush crossover with limited trail abilities, like the Grand Cherokee Summit. This isn't a style contest, really. Substance is king here, because let's face it: the Wrangler isn't really about looks.
Supposedly, the Bronco will have two solid axles, which is a wise move. They're supposed to be Dana Spicer axles, as divulged by Dana in an investor call.
The assumption is that with two solid axles, the Bronco not only will be a body-on-frame vehicle, it will have a ladder frame like the Wrangler.
If this isn't true, the Bronco won't be successful at unseating the Wrangler from its perch. It's critical that Ford gets this right, because many hardcore off-road enthusiasts swear by this setup.
Just because Dana is supplying the axles doesn't necessarily mean the Bronco will have solid axles in the front and rear. Dana does make independent suspensions, so we'll see what actually goes into the Bronco.
Some people are speculating the Bronco will have an independent front suspension, plus either a leaf-spring or coil-suspended setup in the rear. That would coincide with the Ranger, which will share a platform with the SUV.
While those setups would be great for on-road comfort, they're inferior for rugged trail conditions.
Also, Ford needs to pay close attention to approach, departure and breakover angles. Fording depth is another important item, plus crawl ratio. Jeep enthusiasts won't even give the new Ford Bronco a second look if it doesn't measure up in these key metrics.
Open Air Experience
Let's face it, one of the best features from the Wrangler is the ability to have an open-air experience. Take off the roof and doors, and you get to feel the wind whistle all around you. No other vehicle on the market duplicates this feeling.
This is an area where Ford needs to concentrate. If you ask me, this was a major shortcoming of the FJ Cruiser. While it might not be practical to have a removable top and doors like on the Wrangler, the creative engineers at Ford need to figure out something that does work.
Get this item wrong, and the new Ford Bronco could fizzle in a hurry.
Four Doors
You might think of two-door Wranglers as the trail monsters, but four-door Unlimited models rule. Over three quarters of Wranglers sold these days have front and rear doors. It's just more practical.
Even though Wranglers handle like crap on pavement, people drive them to and from work every day. Having a weekend-only SUV is too expensive. If there are four doors and good backseat space, it's easier to justify getting a Wrangler.