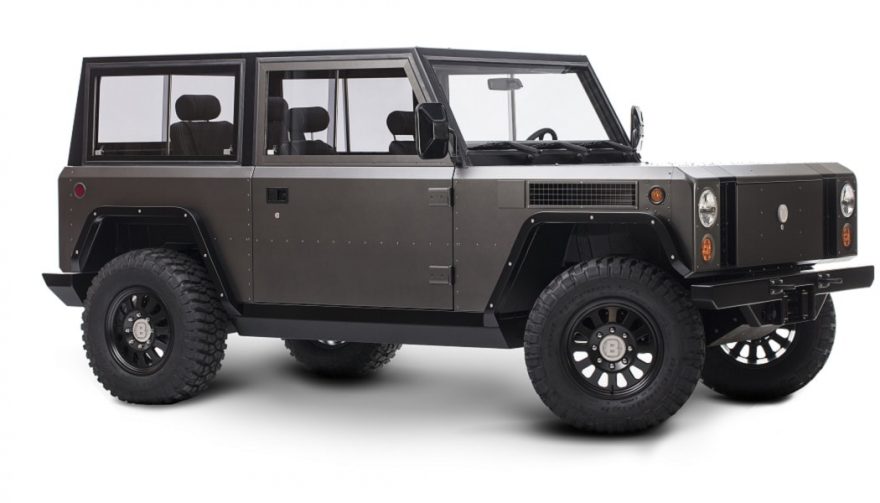 The spartan Bollinger B1 electric truck
Bollinger Motors Unveils All-Electric Sport Utility Truck
Hobart, New York – Bollinger Motors has unveiled its all-electric sport utility truck. The Bollinger B1 is a stripped down, no-nonsense vehicle with serious off-roading credentials.
"We are so thrilled to be able to finally take the wraps off of our Bollinger B1 SUT," said Bollinger Motor founder and CEO Robert Bollinger. "This is the culmination of what has been a 40-year-long boyhood dream of mine, and I couldn't be more pleased with the vehicle and the incredible team who worked so hard to create it."
Bollinger B1 Performance
The Bollinger B1 has some impressive performance statistics. It employs a dual-motor powertrain configuration using front- and rear-mounted synchronous electric motors driving all four wheels.
Along with a 0-60 time of just 4.5 seconds, the motor is capable of 360 horsepower and 472 lb-ft of torque. What's more, the top speed clocks in at 127 mph. The B1 tips the scales at 3,900 pounds, so it has a 10.8 power-to-weight ratio. Payload capacity is an impressive 6,100 pounds.
You May Also Enjoy:
Bollinger Motors Introduces B2 Electric Pickup Truck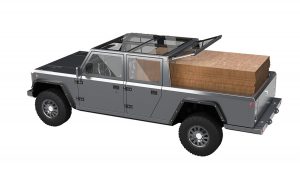 The production Bollinger B1 will be available in two lithium battery pack options: 60 kWh or 100 kWh. They are capable of a 120-mile or 200-mile range respectively.
Serious Off-Roading Potential
The B1's all-aluminum chassis with high-strength, low-alloy steel rollover structure is designed for optimal off-road performance. It's got a 15.5-inch ground clearance with a 56 degree approach angle, 53 degree departure angle and 33 degree break over angle.
The Bollinger B1 uses an adjustable hydro-pneumatic suspension with 10-inches of wheel travel.
"Because the entire drivetrain and battery storage system is located between the chassis rails, the B1 has abundant and unique storage areas and a very low center of gravity providing for unsurpassed stability," said lead engineer Karl Hacken.
"The hydraulically assisted steering rack was designed in-house. So it allows us the ability to fine tune the driving dynamics to our exact specifications."
Can You Get One?
The future of a production Bollinger B1 is a little cloudy. Bollinger Motors doesn't have a manufacturing partner at the moment. However, the company says it can start producing the all-electric truck within 19 months are finalizing a plan.
Pricing has not been announced. But interested customers can go ahead an reserve an order with a $1,000 down payment.
"While we'll be announcing pricing and manufacturing targets later this year, the business case for the B1 makes sense at a very realistic and modest production number and at a price point of a nicely equipped sport utility vehicle," Bollinger said. "When you factor in this vehicle's superiority over the other choices on today's market, we think we have a winning combination."