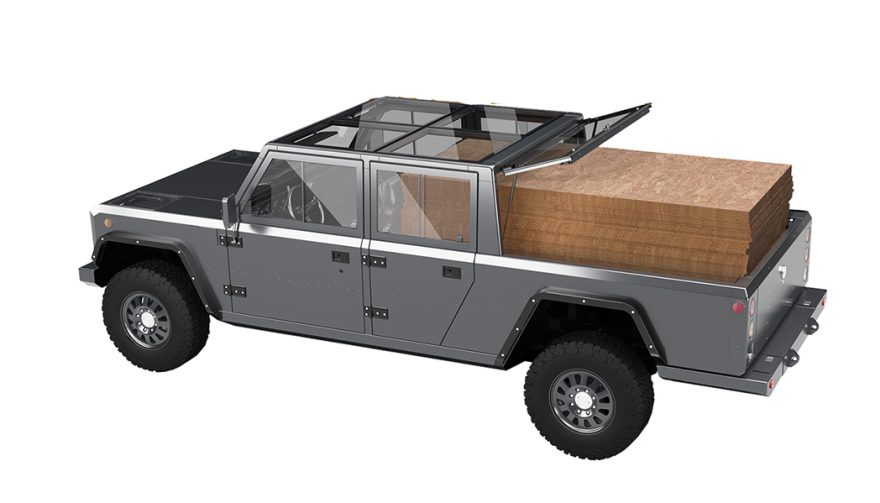 A small startup in New York has done what most car makers have not yet imagined. The Bollinger B2 is a concept electric vehicle that's a pickup truck.
Bollinger Motors Introduces B2 Electric Pickup Truck
A small startup in New York has done what most car makers have not yet imagined. They've designed a concept electric vehicle that's a pickup truck. Bollinger Motors has introduced their all-electric pickup. The B2 is designed in NYC and to be produced stateside in the Detroit area. It might be the first time you've heard about Bollinger Motors. But as the pickup truck market has been largely untapped by EV-focused companies, it's certainly not going to be the last. The Bollinger B2 is the second model the company will have in its stable when the prototype is built in early 2019.
What the B2 Is All About
It's all about function with the Bollinger B2. Its design mimics the B1, which the electric truck-maker's founder, Robert Bollinger, concocted for real-world use.
"The inspiration basically came from my farm and the fact that my truck was always getting stuck in the snow. I wondered why nobody had built an all-wheel-drive truck with great weight distribution, and then realized that this is what we had to build. It came from actual need. That's why the B1 offers the best of a pickup and the best in off-road capabilities put in one vehicle—an all-purpose tool."
Check out the glass-panel roof, and the glass-panel front-of-box tailgate. The B2 can carry up to 72 4-by-8 sheets of half-inch plywood. That's more than 3,200 lbs. Like a jacked-up Jeep, the B2 can be used as an on-road showpiece or an off-road trailblazer.
The design might look a little rudimentary by today's manufacturing standards, but that's how Robert likes it. He calls it spartan, and that's putting it mildly. While curves are usually the standard in sexy design, Bollinger has gone with flat panels and sharp angles. Inside and out. And its limited features – there are no airbags, for example – simply emphasize. This truck is built to be a workhorse first and foremost.
How It Performs
What a workhorse it is. The B2 has an all-aluminum body to keep it lightweight and rigid. It's intended to be built as a Class 3 work truck. That means a GVWR over 10,000 pounds and a towing capability of 7,500 pounds. Plus an insane payload of 5,201 pounds.
Two electric motors, front and rear, create a near-perfect weight balance. They also make for an extremely capable all-wheel-drive system. And its 520 horsepower and 514 lb.-ft. of torque are nothing to scoff at either. They make it capable of 0 to 60 mph in 6.4 seconds.
For those critics who don't think trucks can be good EVs, think again. A behemoth 120kWh battery pack will have an EPA-estimated 200-mile range on a full charge. Combined with regenerative braking and DC Fast-charging capabilities, it seems Bollinger Motors has this EV thing licked.
Will It Be First?
There aren't many carmakers challenging the EV pickup truck race. The Bollinger B2 prototype is slated for early 2019, obviously well ahead of production models. Their main competition? It seems obvious that it's the Tesla pickup truck that Elon Musk has announced. However, with Tesla's production delays and Musk's chaotic leadership being top stories, it could be several years before it ever sees the light of day. That leaves the door wide open for Bollinger to get to market first.
It might not be a pickup truck for the everyday driver – in fact, it definitely is not due to its size, looks, and minimalist features. But the B2 could introduce fully-electric technology to the truck market, and that's a good start.