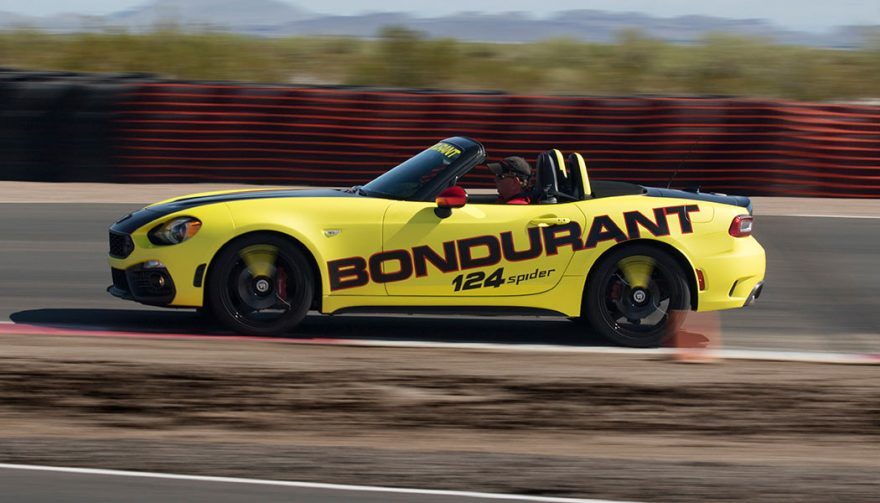 The 124 Abarth could cut into the Mazda MX-5 Miata Club model's customer base.
Buy An Abarth, Get A Free Track Day
Fiat has announced a partnership with the Bob Bondurant School of High Performance Driving. The Abarth Track Experience is a new offering at the school. It allows Fiat Abarth owners the opportunity to drive the intensely fun cars.
Free Track Day- Hooray!
Fiat 124 Spider and 500 Abarth customers receive a free track day at the legendary Bob Bondurant School. Within one year, customers who purchase and lease the cars can attend the school, taking advantage of in-car and classroom training.
The Fiat Trackside driving program starts with an introduction to the Fiat brand. Classroom instruction follows. Students then participate in instructor-led, in-car activities, including skid control, slalom, auto-cross and team rally cross. Hot laps are also part of the driving program, where students can unleash both Fiat Abarth models.
On the second day, participants can enjoy an optional 200-mile road rally on scenic Arizona highways.
Abarth Joins Bondurant Fleet
The two Fiat performance models have also been added to the racing school's vehicle fleet. Tim Kuniskis, Head of Passenger Car Brands for FCA – North America, said, "The Fiat 124 Spider Abarth and 500 Abarth join the ranks of the high-performance Dodge Charger and Challenger SRT Hellcats and Viper models that are already part of Bondurant's fleet, adding to the 'fun-to-drive' factor."
Owner and CEO of Bob Bondurant School of High Performance Driving, Bob Bondurant, said, "The capabilities of the Fiat coupe and roadster will give people the chance to get behind the wheel of balanced performance vehicles that are as fun to drive on the track as they are during a daily commute."
Will This Help Sales?
The 124 Abarth could cut into the Mazda MX-5 Miata Club model's customer base. The Bondurant track day could give it some needed performance cred. Both are offered at almost identical pricing around $30,000. The hot 500 competes with the Ford Fiesta ST and MINI Cooper S. This unique bonus might bring some much needed attention and sales to the overachieving version of the 500.
Related Video: