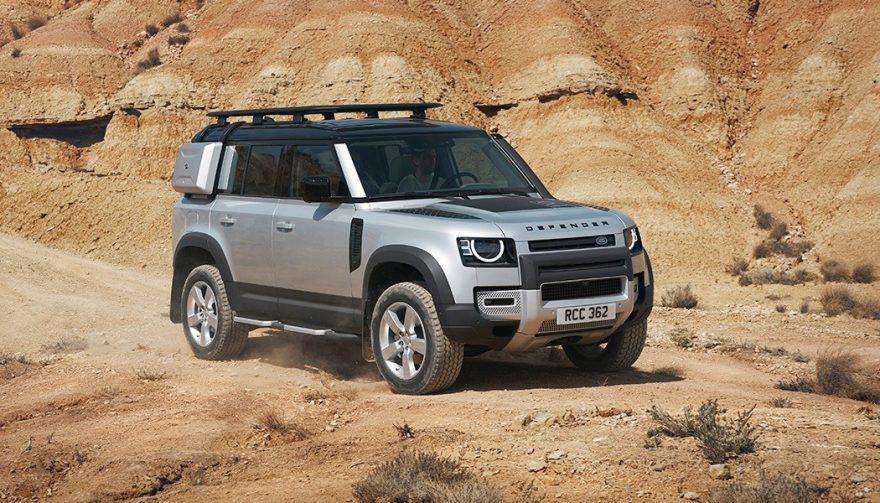 22 years after disappearing from America, there's an all-new Land Rover Defender for the first time. Ready for on and off-road
Defending the Brand: All-New Land Rover Defender Revealed
If it feels like longer than three years since Land Rover discontinued the Defender, that's because the popular off-roader disappeared from the US market way back in 1997. New emissions and safety standards put an end to the boxy workhorse here. But now there's a much anticipated all-new 2020 Land Rover Defender, and yes, you'll be able to buy this one in every market Land Rover serves. Which includes the US.
We'll get this out of the way right off the bat. No, the brand-new 2020 Land Rover Defender doesn't look like the old one. With modern aerodynamic and safety requirements, and heck, just modern styling tastes, that was never going to happen. But it does get a load of styling cues that do resemble Defenders past. Like the raised center hood that calls back to the separate hood and fenders. And at the back the Alpine windows that let you see up and out if you're not sitting in the front row. And like the original soft-top Defenders, the 2020 Land Rover Defender will be available with a fully-opening fabric roof that's designed to let passengers stand up and get the full safari experience.
Inside and Out
The 2020 Land Rover Defender will be available with two different wheelbase lengths and body styles to start. The Defender 90 is a three-door shorter wheelbase model with seating for up to six. Though in both the 90 and 110, the front center seat is a fold-down jump seat that's not likely to be well-suited for longer trips. The five-door Defender 110 has a longer wheelbase and will offer seating for up to seven passengers. Two of those in the third row.
With this all-new model comes an all-new infotainment system. The 2020 Land Rover Defender gets a 10.0-inch screen with a new infotainment interface that Land Rover says takes 50 percent fewer steps to complete most tasks. It's also quicker and more responsive in operation. A special battery backup allows the navigation to start navigating much more quickly at start-up. The Pivi Pro system also allows Land Rover to make over the air updates to the vehicle down the road and it comes with Apple CarPlay and Android Auto connectivity.
Legendary Capability Remains
But none of that is what really brings buyers to the 2020 Land Rover Defender. They're looking for off-road capability. So Land Rover delivers. Short overhangs front and rear allow for 38 and 40-degree approach and departure angles. It can also ford up to 35.4-inches of water beating the Jeep Wrangler by almost six inches. And Land Rover offers a Water Fording system that shows you visually just how close you are to exceeding that limit. Four-wheel drive is standard, of course, and the new Defender gets a low-range transfer case for rock crawling. Limited-slip center and rear differentials can be controlled through the infotainment system.
Power will come from one of two gas engines, with the international diesel options not offered. At least for now. Base gas is the P300 with a 296 hp turbo four and the P400 uses a turbocharged 3.0L inline-six making 394 hp and offering a mild-hybrid system to help save fuel. Both engines get an eight-speed auto.
Like Jeep, Land Rover is going big on accessories with the Defender. Over 170 of them when the model launches. They'll come mainly in four packs that include items like raised air intakes, gear-ready roof racks, saddle-bag cargo carriers, a shower, and loads more off-road rugged items. The 2020 Land Rover Defender will arrive in the Spring.Q