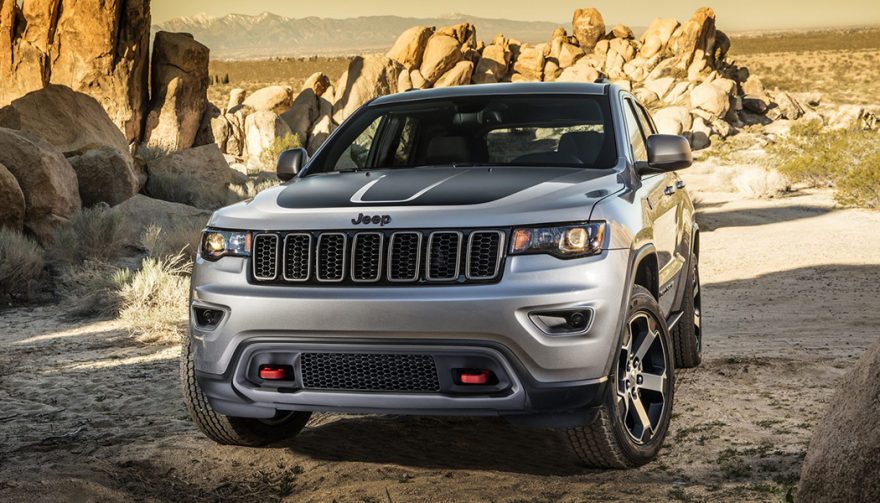 We put together a list of the best off road SUV options.
10 of the Best SUVs and Crossovers for Heading Off-Road
The sport in Sport Utility doesn't mean track days and corner carving. It means taking the road less traveled, to activities like hiking, fishing, cycling, or whatever is down that dusty trail. But some SUVs are better than others at heading off-road. We put together a list of the best off road SUV options for when you want to leave the pavement and head for the sand, dirt, mud, or rocks.
The Top 10 Best Off Road SUV's
Jeep Grand Cherokee
The Jeep Grand Cherokee Trailhawk uses an air suspension that gives it up to 10.8-inches of ground clearance for climbing over logs and dips. It can be optioned with a 3.6L V6, 3.0L diesel, or a 5.7L Hemi V8. 18-inch wheels wear off-road ready Goodyear All-Terrain Adventure tires with Kevlar reinforcement to protect it from rock punctures, and keep the Jeep from leaving you flat on the trail. There are skid plates underneath to protect the front suspension, the transfer case, fuel tank, and more of the underbody in case you misjudge an obstacle or two. Plus, it has tow hooks in case everything goes wrong.
The Quadra-Drive II 4×4 system has an electronic limited slip differential and five modes to help put the power to the ground. The hill descent and hill ascent drive modes let the Grand Cherokee do the throttle work, and roll you smoothly up and down steep grades. As a result, it easily found its place on our best off road SUV list.
Toyota 4Runner TRD PRO
Toyota's TRD (that's Toyota Racing Development) offers off-road ready versions of the 4Runner SUV. The 4Runner has always been an accomplished off-roader, and the TRD Pro model steps that up. The 4.0L V6 offers 270 hp and 278 lb-ft of torque.
The TRD Pro gets some big suspension upgrades, such as TRD springs with a one-inch lift up front, and Bilstein remote-reservoir shocks in the front and rear. The remote-reservoir helps keep the shocks working properly when they're taking a beating on rough terrain. The four-wheel drive system has a locking differential and low-range gearing. It also has Crawl Control off-road cruise control. It lets you drive downhill slowly, without losing traction, and then will power you back up the other side. Underneath, there is a beefy quarter-inch thick aluminum skid plate to protect the underside. To finish it off the 4Runner TRD PRO has 17-inch alloys with Nitto Terra Grappler all-terrain tires.
If you don't need quite that much capability (or don't want the price tag that goes with it) Toyota offers a TRD Off Road version of the 4Runner as well. That one doesn't have the suspension upgrades, but it does offer Crawl Control, the same four-wheel drive system, and it offers Toyota's Kinetic Dynamic suspension system. That system uses beefier sway bars that are connected to a hydraulic system. If they detect pressure at low speeds, like when you're trying to straddle a boulder, the sway bars disconnect, which lets the wheels move up and down more to keep the tires on the ground. At speed, the thicker bars reduce roll and improve handling.
Land Rover Discovery
The latest version of Land Rover's Discovery adds some style and more luxury to the long-time expedition favourite. But more luxury, like seating for seven that you can fold down using an app in your phone, and nine USB ports, doesn't mean that off-road has gone away. We'd argue that the USB ports and six 12V charge ports are actually a boon to modern camping. So are 35.4-inches of wading depth. It also has a special information screen that lets you see just how far up the SUV the water has risen. An available air suspension drops 1.6-inches to let you climb in and out, but rises to give 11.1-inches of ground clearance. That means a massive 19.6-inches of wheel travel, keeping the rubber on the road.
All-Terrain Progress Control is like off-road cruise control. Other vehicles offer hill descent control, but this one will take you uphill too. The low-range transfer case locks the center differential and uses lower gear ratios that help you crawl over obstacles. Terrain Response 2 monitors driving conditions and helps keep traction in grass, gravel, snow, rocks, and mud ruts. It can send 100 percent of power to either the front or rear axle. The gas V6 is supercharged and makes 340 hp. The turbodiesel V6 makes 443 lb-ft of torque and sips fuel on the trail. It's no wonder this model found a spot on our best off road SUV list.
Mercedes-Benz G Class
The Mercedes-Benz G Class has been climbing mountains since it was designed as a military vehicle way back in 1979. Since then it has gotten lots of luxury added, but didn't lose its off-road ability. An all-new model bowed this year for the first time, and keeps the tradition going.
It has 10.6-inches of ground clearance, and 27.6-inches of water fording. It's also stable on a 35-degree side slope, and has the ability to climb up to a 100 percent slope. That's 45 degrees, steeper than you could walk up. Three locking differentials make sure that no wheels are left spinning on their own, and that as much power makes it to the ground as possible. Want to get to the trail as quickly as possible? The G 63 offers a twin-turbo 4.0L V8 that makes 577 hp and 627 lb-ft of torque. That'll get you there in a hurry. Even if it couldn't actually take you off-road, it looks like it can go anywhere. And for some people, that's all they really wanted anyway.
Chevrolet Tahoe
The Chevrolet Tahoe offers the same Z71 off-road kit as the Silverado pickup, and it can give the big Tahoe some big off-road chops. The Z71 takes the 355 hp 5.3L V8-powered Tahoe and adds 18-inch wheels with off-road tires, a high capacity air cleaner, a low-range transfer case to the all-wheel drive system, and hill descent control. The Z71 comes with stiffer suspension tuning to help it keep the wheels on the dirt and perform better off road. Hill descent control works to take you slowly and smoothly down steep slopes. It also offers a 4G LTE hotspot that lets you go online from the woods. The Z71 pack comes with recovery hooks in case you get really stuck, or so you can help out someone else who is. It also has rubber mats to protect the carpets should you get too dirty when you're in the outdoors.
If you want to take the whole family off-road, and maybe bring the neighbours too, the Tahoe's big brother Suburban gives seating for up to nine people and still has cargo space behind the third row to let you bring along all of your gear.
Lexus LX 570
The Lexus LX has long been an impressively capable SUV, and one that you might not think of because it wears the Lexus badge. But underneath the Lexus luxury are Toyota Land Cruiser bones. It boasts 8.9-inches of ground clearance with an active height suspension that drops 3.0-inches to allow for easy exit and entry. Crawl control works like off-road cruise control to let the computers do the work of getting you over rough terrain. It even has a turn assist system that will brake the inside rear wheel to let you turn more sharply than the vehicle could otherwise.
The LX 570 uses a Torsen limited-slip center differential that sends power to the axle that needs it. You can lock that diff off-road when things get really slippery to make sure power is going to both axles. The selectable traction control system has five different terrain modes to optimise the truck's response for any terrain. The LX will take you almost anywhere in ventilated seat comfort. Want more cargo and aren't bringing many people with you? Lexus just released a new two-row version that trades the extra seats in the back for more cargo space.
Subaru Forester
Most of these are big and expensive SUVs, but crossover buyers don't need to be left out of the off-road party. They just need to look a little harder. There are still some crossovers that work well off-road, like the Subaru Forester. The Forester has two all-wheel drive systems. One is for manual-transmission vehicles that have a viscous-coupling locking center differential that sends power to the wheels with more grip. The CVT version has an electronically controlled diff that manages torque based on traction, and what you're trying to do.
The CVT Forester has a driver-selectable X-Mode for the drivetrain that changes the engine and transmission controls for off-road use. It also changes how the differential engages to optimize traction and allow for the mild wheelspin that can keep you moving in slick terrain. The Forester offers 8.7-inches of ground clearance, much more than your average crossover. And Subaru's suspension tuning and the Forester's light weight make for a soft and comfortable ride when you're throwing it down some gravel. It's definitely earned its spot on the best off road SUV list.
Jeep Renegade
Then there's the smallest crossover on the list, the Jeep Renegade. The smallest Jeep might not seem like an off-road capable machine, but Jeep is still Jeep. Two 4×4 systems are available, with the Active Drive Low system able to lock the front and rear differentials for better traction. The Trailhawk version gets that system along with hill descent control. It has skid plates for the gas tank, transfer case, transmission, and front suspension.
The Renegade Trailhawk gets Jeep's Trail Rated badge. That means that it's been tested and Jeep says it meets Jeep's off-road qualifications for ground clearance, suspension articulation, water fording, and traction. The Renegade is small, but it can go most places its bigger siblings can. And probably further than the average buyer would ever want to push it.
Toyota RAV4 Adventure
The Toyota RAV4 might not seem like it belongs on this list, but the new Adventure trim might change your mind. The RAV4 Adventure (or Trail in Canada) takes the SE's sport appearance and the XLE's features but adds off-road capability. It gets an extra half-inch of ground clearance, which can make a real difference off-road. It has big 18-inch wheels and tires to help it keep traction on rough terrain. And if you want to tow a camper to the trail, the RAV4 can do it. It can tow up to 3,500 lbs thanks to a bigger radiator, and coolers for the oil and transmission fluid.
The RAV4 Adventure has bigger plastic fender flares and lower body trim. That does more than just make it look rugged. The high-impact plastic protects the body. Sticks and rocks kicked up by the wheels might scratch the plastic, but that's much better than tearing into your fresh paintwork. It also has rubber floor mats to keep the mud off of your carpets.
Jeep Wrangler
Finally, the choice that's been near the top of the list for more than 50 years: the Jeep Wrangler. It might have been the first SUV, and over the years it has added more comfort to go with the capability it offers.
The latest version is quieter, more fuel efficient, and should be better to drive than any of its predecessors, but it still has removable doors and a windshield that folds down. Plus a soft roof that's removable, so you can get even closer to the outdoors.
It also has Jeep's latest Command-Trac and Rock Track 4×4 systems that have low-range gearboxes. Rubicon, the most off-road-ready gets electronic sway bar disconnects to let the wheels move off-road and a locking differential in the rear. It can ford 30-inches of water and comes with winch-ready bumpers.
So if you're looking to take it to the trails this summer, from the dirt road to the cottage, to boulder hopping in the mountains, and to running flat-out through the desert, these are some of the best off road SUV options to help get you there, and then get you back, along with your friends and your gear. Happy off-roading, and remember to tread lightly.