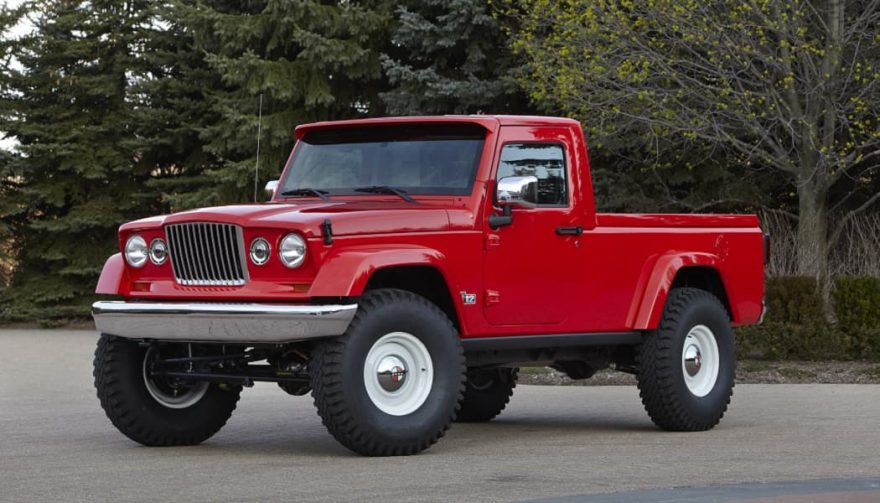 The J-12 is one of many Jeep concept trucks to be trotted out.
Will the Jeep Wrangler Pickup Ever Happen?
Will the new Jeep truck ever become a reality? The FCA top brass have delayed the upcoming Jeep Wrangler, again.
Jeep has been teasing production for a number of years. FCA confirmed the vehicle to be in the works back in January 2016, but now it's being delayed until late 2019.
Faithful are asking if the new Jeep truck will ever actually come about. That's fair, because people who've been keeping up with this whole issue know the Wrangler pickup is a long time coming.
Jeep and Trucks
Back in 1947, not too long after the end of the Would War II, Jeep launched the Truck. Production ran all the way through 1965. There was some overlap with the Gladiator, which came to market in 1962 and lasted until 1971. The J-Series picked up from there, covering 1971 to 1988.
The last time a truck with a Jeep badge on it rolled off a production line, it was the 1992 Comanche. Chrysler discontinued that model so it could channel its attention on the Dakota. Now, FCA has no small or midsize trucks, just the Ram behemoths.
We have experienced a 25-year gap since the last Jeep truck. People are understandably restless. Jeep's taken too long of a break, and it's going to be at least another two years before that dry spell is broken. And that's if Jeep doesn't push production back again.
Right now, the midsize and compact pickup segment is heating up. Toyota and Nissan have always been in the space, and GM has jumped back in. Ford will be bringing the Ranger back. Some have thrown out the possibility of doing a Ram Dakota or something of that sort, which may or may not be a good idea
What would be smarter is if FCA relies on a Wrangler-based pickup. People can't get enough of Jeeps. Combining the cool image of the brand, its legendary Trail Rated capabilities, and a unique flavor should make the Wrangler pickup a standout in a sea of replicates.
So Many Jeep Truck Concept Teases
It's not like Jeep hasn't done anything to tease fans. The brand's trotted out a string of concepts to whet their appetite, only to let rumors swirl around and that's it.
One of the most notable was the J-12 concept, which was revealed in 2012 for the Moab Easter Jeep Safari. It had a retro look, complete with grandpa-like plaid seats. Likely such a truck won't be made, because it'd be too niche and wouldn't go with the rest of the Jeep lineup. But people still fantasize about it.
Back in 2005, Jeep unveiled a Gladiator concept during the Detroit auto show. It also caused a huge stir and got people thinking 12 years ago that Jeep was finally going to add a pickup to the lineup once more.
Last year at the Easter Jeep Safari, the brand trotted out a Renegade-based pickup. The constant teasing is getting to be too much.
So Many Unanswered Questions
There are so many burning questions about the Wrangler pickup, so the delay is all the more maddening. Finally seeing a production model will clear up most of these, if not all. It's enough to keep Jeepers awake at night.
First off, we don't even know what this future Jeep truck will be called. It probably won't be the Wrangler Pickup, because that's lame. Mike Manley, CEO of Jeep, and FCA CEO Sergio Marchionne have both said several times that the new Jeep truck will probably use an historic name. That's got everyone guessing and second guessing what it would be.
Of course, everyone keeps guessing about looks. Some think it'll be just like a Wrangler, only with a bed in back. Others are wishing for a retro front. It could have two doors, four doors, a big bed, a tiny bed?
How long will the thing be? How trail-capable will it be? Could it keep up with a Wrangler Rubicon? What kinds of trims will Jeep produce? Likely, it'll be much like the next-gen Wrangler, which looks to be an evolution of the current one. But a longer wheelbase than the Wrangler Unlimited could have serious effects on the pickup's trail worthiness. The breakover angle might suffer, or the approach and departure angles could suck because of bigger overhangs to accommodate the payload.
It sounds like, from comments made by Manley, the big hang-up is that Jeep needs to get the new Wrangler squared away. It'll be making JKs in the same facility as the next generation for a bit. You wouldn't be wrong to wonder if the CEO thinks there could be some issues to iron out with the new Wrangler. That could be the source of this delay, and why Jeep won't say anything about it.
Make Your Own Now
The good news is if you have the cash, you can make your own Jeep truck today. For about $6,000 you can get a JK-8 kit and either install it yourself, or pay someone even more to transform your rig. It comes with a 44-inch by 50-inch bed made of steel, including stamped sheet metal bed sides, plus a fiberglass roof you can pop off, and a fiberglass bulkhead.
Installation should take you a couple of days, or about 12 to 14 hours of work. It's an advanced install, so beginners and even casual wrenchers beware.
If you're concerned about quality, the JK-8 kit doesn't come from some fly-by-night aftermarket shop. It's actually made by MOPAR. The bad news, though, is it's no longer being produced, so you'll have to hunt one down, or shell out for a Jeep that's already been modified.
There are other kits on the market, and they all run about the same price. I can't vouch for how good any of them are, because I haven't seen any finished products in person, just the JK-8.
Ultimately, Jeep could delay production of the Wrangler-based pickup again. You might groan, but it's not impossible or improbable. In the meantime, you can try hacking into your own Wrangler to make a DIY version.