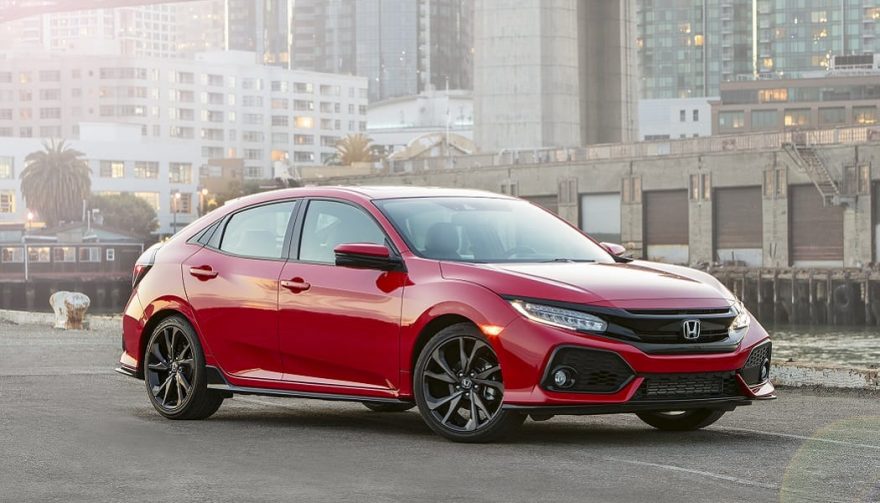 Band members rejoice! The 2017 Honda Civic is available as a hatchback.
2017 Honda Civic Review: Solid, and the Hatch Is Back
The 2017 Honda Civic is part of a revitalized 10th generation of the Japanese model. It looks fun and promises some serious diversion behind the wheel. Plus, the hatchback is back, which  is always a good thing. We don't have enough quality hatches in the United States.
The real question is how the 2017 Honda Civic measures up against the current crop of competitors. After all, plenty of other small cars have upped their game as well.
The Numbers
The base engine for the 2017 Honda Civic is a 2.0-liter four-cylinder. It's naturally aspirated and puts out a ho-hum 158 hp, plus an anemic 138 lb.-ft. of torque.
The old joke is that Honda engines make less torque than many wheel lugs require. This engine lives up to that notorious reputation.
One of the most exciting changes to the Civic is the introduction of a turbocharged engine. Even though it's just a 1.5-liter four-cylinder, the single-scroll turbo does a lot. Peak output is pretty impressive at 174 hp and 162 lb.-ft. of torque.
Even more importantly, you can pair this engine with a 6-speed manual transmission. Sure, there's a CVT if you don't like driving and all that, but with the slow death of manuals it's good to see Honda is trying to save them.
Other features include four-wheel disc brakes. Alloy wheels are standard for all but the base LX, which most people won't get because it's too stripped down. All models also have a rearview camera, with three different angle settings.
There are plenty of other features available, like leather upholstery, seat heating/ventilation, navigation and advanced safety systems. Overall, on paper the Civic seems well-appointed.
First Impressions
To call the Civic's exterior styling sporty isn't an understatement. Some people will love it, and some will hate it. The unfortunate thing is that Honda didn't continue that edgy design into the cabin.
While the space is nice and the materials are good for the class, there's no real pop. This surprised me, considering Kia, Hyundai, Ford and others are really pumping up the fun factor for interiors lately.
This isn't to say the Civic's interior is uncomfortable – it isn't. You get some nicely padded and supportive seats, something Honda isn't exactly known for. A fair amount of touch surfaces are soft or at least textured. All of this follows the general industry trends, so Honda isn't falling behind.
On the lower trims, the gauges are analog. Upper trims get digital gauges, which I think take some getting used to, because the layout is a little too funky for my taste.
There are no fun color combinations. Instead, you get the same tried-and-true pairings Honda's stuck with for a while. Other than the digital gauges, most interior elements are also plain. Nothing's ugly, but nothings' exciting. It's an odd pairing to the flashy body styling.
Backseat space is great, even on the Coupe models. If you're going to be hauling around more than one other person, this is an important item to consider.
Anyone who might be interested in transporting larger items, or lots of cargo at one time, should seriously consider the Hatchback. It's definitely the most utilitarian, boasting tons of space behind the rear seats. The trunk on the Sedan and Coupe is decent, if you want to go that route.
Driving Impressions
You can feel from the get-go that the 2017 Honda Civic has a stiffer chassis. It's not that you get punished for this fact. Instead, the suspension does a great job of soaking up big bumps in the road.
Sure, it's not a sports car, but it does outshine basically all competitors when it comes to responsive handling. That's a big deal, no matter if you're carving through busy city streets, or just want to tear up the pavement on country roads.
As for power, the base engine is nothing special. If pushed, the 2.0-liter four-banger struggles and tops out quickly. Thankfully, the 1.5-liter turbo is lively. It loves to be pushed hard, rewarding you for driving more aggressively.
I should mention the single-scroll setup does mean there's some turbo lag in the lower RPMs, something you don't get much of with more modern twin-scroll turbos.
The CVT is boring, but not as maddening to deal with as some. Still, it's nothing to scream about.
Most controls are easy enough to use. What few physical controls are in the center stack are large enough to find while watching the road.