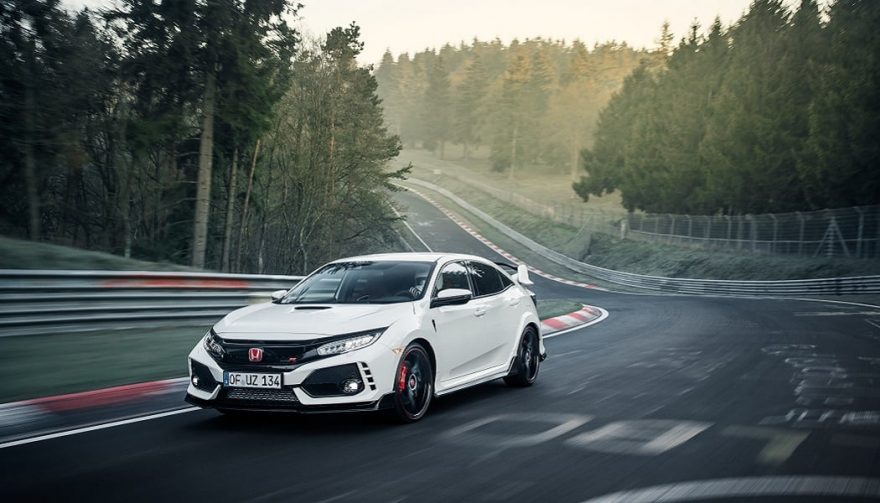 The Honda Civic Type R took the title as the world's fastest front-wheel-drive production car
Honda Civic Type R: World's Fastest Front-Wheel-Drive Production Car
The 2017 Honda Civic Type R has another feather in its cap prior to its U.S. launch. The hot hatch is now the world's fastest front-wheel-drive production car.
At Germany's legendary Nürburgring race track, a Honda Civic Type R lapped the 12.9-mile north loop (Nordschleife) in a record 7 minutes and 43.80 seconds. A 2016 Volkswagen Golf GTI Clubsport S held the previous record, the new Honda Civic Type R bested that time by over 3 seconds.
The time is also nearly 7 seconds faster than the previous Honda Civic Type R. So, it's safe to say there have been substantial alterations.
Record-Setting Recipe
A number of factors contributed to the new Honda Civic Type R's speedy Nürburgring performance. But it's not a new engine.
The new Honda Civic Type R retains the old model's high-performance 2.0-liter i-VTEC Turbo in-line four-cylinder engine. It's capable of 306 horsepower and 295 lb-ft of torque, making it the most powerful Honda ever sold in America. There's another feather for its cap.
And the engine still comes mated exclusively to a short-throw manual 6-speed transmission. An automatic transmission would have just been puzzling.
But Honda says the improvements over the previous model are mainly a result of its improved stability. Ryuichi Kijima, the head chassis engineer for the Honda Civic Type R, says "the cornering speed achieved in the new Type R is higher because the car features a wider track and tires, a longer wheelbase, a new multi-link suspension in the rear and optimized aerodynamics that improve stability."
The new Honda Civic Type R is 35 lbs. lighter than the previous-generation model. It also boasts a 38 percent gain in torsional stiffness.
Technically a Development Car
Ok, OK! Yes, the Honda Civic Type R that set the record was technically a development car. However, Honda claims the car was "technically representative of production specification."
The vehicle had a full floating roll cage for safety reasons, but the structure didn't provide any additional body frame rigidity. Honda compensated for the extra weight by removing the back seats and the Display Audio system. The car did use street-legal, track-focused tires.
Coming to America
The Honda Civic Type R will be available in the U.S. for the first time in late-spring. It will have an MSRP in the mid-$30,000 range. The vehicle represents the final piece in the 10th-generation Honda Civic launch that began in the fall of 2015.
The Honda Civic Type R is manufactured at the automaker's manufacturing facility in Swindon, England.
The engines are produced by Honda of America Manufacturing at its Anna, Ohio, engine plant.