2018 Chevrolet Tahoe: Built Like a Truck, but With More Interior Space
Typically, you own a Chevrolet Tahoe if you do a lot of weekends at the slopes, or if you're a police officer or a serious dad. There's another thing, too: since Tahoe is a traditional SUV in the original sense of the word, it's constructed like a truck. I got the chance to sit behind the wheel of the 2018 Chevrolet Tahoe, and am here to tell you all about it.
Built Like a Truck
Unlike the huge number of car-based crossovers on the scene that outnumber machines like the Tahoe, this heavy-Chevy conceals a rigid frame and platform built of steel beams beneath its skin. It's a tough structure that the Tahoe's body is then mounted to.
Put another way, the 2018 Chevrolet Tahoe is, basically, a Chevrolet pickup truck with a passenger compartment on the back instead of a box.
There are ups and downs to this, but you probably want a truck-based SUV if you often traverse rough or off-road terrain, or if you're like me and live somewhere with really horrible roads and want something that feels more tough and durable. Or maybe you want something that can tow heavy things—some 9,000 lbs. in the case of a properly-equipped Tahoe. Since it's built like a truck, with truck suspension, steering and braking components (and a truck engine), Tahoe tends to handle towing duties with capability to spare.
All said, if you like the feeling of size, strength, and toughness you get from a pickup, but want a sports utility vehicle and figure a car-based crossover might not be quite big or strong enough, then the Tahoe would like to meet you very much. Furthermore, it's one of your only options on the market today for such a vehicle—and it's a pretty good one for various reasons.
First, the 2018 Chevrolet Tahoe feels like a truck where it counts. Since the body is bolted onto that rigid steel frame with plenty of rubber isolators (rather than using the body as the frame), Tahoe does a wonderful job of handling the worst roads without feeling like its going to cough up a strut, or pummel your spinal provisions into submission. On very rough roads, many car-based crossovers rattle and smash, and feel delicate. Sometimes, there's so much metallic smashing and clanging from the suspension that you think you're listening to a battle scene from Braveheart. In Tahoe? These same surfaces mostly see it riding smoothly, comfortably, and with no sensation of flimsiness.
Tahoe also isn't overly heavy or ponderous at the controls, and it doesn't handle like an overloaded wheelbarrow full of Velveeta. If you've never driven a big SUV like this, fear not: it's much easier to drive than the look might suggest. But where the truck-frame feel of this thing really shines is on lousy roads.
2018 Chevrolet Tahoe On The Road
Tahoe feels tough, as if the ruts and potholes are getting the lousy end of the deal when you hit them. It's also a talented highway cruiser that feels heavy and confidence inspiring but not too soft and spongy. The best part? There's virtually no harshness or rattles from the ride, and that's even on these 22-inch wheels.
GM's Magnetic Ride Control suspension system is partly to thank—it's the best system of its kind, and fine-tunes the ride on an inch-by-inch basis for optimal comfort and handling over anything, with no compromise.
You can now order your 2018 Chevrolet Tahoe in selected grades with the mighty 6.2 litre V8 engine, which is good for 420 horsepower. My tester made due with the smaller 5.3 litre ECOTEC 3 V8 with direct injection, which is good for 355. There's a six-speed automatic transmission and four-wheel drive—no low-range in this case, but you can pick auto mode,  4×4 lock mode for greasy stuff, or two-wheel drive, to help save fuel. Just flick the dial.
And the powerplant is another asset: it's got plenty of low-rev sauce, meaning you can glide along with traffic or around town without hearing or feeling much of anything from under the hood. Half of the cylinders shut down to save fuel at times, and even when you push it, the engine is smooth and quiet and unintrusive. Only towards max revs does it ever sound like it's doing much of anything, and really, it's got so much power at lower revs, you hardly need to press that throttle at all.
It's also a relatively quiet ride on the highway at speed, which is sort of remarkable given how much air this thing is moving, and the fact that it looks about as aerodynamic as a Costco.
The Interior
It's all taken in from an interior that's getting a bit dated these days, since this generation Tahoe has been on sale with only minor updates for years. On the plus side, the interior is big and accommodating, and there's a heap of storage accessible from any seat. It even has a hidden compartment behind the central screen that's ideal for hiding valuables.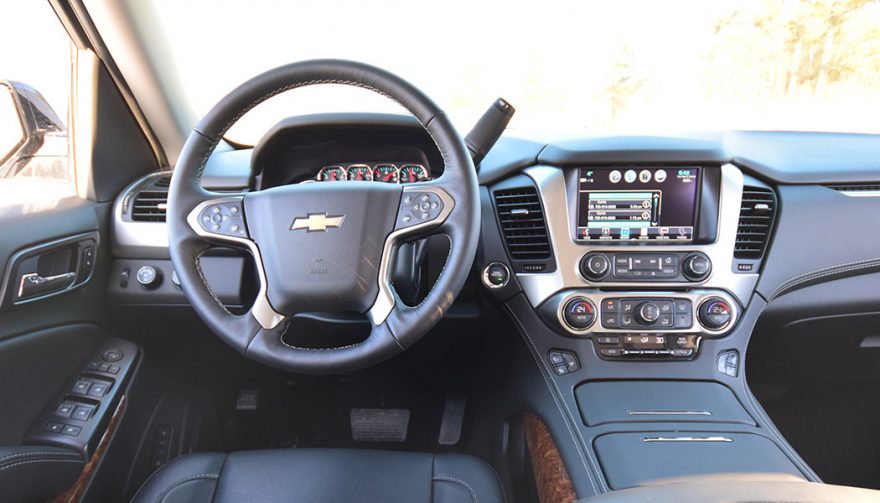 Elsewhere, the commanding driving position sees drivers perched high above the road but without positively towering above it. The tester offered three rows of seating, the front two of which are generously sized, even for larger adults. The third row is best for the kids—it's almost comically cramped, unless you're 6.
A load of technology is on board—including built-in Wi-Fi and a household power outlet, in case passengers want to stay connected and work on their laptop while you drive to the cottage.
Minor Issues
For the most part, I enjoyed the 2018 Chevrolet Tahoe's great driving quality over my few days at the wheel. Plus, this machine is an absolute beauty of a highway cruiser that's big, comfy, relaxing, and secure. But, there is a downside.
Given the price-tag, the interior might leave you wanting from a styling standpoint. Many other modern, less expensive crossovers make more use of better materials, feel richer, and look more detailed. Of course, at the end of the day, this is a truck, and you're paying more for the capability than the cabin design.
The brake feel is also a bit poor. That's par for the course with most trucks, but the performance is good. Tahoe stops fast when required, and the brakes do a good job of making you feel like they're working very hard to get you stationary when called upon. Still, some will wish for a more precise and firm feel at the pedal.
Finally, though you're not buying a big heavy V8 powered 4×4 for the fuel economy, Tahoe keeps consumption in check, especially on the highway when the cruise control is keeping speeds reasonable. At or near the highway speed limit, the engine revs low and spends plenty of time in four-cylinder mode.
Ultimately, the 2018 Chevrolet Tahoe is tough, capable, rides great on lousy surfaces, looks completely handsome, and has a very refined powertrain. Shoppers willing to give up some interior swankiness for added ruggedness, durability, towing capacity, and standard V8 power should find it a pretty compelling choice, not to mention one of the only choices remaining for a machine of this kind in an ever-growing sea of car-based crossovers.