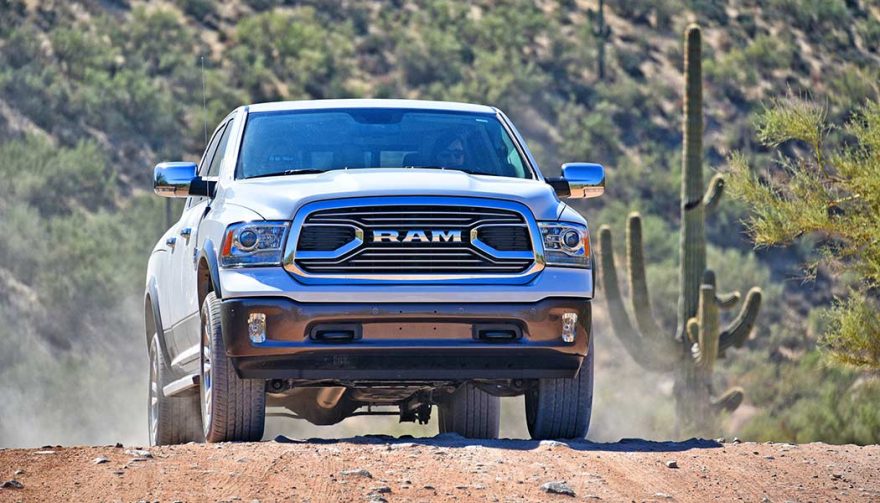 The Ram 1500 gets decent fuel economy for a full size pickup
They May Not Sip, But These 10 Pickups Don't Gulp the Gas
Let's face it, fuel efficient trucks are like double-dipping. They can tow and haul stuff, and they won't chew up as much money from day to day. Stopping constantly to fill up a giant tank can get expensive and old after a while, which is why customers are demanding more fuel efficient trucks.
Trucks these days come in a wide variety of powerplants, so in a few instances you'll see the same truck appear twice, only with different engines. Also, some of these numbers depend on whether the pickup is 2WD and the size of the cab. So with that said, here's a list of fuel efficient trucks for 2018 models.
Ram 1500
17/25 mpg city/highway: Pentastar 3.6-liter V6
If you want a big truck to take on big jobs, this is one of the few that will provide decent fuel economy. Sadly, 17 mpg in the city isn't anything to get worked up over for most vehicles, but most can't do what the Ram 1500 can. With the Pentastar 3.6-liter V6 under the hood, this truck can tow over 4,700 pounds, so taking along some campers, trailers and boats is not a problem.
You also get a nice, big bed for hauling whatever. And you can add the RamBox cargo areas in the bed rails, which are an incredibly cool solution.
Chevrolet Silverado
18/24 mpg: 4.3-liter V6
With the 4.3-liter EcoTec V6, the Chevy Silverado is another full size truck with decent fuel economy. Peak torque output comes in at 305 lb-ft, while 285 horsepower is all right. Of course, this pickup has been designed to tow and haul, with equipment like an external engine oil cooler and an exterior transmission oil cooler.
All Silverado pickups come with that cool CornerStep rear bumper, which makes climbing up to get something in the payload without lowering the tailgate easy and safe. You can also get 4G LTE mobile WiFi in the truck, so pretty much everywhere there's a high-speed internet connection.
As an option with the 5.3L EcoTec3 V8 engine, you can also get your Chevrolet Silverado paired with a mild hybrid system capable of similar fuel economy.
Toyota Tacoma
19/24 mpg: 3.5-liter V6
The Taco has a cult following that loves the practicality of this midsize truck. Add to that good efficiency, even if you choose the V6 engine. For most pickups, you need to select a weaker and smaller engine to really see fuel savings, so that's a nice change. With 278 horsepower and 265 lb-ft of torque, this engine isn't a beast, but it will help with pulling through some tough situations.
Among the cool goodies unique to the Tacoma is a GoPro camera mount on the inside of the windshield. It's the perfect way to record your outdoor adventures, or the jerk who brake checks you in rush hour traffic.
Honda Ridgeline
19/26 mpg: 3.5-liter V6
While not the most powerful option out there, the Honda Ridgeline's 3.5-liter V-6 has been perfected over the years, so you know it won't leave you stranded.
Also, the i-VTEC, Eco-Assist system and variable cylinder management help eek the most out of each drop of gas, without sacrificing performance.
The peak 280 horsepower and 262 lb-ft of torque should be enough for a unibody truck not meant for big jobs.
GMC Canyon
20/26 mpg: 2.5-liter 4-cylinder
While these are good fuel economy figures for a truck, just remember that the 2.5-liter 4-cylidner engine only produces 200 horsepower and 191 lb-ft of torque. That's fine for everyday runs around the city, but don't expect to take on any big jobs with it.
You do, however, benefit from features like the standard rear CornerStep bumper, mobile WiFi, OnStar, and that tough "professional grade" appearance. If you really crave luxury, but still want to conserve fuel, the Denali model slathers the truck with leather upholstery, wood, heated and ventilated seats, and so much more.
Ford F-150
20/26 mpg: 2.7-liter EcoBoost
Plenty of shoppers are choosing the 2.7-liter EcoBoost to avoid high fuel costs. Like other EcoBoosts, it combines turbocharging and direct injection, replacing displacement with advanced technology. The result is a robust 325 horsepower and 400 lb-ft of torque. Normally, that kind of power comes from a big V8.
For some, just the Blue Oval badge is reason enough to buy this truck. Other things that sweeten the deal is the optional Pro Trailer Backup Assist, which takes the guesswork out of reversing with a trailer attached, plus an integrated tailgate step, stowable loading ramps, and deployable box side steps.
It has to be said that a new Ford F150 Power Stroke diesel V6 is coming sometime toward late spring 2018. Fuel economy numbers aren't available yet, but we've heard they are shooting for the 30-mpg mark.
Chevrolet Colorado
20/26 mpg: 2.5-liter 4-cylinder
As the GMC Canyon's twin, you shouldn't be surprised to see the Colorado on this list. Its mechanical setup is identical to the Canyon, which is why the fuel economy figures match exactly.
Besides a bowtie on the grille and a little bit friendlier aesthetics, this truck differentiates itself with a few unique paint colors. You can explore the Z71 and ZR2 packages, but those both have a negative effect on fuel efficiency, which is the whole point of this list.
Ram 1500 EcoDiesel
20/27: 3.0-liter EcoDiesel V6
The Ram 1500 already delivered decent fuel economy, but with a EcoDiesel V6 you get better fuel economy and performance. You get 240 horsepower and an impressive 420 lb-ft of torque.
Ram is pulling the 3.0 V6 EcoBoost for 2019 models, at least for the moment, in favor of its new mild-hybrid set up. But it's still an option for 2018 models.
Chevrolet Colorado Diesel
22/30 mpg: 2.8-liter Duramax 4-cylinder turbo diesel
You already know in general what this truck offers, but fuel economy rises significantly when you drop in the Duramax engine. That's really no surprise, because trucks with diesel engines boast far better efficiency than equivalent gasoline engines.
Not only will you be stopping less often to fill up the tank, the truck has plenty of grunt power with the diesel engine. A peak 369 lb-ft of torque outclasses even some gas-powered V8s, so you can tow and haul more without worries.
GMC Canyon Diesel
22/30 mpg: 2.8-liter Duramax 4-cylinder turbo diesel
Again, as the mechanical sibling of the Colorado, this truck shares the same 2.8-liter Duramax turbo diesel engine.
And, like before, the big benefit of the GMC version is you can go for a luxurious Denali, if that's really what you want.
You May Also Enjoy:
The Ford F-150 Finally Goes Diesel, But How Does It Stack Up?