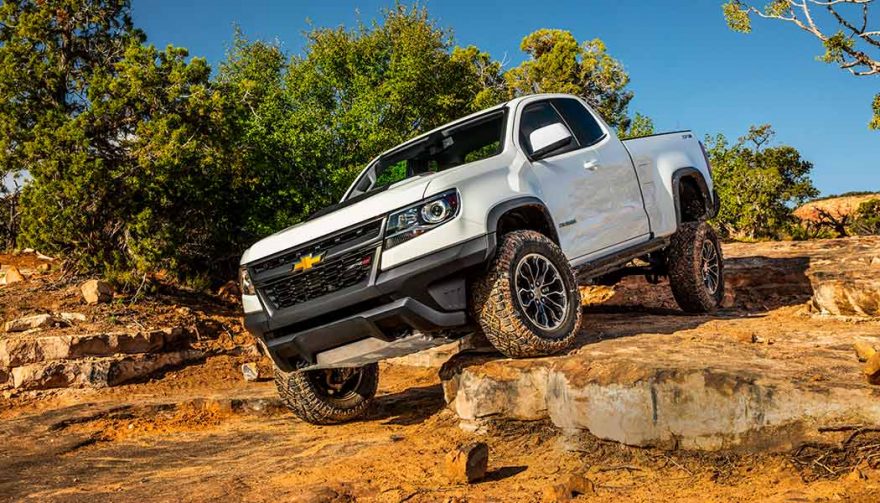 Lots of trail-oriented features come standard on the Colorado ZR2
The Chevrolet Colorado ZR2 Is Here to Conquer Trails
It wasn't too long ago that if you wanted a trail-worthy pickup truck, pretty much your only choice was the Ford Raptor, or modifying something. Recently, there's a been an uptick in factory trucks that are trail-ready. Add to the list the Chevrolet Colorado ZR2.
Sure, a comparison with the Raptor would be obvious. But in all honesty, comparisons with the Raptor and the Chevrolet Colorado ZR2 aren't entirely fair for either truck. After all, these two aren't in the same class, and probably don't cater to the same shoppers.
What's more, the Ford Raptor, with its extra-wide track and overall largeness isn't ideal for rock crawling. Your risk of getting hung up on a rock or some other obstacle is pretty high. It was built for high-speed desert races, like the Baja 1000, not Widow Maker in Moab.
The Raptor has great ground clearance, amazing wheel travel and sick amounts of horsepower. But that's not always the tool you need.
Trail Equipment
The most important part of the 2018 Chevrolet Colorado ZR2 is the trail-oriented features. To make sure you have enough torque for off-roading, because honestly that matters more, the 3.6-liter V6 engine comes standard.
You can upgrade to that sweet 2.8-liter Duramax turbo-diesel, which really pours it on with a peak 369 lb-ft of torque. That engine also features an exhaust brake, a handy feature to use on trails and when towing or hauling big loads.
Chevrolet has made the front and rear tracks of the ZR2 3.5 inches wider than on standard Colorado pickups, which helps with stability, but avoids Raptor-levels of ridiculousness. That helps counteract the higher center of gravity, thanks to a 2-inch suspension lift, which boosts ground clearance.
Speaking of the suspension, an advanced Multimatic Dynamic Suspensions Spool Valve damper setup helps with response, and smooths out the ride. You can't get that on competing trucks.
When you're rolling over trail obstacles, it really puts a stress on chassis components. Chevy uses cast iron control arms on the truck to prevent a problem that vexes so many off-roaders.
You May Also Enjoy:
Colorado ZH2 FCV Is Hummer Of The Future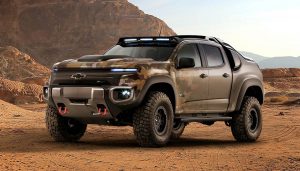 Related Search Topics (Ads)
Traction can be a challenge on trails, or even just driving on a snowy road. Front and rear electronic locking differentials should help in those situations. The rear axle is modified with a 3.42 ratio, too.
Attached to the front bumper is a hardcore aluminum skid plate that guards the radiator and engine oil pan. Another skid plate covers the transfer case. Rock sliders come standard, guarding against damage from serious trail obstacles.
Approach and departure angles are supposed to be better, thanks to unique front and rear bumpers. However, Chevy hasn't supplied exact figures yet. On top of that, the front bumper is shorter, improving front wheel articulation and clearance. If you're really concerned about ground clearance, dealers can install a bed-mounted spare tire carrier.
Aesthetic Mods
A truck this special needs to look the part, because for some people it's all that matters. The bumpers and skid plates are good visual cues, but other, more obvious mods let everybody know what this truck is all about.
The grille and hood are both more aggressive in design. The black insert for the grille follows the black-out trend that's been running strong in truck circles for a while.
This truck rolls on 17 x 8 inch aluminum wheels that are unique in their design. To help with rolling over obstacles, 31-inch Goodyear Wrangler Duratrac off-road tires wrap around them.
On the interior, the Colorado ZR2 features leather seats and carpeting. You can opt for black vinyl flooring at no additional cost, which I personally think is the way to go if you plan on hitting trails. Trust me.
Something More
Because Chevrolet recognizes you might be using the Colorado ZR2 to do more than just tool down dirt pathways, the truck comes with some creature comforts. One of them, which honestly should just be standard for all vehicles these days, is heated side mirrors. Onboard 4G LTE WiFi that should work in a lot of remote areas is also included.
An Active Tow feature takes the guesswork out of lining the truck up to hitch it to a trailer. That can be a tricky thing, even with a spotter, especially if you haven't done it much. Of course, a rearview camera is part of this setup, giving you a nice view of the trailer hitch.
Speaking of towing, the truck comes standard with a trailering package. That includes a trailer brake controller.
If you're crazy enough to hand the keys over to your kid, The GM Teen Driver feature is included. The truck packs six airbags standard, including side curtains. Again, that pretty much should be a given these days.
StabiliTrak comes standard, which is Chevy's electronic stability control and rollover mitigation system. It also steps in with trailer sway control and a handy hill start assist.
Pricing and Availability
If you want to get the 2018 Chevrolet Colorado ZR2, be prepared to shell out about $40,995, which is the official MSRP. Adding the Duramax engine tacks on another $3,500.
Maybe you think that's steep. Keep in mind the Toyota Tacoma TRD Pro, a direct competitor, comes in at $41,520. The Ford Raptor starts closer to $50K.
If you want something that's not quite as optioned up, and arguably only slightly less trail-worthy, the Tacoma TRD Off-Road goes for $33,150.