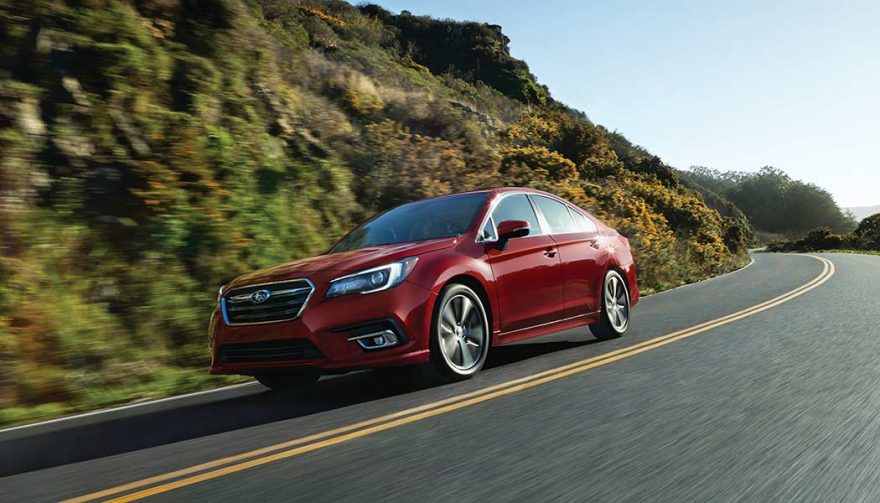 The 2018 Legacy 3.6R uses Subaru's classic 3.6-liter flat six BOXER engine
Review: Subaru Legacy 3.6R Still Instills Confidence
The 2018 Subaru Legacy is the only family sedan in its segment right now to offer AWD as standard, one of just a few to offer AWD at all. It's also the only family sedan on the road with the marketing clout tied to the Japanese automaker's highly touted Symmetrical AWD system. The setup has earned Subaru global recognition as "the" AWD brand.
Does Subaru make the best AWD system? Many people argue so. The Symmetrical AWD certainly is a top contender, there's no such thing as the best AWD system these days, though the 2018 Subaru Legacy leaves drivers feeling well-supported and backed up, even in the nastiest winter conditions.
2018 Subaru Legacy 3.6R
The tested 2018 Subaru Legacy 3.6R Limited is the range-topping Subaru sedan, with the big engine, all the toys and every imaginable hazard detection system available anywhere near its MSRP. Subaru gave the Legacy modest updates recently, making it more alert and athletic in appearance. It also has a plusher cabin, with Android Auto functionality via the giant touch-screen interface that lives in the center of the dash.
Safety enthusiasts are covered nicely thanks to Subaru's camera-powered EyeSight system. It connects  numerous hazard-detection technologies to keep drivers aware of potential threats.
A Confident Choice
The Legacy and I went for an afternoon play during a city-stopping snowstorm. Notable was how the AWD system instantly propelled all four wheels. There's no sense of being stuck a moment before all four tires grab. It is confidence building, even in a foot of snow.
You May Also Enjoy:
Subaru Cultural Evolution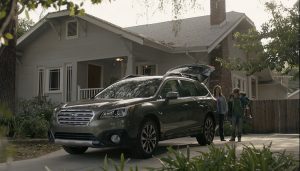 Drivers are nicely supported when it's time to stop as well. Advanced ABS portions braking power on a wheel-by-wheel, inch-by-inch basis in hard stops. You stop fast in a straight line with no hassle. Even in an emergency stop on hard-packed snow, the ABS action felt soft and muted through the brake pedal.
Headlights add more confidence. LED-fired lamps steer into corners and point crisp, far-reaching white light exactly where it's needed. The color and output of the system help reduce eye strain, and add peripheral illumination of roadside treelines and culverts. If you don't like after-dark driving, these headlights might change your mind.
Finally, the EyeSight system. This enables numerous safety functions, including a collision warning system that can alert drivers of a sudden slow-down or stopping of traffic up the road. Whether or not you believe in safety systems like these, this one can provide you with several extra seconds to brake for a hazard, which could save your life.
Family Ready Traction
The 2018 Subaru Legacy should prove big enough for four adults or a small family, and I noted no issue with headroom, legroom, or trunk space. There's plenty of storage nearby to keep smaller items organized and secure on the move too.
Some competitors offer a smoother and more refined ride, and the Legacy can get a bit busy on rougher surfaces. Mostly though, the Subaru Legacy handles real-world roads with a feeling of density and a ride dialed in nicely between sporty and comfortable.
Add in a little dose of playful liveliness to the steering and handling, and the 2018 Subaru Legacy comes off just a touch more responsive and enthusiastic than the norm in its segment. Should a lengthy highway cruise be on the schedule, the noise levels are easy to appreciate. Even at a good clip, there's no need to raise your voice for a conversation.
Old-School Flat-Six Power
Motivation came from Subaru's aging but lovely 3.6-liter flat six BOXER engine, which has been around for years and without any changes or updates. Engineers have left well-enough alone.
Subaru's biggest powerplant is smooth and pleasing to listen to. It dispenses power eagerly across the rev range and should provide enough oomph for most drivers, even if 256 horsepower is low for its size these days. However, while mucking around in deep snow, it can drink fuel away fairly quickly.
Just One Gripe
All said, the 2018 Subaru Legacy delivers the peace-of-mind and confidence of a standard AWD system that knows what it's doing. It all culminates in a compelling family-sedan package with many strengths and few weaknesses.
In fact, I've got just one major complaint. On board, the numerous displays and interfaces and readouts all look a little different from one another. Each one uses different colors and layouts and even fonts. Some will find it looks a little disorganized and busy.
However, it should hardly prove an issue for shoppers after a family sedan that's expert at tearing through winter's worst.