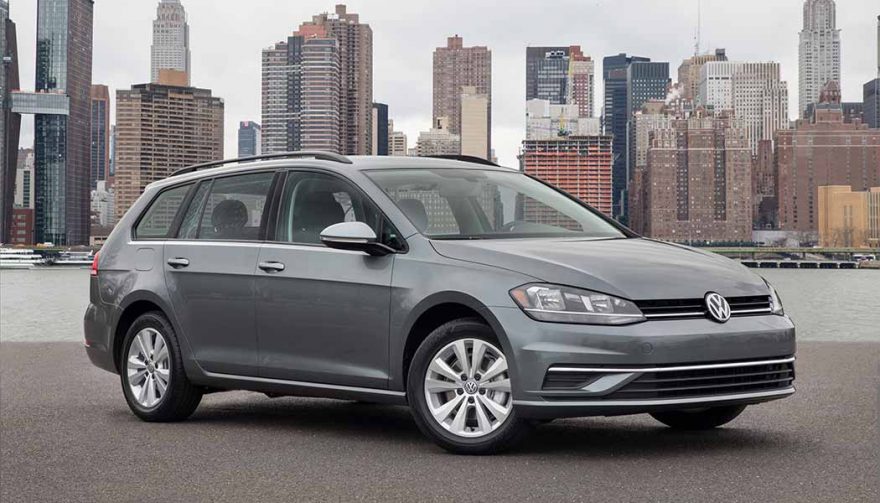 The VW Golf SportWagen gets a little residual GTI performance
When SUVs and Minivans Won't Do, You Need the Best Family Cars
When it comes to family trucksters, SUVs are the go-to choice. New SUVs of various sizes are stealing sales from cars and minivans. And sure they offer lots of space for people and cargo, as well as lots of new amenities. But no matter how "car-like" they get, they still aren't cars. They're heavier, less efficient and less fun to drive. If you want something with better fuel economy, that's easier to park and fun to drive, you want a car. So here are nine of the best family cars around.
Volkswagen Golf SportWagen/Alltrack
The Volkswagen Golf SportWagen and Alltrack have up to 66.5 cubic feet of cargo area. And the 60/40 split folding rear seat means you can still take one or two rear passengers with some longer cargo.
The Golf is available in two- or all-wheel drive. The Alltrack is also lifted up to make it easier to get to the cottage or beach. What's better, you get some residual GTI performance. Just because you need more family room doesn't mean that you want a bland drive.
Honda Fit
The Honda Fit, along with its fold-flat rear Magic Seats, offers a shocking amount of room with a surprisingly small footprint. And if you're talking about the best family cars, you've got to have room. You get 16.6 cubic feet of cargo space behind the rear seat. That's more than many mid-size sedans can manage to cram back there. Fold the seat down and the Fit offers 52.7 cubic feet.
It's a small car that's not small on the inside. And while the Fit seems tiny compared with modern trucks and SUVs, it sips fuel and costs a fraction of the cost.
View on One Page