2020 Jeep Gladiator Overland
Monthly, I report for Wheelscene from Northern Ontario—in Sudbury, to be exact. In this neck of the woods, the pickup truck is one of the most-loved means of getting around, which makes the arrival of the latest pickup on the market a very special thing. That's even more the case when the truck in question is something totally new and not yet seen before. And that's, for the most part, what the 2020 Jeep Gladiator is.
With it joining the two and four-door Wrangler models, new pickup shoppers and loyal Jeep drivers alike have a new option to consider.
The Gladiator is about 2.5 feet longer than the Unlimited, thanks to its stretch wheelbase and 5-foot box.
If you can imagine, say, a Jeep Wrangler Unlimited with a box behind the doors, then you're on the right page. For those unfamiliar with Jeeps, you get four doors, a bit of a hop to board and exit, and adult-usable seating for four. And an upright and alert driving position.
Off-Road Appliance
Bear with me on this, but after a few days at the wheel, the 2020 Jeep Gladiator made me think a lot about how many similarities it shares with my favorite kitchen appliance.
My Instant Pot is my go-to tool in the kitchen, mostly because it's a single product with a multitude of uses, from pressure cooking a roast to searing mean to slow-cooking some chili. As such, it's my go-to: the best tool there is for just about anything I'm doing in the kitchen.
As a product, the Gladiator is similarly conceived. It's a pickup truck. It's a Jeep Wrangler. It'll chew through mother nature's worst winter driving with ease, but it's also an open-air convertible—thanks to removable doors, roof panels, and even the windscreen, for heaven's sake.
So like the Instant Pot, it's down for whatever.
Roof-off ice-cream run with the kids? Winter-busting ski-trip hauler? Pre-holiday Costco run? Here's a four-wheeled tool you'll enjoy using every day. And that approach, by the way, is making Jeep a lot of money these days.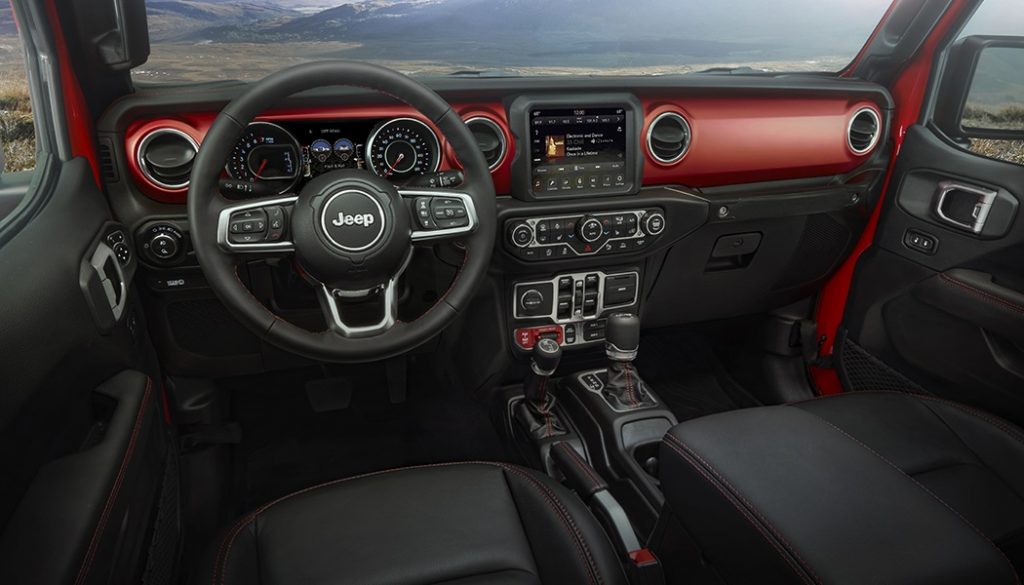 Upscale Inside
My tester was the 2020 Jeep Gladiator Overland and came complete with an upscale interior, plenty of friendly tech, and a firey-hot heated steering wheel that pre-warms with the remote starter on cold mornings. The interior pulls its weight towards the sticker price with excellent fit and finish, abundant detailing and upscale touches, and an overall execution that says 'upscale and unique', not 'gussied-up work-truck'.
In centre stage, it's one of the most straightforward touch-screen interfaces going, too. And if you think touch-screens are just the worst, don't fret: you'll like this one because it's very logical to use.  
You May Also Enjoy:
2017 Jeep Grand Cherokee Buying Guide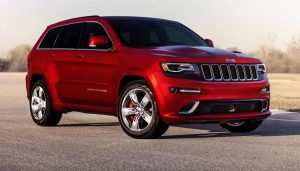 Rugged Outside
The drive will prove familiar to former Wrangler drivers, and pickup-drivers alike. Gladiator feels more tough than refined, more capable than precise. It's a truck, remember—and because of that, the emphasis is on durability and all-terrain performance, and the ride reflects this.
My favorite thing about the Gladiator? The rough-surface ride quality.
"Didn't hurt. Didn't hurt."
This plays in my head while whacking potholes or frost heaves or pavement craters passing underfoot on the road more travelled. On trails, Gladiator is quiet under fire: the suspension barely making a peep over surfaces that stir quite the racket from many a crossover's suspension. The ride is truck-like, fairly rigid, and somewhat jouncy: not for everyone, but it feels nicely balanced between tough and comfortable.
Incidentally, if that sounds good to you, check out the new Ranger FX-4 as well, and for the same reason.
There's a pleasing heap of low-end torque and a pleasingly responsive brake pedal feel, which help impart a nearly sporty drive as you're zipping through city traffic– if that's your style.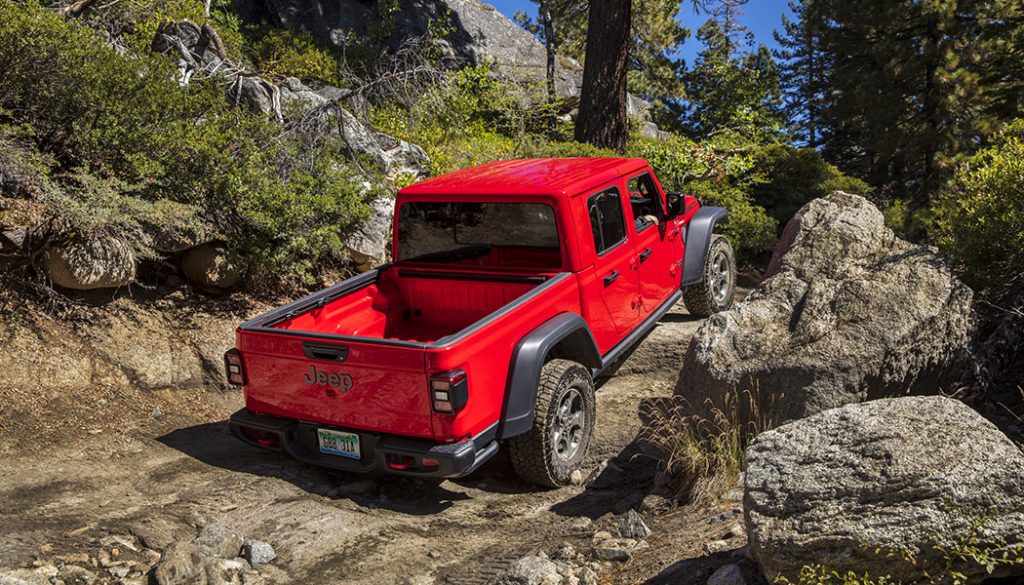 Off-Road Power
Gladiator's 3.6 litre 285-horsepower V6 and 8-speed automatic are a smooth team, offering up more-than-you-need performance in most situations and an available six-speed manual transmission for the clutch-lovers among us.
Mileage is about as expected from a punchy pickup. Be sure you'll enjoy Gladiator's power and capability, as you will be paying for it.
A yank or two on the console-mounted lever engages 2, 4 or 4-low, with easy reference via on-screen graphics embedded within the instrument set. My tester's 4×4 system was fully manual. There was no AUTO setting to simulate decision-free All-Wheel Drive. A further note: you can do much better than the factory rubber on snow and ice by installing winter tires.
I noted no space-related issues for four average-sized adults during shorter trips.
Headroom in the rear seat of the 2020 Jeep Gladiator can seem a little crowded thanks to the roof-rail across the top, though most average-sized adults will have few complaints.
Two other notables.
First, the available LED headlight package is worth the money, and provides top-notch performance in after-dark illumination. Equipped thusly, you've got headlight performance on par with a big-dollar luxury sedan. Second, as a Wrangler derivative, Gladiator has some inherent compromises. For instance, the removable plastic roof panels mean more noise on the highway, and the off-road suspension means less precision from the steering and handling.
Ultimately, the 2020 Jeep Gladiator is a worthy option for those set on an all-weather, adventure-ready pickup that caters to an active and adventurous lifestyle while giving the driver a nice interior and plenty of approachable tech.