2021 Hyundai Elantra Packs Loads of Stuff and Style in a Small Package
The sedan segment might be shrinking, but it's still a large piece of the market. And with competitors dropping out left and right, it's possible for the right new models to actually outsell the cars they replace by picking up those extra pieces. Compact buyers want affordable, but they don't want cheap. They want style, efficiency, and the option to add on plenty of tech if they can. Can the 2021 Hyundai Elantra let buyers have it all?
Hyundai has been crushing it in the styling department of late, with basically every design out of the factory door since the current refreshed version of the Elantra setting new marks for style in their segments. With the 2021 Hyundai Elantra, the company is moving the bar even higher. Just look at the doors, where the "Parametric Dynamics" styling makes it one of the sharpest cars in the segment. It's longer and lower than before, again making this one the looker in its class.
Powering Ahead
But the 2021 Hyundai Elantra goes beyond just that new sheet metal. It's all-new inside, too, offering more interior room than last year. Power comes from a 2.0L four that runs the more fuel-efficient Atkinson Cycle. The engine makes 147 hp and 132 lb-ft, and with Hyundai's latest CVT the company expects it to have a best-in-class EPA fuel economy rating.
First-Time Hybrid
All-new to the lineup this year is a hybrid model. That version of the 2021 Hyundai Elantra gets a 1.6L four that pairs with an electric motor to make 139 hp and an impressive 195 lb-ft of torque. Hyundai says that one should top 50 mpg combined once the numbers are in. Unique to Hyundai's hybrids is a six-speed dual-clutch transmission instead of the CVT most use.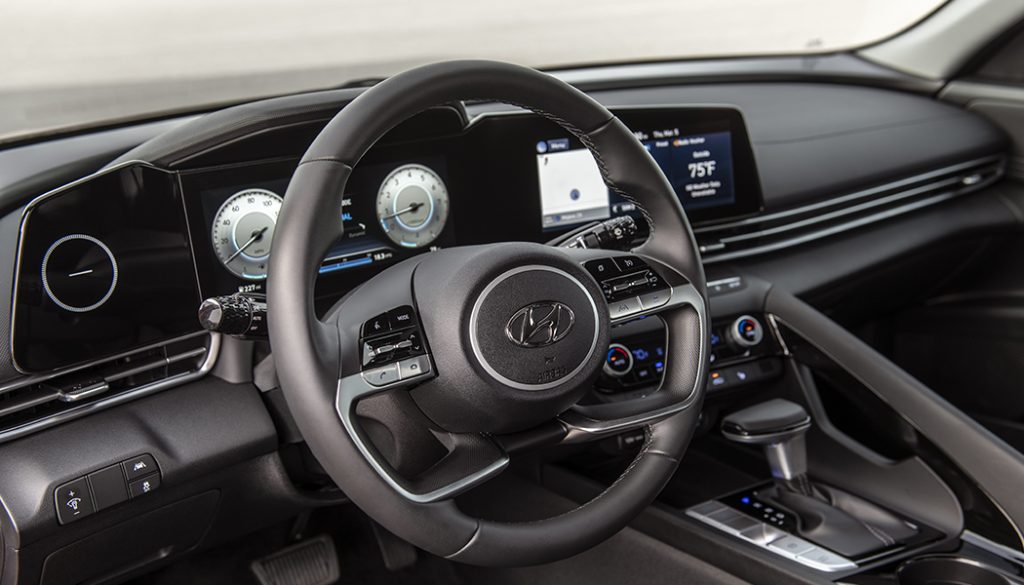 On the inside, an 8.0-inch infotainment screen is standard but step up and you can get a pair of 10.25-inch displays, one for the dash and one for the infotainment system. Wireless Apple CarPlay and wireless Android Auto are both included as standard to let you connect your phone to your car more conveniently. Wireless charging is optional to make the best use of this feature. Dual Bluetooth support allows for two phones to connect at once, and the system has a new natural speech recognition that will let you go beyond texting and radio controls to operate the HVAC, seat heaters, defroster, and more vehicle controls just by asking.
Active, Safety
The 2021 Hyundai Elantra will come loaded with active safety equipment too, starting with the standard forward collision assist with pedestrian detection, lane-keep assist, lane following, and high-beam assist. On the options list are blind-spot collision avoidance with rear cross-traffic detection, radar cruise control, and Hyundai's Highway Driving Assist that combines some of the other features to provide lane centering and maintains following distance. If that's not enough, the Elantra will also be able to use your phone as the key fob to lock, unlock, and start your car. Or to let others do the same if you want them to. Production of the 2021 Hyundai Elantra is set to start later this year and for the car to go on sale in the fall.