I Ain't Afraid of No Stinking Snow – Best Motorcycles for Winter Riding
Winter is upon us and for much of the nation, the motorcycle riding season is over. Snow, sleet, ice, black ice, and flash freezing temperatures all present serious safety/survival challenges for most riders. But for some, the real diehards, winter is just another riding season with new opportunities. They believe that a ride on a crisp winter day is the perfect way to chase off the winter blahs. They are not afraid of no stinking snow. If you fall into that second category, or you only have a bike and you have to use it to get to work, then you should be aware of the best motorcycles for winter riding as well as the most common hazards you're likely to encounter on the road. And the avoidance tactics to use to blow by them.
Why Normal People Don't Ride Motorcycles in the Winter
All the things
that you love about motorcycling, the wind in your hair, the sense of freedom,
leaning into curves; all those things can get you killed in winter conditions.
Here's a short list of the most common hazards you'll encounter on winter
roads. Any one of them can cause you to dump your bike and take the shine off
your boots:
Black
Ice. Black ice is ice
that is so thin the black color of the asphalt beneath it shows through. In
other words, it's nearly invisible. It can form even when the air temperature
is above freezing if the road surface is still below freezing. Bridges and
shady roads are favorite spots for this stuff. In a sense, it's like the frost
on your lawn and appears in the early morning and at twilight.
Salt
and Sand. The stuff
that many road departments use to melt ice and provide traction does not go
away when the snow does. Car tires typically push it off to edges of a lane or
the road edge itself. This stuff is slippery and represents a real hazard when
changing lanes or turning across lanes.
Potholes
and Frost Heaves. Potholes
occur when snow is packed into cracks in asphalt, melts, then freezes and
expands breaking up the blacktop. The longer they go unrepaired, the deeper and
wider they become. Frost heaves work in a similar way except the pressure on
the blacktop comes from beneath. As the earth expands during a freeze it pushes
the road up creating an instant speed bump for cyclists.
The best defense against these hazards is to constantly aware of the road conditions ahead. Being aware of the hazards gives you an opportunity to select a line around them. Slow down when changing lanes or crossing lanes and look for alternative lines if you need them.
Best Motorcycles If You're Going to Ride in the Snow
If nothing is going to stop you, and you suffer from snowmobile envy, these three bikes touch on the possible and the extreme for the best motorcycles for winter riding.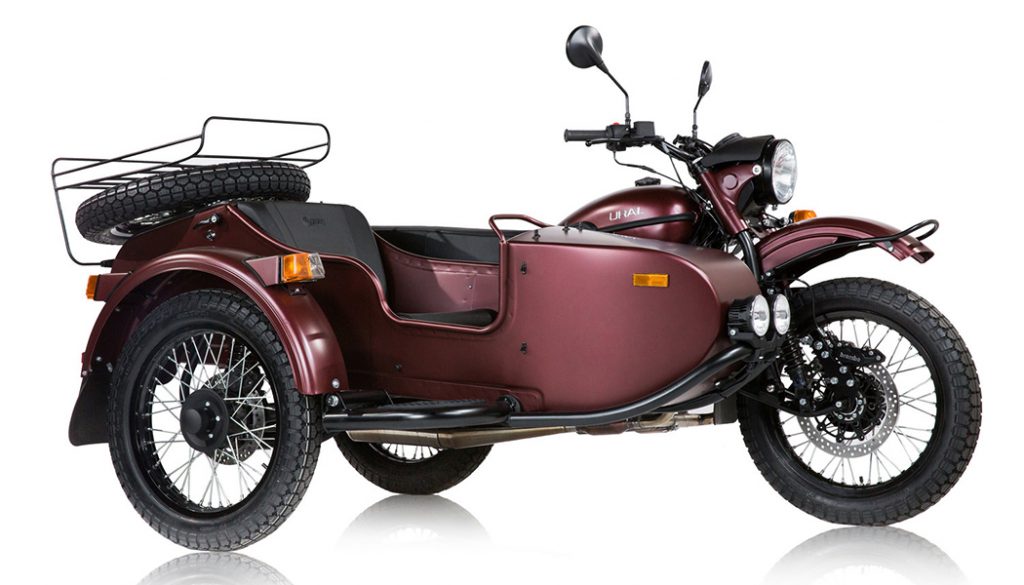 The Bike You Own.
The best motorcycles for winter riding are the ones you already own be it a Honda Goldwing, Harley Davidson, or Yamaha Super Tenere. You know it, you're confident on it, you know when it feels right or wrong. Jumping on a new bike and heading out on the ice is likely to end badly. The only upgrade you might consider is snow tires. You don't have to change your bike you need to change your clothes. Whether you go the layered route or one-piece suit, you need to keep your face, hands, and feet protected to safely handle a bike in the numbing windchills that can come with winter riding.
Ural Gear Up
Not a conventional bike. In fact, technically, it's not a bike at all but rather a trike equipped with a sidecar. These Ural sidecar rides can be found worldwide and are best known as adventure rides. Three wheels give you better balance on a slick road. And check out these features. Pull a lever and the sidecar wheel gets power making the bike a 2WD. It has three Brembo brakes, a reverse gear, a massive "trunk," and of course a sidecar for a friend or another cargo space. You can pack a bag in the trunk and stick your skis in the sidecar and head off to the slopes on 2WD.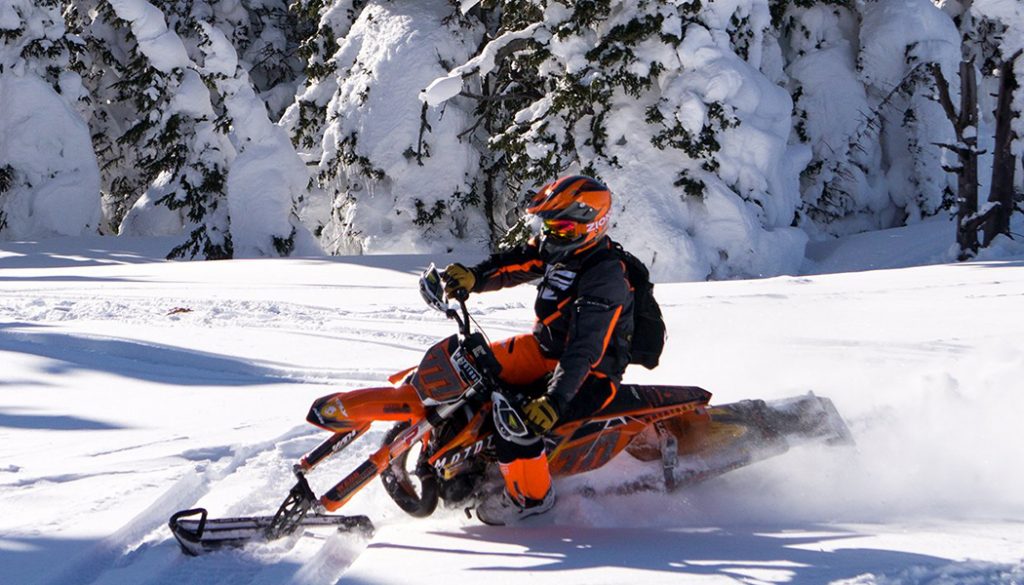 Mototrax Conversion Kit
For extremists with snowmobile envy who own a dirt bike there is good news. Mototrax, and other manufacturers, have kits that can turn your dirt bike into a lean, mean, snow carving machine. These kits replace your wheels with a ski up front and a snowmobile-like belt drive track in the rear to make this one of the best motorcycles for winter riding. Take this out with your snowmobile buddies, open the throttle, and leave them in the dust…or snow as it were.
The Ultimate in Winter Motorcycling
Even in the harshest winter, there is a way to shed all the layers, put on a T-shirt and jeans, and ride 'til you can't no more. It's a three-step process.
Step
1. Load your bike onto
a trailer hooked up to your truck.
Step
2. Drive to any Gulf
State between Louisiana and Florida
Step
3. Ride baby ride.
Obviously, you can't spend all winter on a riding vacation but a week or two is realistic. The Gulf states don't have mountain vistas and it's mostly flat, but each state has trails and routes that will challenge you. If you love Cajun music you'll want to take the 32 mile stretch of forgotten road on Route 22 between Sorrento and Ponchatoula is wickedly twisty snaking through the bayou country. In Mississippi, you're talking Natchez Trace. It's a 444 mile National Park, all asphalt, no commercial traffic, no lights, that cuts through awesome country.
Florida is a different story. The state is flooded with tourist traffic. In a remote section of Central Florida there is a twisty jungle trail called The Tail of the Gecko that is a real challenge. But the real reason people bring their bikes to Florida is to party! There's Thunder Beach Motorcycle Rally in the Redneck Riviera of Panama City, Biketoberfest in Daytona Beach, and the granddaddy of them all Daytona Bike Week. Old school biker parties, racing, cruising, and generally unfortunate behavior attracts thousands of bikers every year. The best motorcycles for winter are the one you take somewhere warm.
On this trip, there definitely ain't no snow!