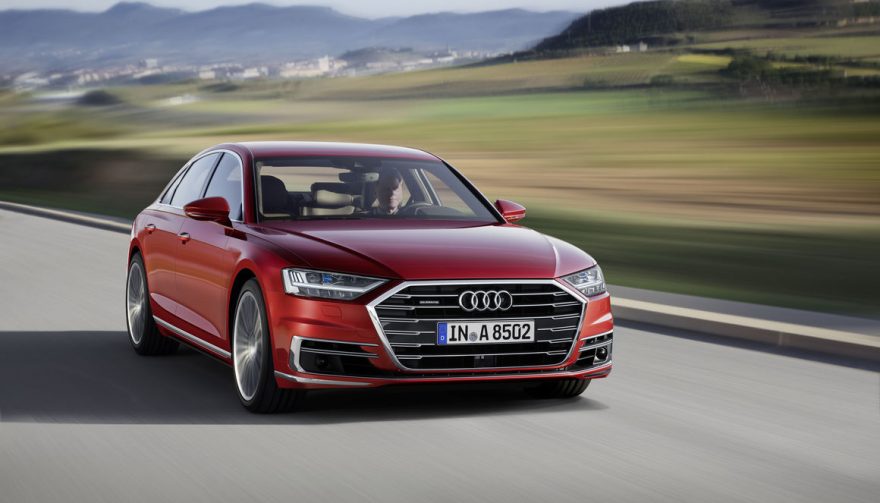 The Audi A8 comes equipped with Traffic Jam Pilot, the first Level 3 autonomous feature offered to the public
No Hands: Which Cars Have the Most Driverless Features?
Everyone seems to be talking about the best self driving cars these days. What many people don't get is that driverless features come in different levels, depending on how little drivers need to do. We're not quite to the point where you can take a nap while your car drives you to work, but that might not be in the too distant future. In the meantime, vehicles on the market right now have an increasing amount of driverless equipment. That means less stress for you, especially in high-traffic commutes.
If you want to have the latest and greatest for better protection on the road, or you just like being the first to have new technologies, you have several vehicles to consider. Each of the following cars comes with plenty of driverless features, so you can live in the future now.
Audi A8
This flagship full-size sedan will of course pack plenty of cutting-edge tech, including autonomous equipment galore. Among the impressive list of semi-autonomous features is Traffic Jam Pilot. This system will take care of steering at speeds up to 35 mph. You must be on a limited-access (that means with exit and entrance ramps), divided highway, among other requirements.
Traffic Jam Pilot is a game changer. It's the first Level 3 autonomous feature offered to the public. More are coming, but Audi has reached this milestone first. Just remember, you as the driver will still have to take over at a moment's notice sometimes, so no napping. But the Audi A8 is definitely one of the best self driving cars.
Tesla Model X
Too many people think Teslas can drive themselves without any driver help today, because the term Autopilot is a little deceptive. While drivers do need to be attentive at the wheel of a Model X, this all-electric SUV features impressive autonomous tech that can simplify your life.
For starters, the Model X is bristling with 12 ultrasonic sensors and 8 cameras. Using feedback from those, the vehicle can manage steering and automatically stopping in some situations. Tesla CEO Elon Musk says all the hardware necessary for Level 5 autonomous driving is already onboard, only the software needs to be downloaded wirelessly. That could be several years down the road, but there's no guarantee on a timeline.
Mercedes-Benz E-Class
This popular luxury coupe and sedan was redesigned for 2017, and with that came an array of driverless features. Most impressive and unique in the new Mercedes-Benz E-Class is Drive Pilot. Essentially, the system combines lane-keep assist with adaptive cruise control. It will automatically maintain a safe following distance with the car in front of you, plus steer through gentle bends in the road.
You also enjoy an active lane-change feature. Just flip on the turn signal, and the car will move into the corresponding lane, if no other cars are in it. You don't have to do anything more, making lane changes incredibly easy.
Nissan Leaf
Not only is the Nissan Leaf a surprisingly affordable electric car, the 2018 model adds quite a few driverless systems. The big one is ProPILOT Assist, a single-lane driver assistance system. Turn it on, and the car will automatically keep a safe distance from the car in front.
This tech also keeps the car centered in its lane, as well as apply the brakes if traffic suddenly slows or stops. Nissan has been experimenting extensively with fully autonomous cars, and it likes to push out the latest advancements through the Leaf, one of the cheapest best self driving cars.
Cadillac CT6
When you think of cutting-edge tech, Cadillac might not be the first brand to jump in your mind. That could change, thanks to the new Super Cruise system in the Cadillac CT6. Cadillac recently demonstrated the tech with a coast-to-coast drive, showing how a caravan of cars works together.
The key to Super Cruise is that cameras and radar sensors combine with data from a Lidar-mapped database. One of the biggest struggles for autonomous cars is accurately pinpointing the vehicle's location at any given moment. This eliminates that challenge. In addition, a camera mounted to the top of the steering wheel monitors if you as the driver are paying attention. The system also controls vehicle speed and steering angle.
Of course, the CT6 can come with many other autonomous systems, making it competitive in the full size luxury sedan market.
Volvo XC60
If you want a huge array of autonomous systems on a new car, look no further than the Volvo XC60. Completely redesigned for the 2018 model year, this crossover is really on the cutting edge of things.
Among the long list of driverless features is Pilot Assist. It takes care of acceleration, braking and steering at speeds up to 80 mph so long as you're on a road with clear markings. Sensors can tell if you have your hands on the steering wheel, because you might need to take over in a hurry.
Another feature, steering support, helps with avoiding road hazards. It will maneuver the crossover around a large animal, pedestrian or another car you're on a collision course with – definitely a cool feature to be considered one of the best self driving cars.