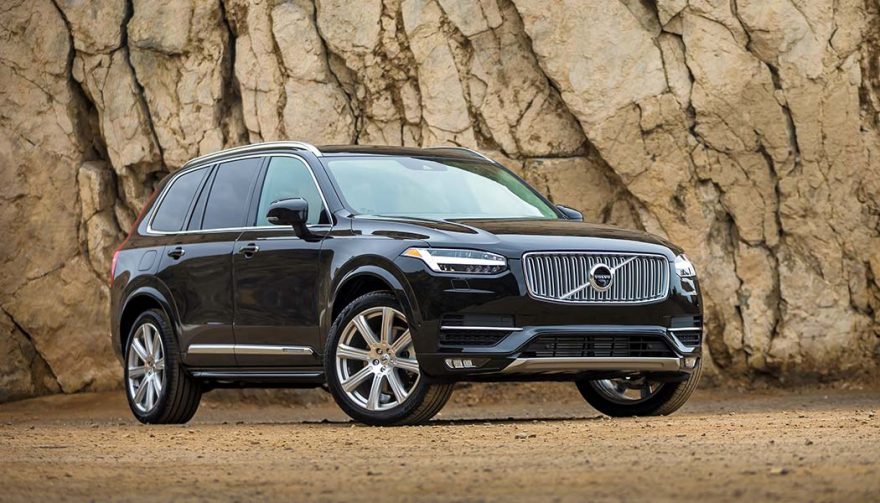 The XC90 is the largest Volvo SUV in the lineup
New Lineup of Volvo SUVs and Wagons Come in All Shapes and Sizes
If you haven't been paying attention, the company has a pretty solid Volvo SUV and wagon lineup. The Swedish automaker is serious about making over everything. Gone are boxy shapes and low-rent interior treatments.
Instead, Volvos now look sleeker and more athletic. Their cabins have a premium feel, but still with that Scandinavian minimalist design element. What's more, modern Volvos are powerful, but they sip fuel. Yes, it's a compelling set of offerings you should become familiar with. And no matter what you're looking for, there's probably a Volvo SUV or wagon for you.
XC90
This was the Volvo SUV that kicked off the new era. Before the second generation broke cover, most people didn't take the talk of transformation seriously. Aside from the silky exterior, the Volvo XC90 interior has a panache you're hard pressed to find in many Teutonic rivals. One of the warmest details is open-grain North American walnut veneers.
To show how serious Volvo is about quality, it uses a book-matched cutting process. An artisan cuts two veneers out of the same piece of wood, resulting in a symmetrical pattern. It's the same method furniture artisans use for expensive custom pieces.
Volvo found a way to make the interior more spacious, without increasing the XC90's footprint. Things like slimmer front seats mean passengers in the second and third rows won't feel nearly as crushed as before. Just remember, it's an SUV with third row seating, but this isn't a Suburban.
The interior is nice, but this thing moves well enough, depending on the powertrain selected. T5 models have a turbocharged and direct-injected four-cylinder engine, which puts out a decent 250 horsepower and 258 lb-ft of torque. The T6 adds a supercharger into the mix, boosting things to 316 horsepower and 295 lb-ft of torque.
If you go for the T8 models, you get a plug-in hybrid powertrain. That means running errands around town only using electricity, no gas.
V90
Volvo offers its biggest wagon in two different forms. The regular V90 is elegant and sleek. Getting one in North America takes a little determination.
The version promoted here is the V90 Cross Country. It features a higher ride height and bigger wheels, so you can pretend you like to be really active off the pavement. Just don't try to take this wagon off-roading, because that won't end well.
The interior closely matches what you get with the XC90, which definitely isn't a bad thing. Of course, there's only seating for five, on two rows. But you enjoy a spacious cargo area in the rear, perfect for Costco runs.
When it comes to powertrains, you get the T5 and T6 options, but no T8.
View on One Page
You May Also Enjoy:
Test Drive: 2020 Volvo S60 Polestar Engineered