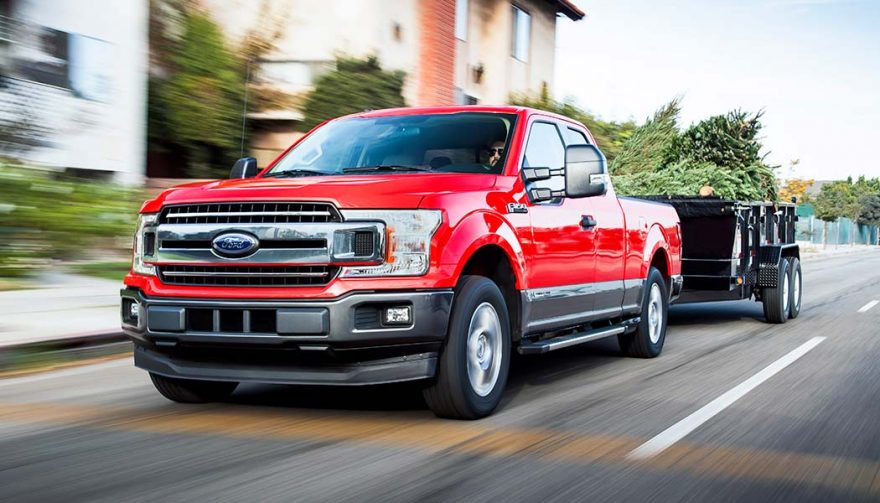 With the right configuration, the Ford F-150 can tow a maximum of 13,200 pounds
Which Truck Wins the Towing Tug-of-War Contest?
People looking at pickups are usually interested in power, payload and towing ability. When you start talking heavy duty pickups, that last feature, the ability to pull heavy things around, is a highly desirable characteristic. To that end, there are quite a few contenders for best truck for towing.
Not everyone needs to pull the equivalent of an adult elephant and her calf behind their vehicle. Many people are just looking to tow their bass boat or jet ski. For that, any mid size truck should do the job or even a larger SUV.
But if you are in the HD market you are looking for a work truck, and lord knows what you'll be hooking up to. To help you out with your selection,  here's the countdown to the best truck for towing.
10. Ford F-150
The best selling truck time and time again proves that switching to aluminum wasn't such a bad idea after all.
The truck is lighter and more fuel efficient, and engine enhancements make it more effective as well. The 2018 Ford F-150 with a 3.5-liter EcoBoost V6 can be configured to tow a maximum of 13,200 pounds. It's the first light duty truck to break the 13,000-pound towing barrier.
2. Ram 2500
The key to Ram's success in the heavy duty segment is the 6.7-liter straight-six Cummins turbo-diesel that generates 385 horsepower and 900 pound-feet of torque.
With the right configuration, this monster can hook up and move a maximum of 17,980 pounds. It's all about the torque baby.
3. Ford F-250 Super Duty
Just one step up from the F-150 and one step down from the F-350, the F-250 is Ford's most improved model for the 2018 model year.
That 6.7-liter Power Stroke Diesel allows this rejuvenated pickup to pull a maximum of 18,500 pounds with the right kind of configuration.
4. Ford F-350 Super Duty
The Ford F-350 got a badly needed re-design in 2017 making it lighter, more powerful and more fuel efficient. Its top-of-the-line engine is a 6.7-liter Power Stroke turbodiesel V8 rated at 440 horsepower and a whopping 925 lb-ft of torque.
With the right configuration, that powerplant allows the truck to pull a maximum of 21,000 pounds with conventional towing.
5. Chevrolet Silverado 2500HD
Chevrolet jumps into the heavy duty pickups arena with the seriously impressive Silverado 2500.
Ford has its Power Stroke Diesel, Chevy has its Duramax turbo-diesel V8 that pumps out 415 horsepower and 910 lb-ft of torque. The Duramax is the heart of the entire HD line for Chevrolet. The Silverado 2500HD has a towing capacity of 18,100 pounds with the right configuration.
6. GMC Sierra 2500HD
Chevrolet's big cousin also uses the Duramax and can also pull a maximum of 18,100 pounds with the right configuration.
When you start getting into this class of heavy duty trucks, GM's classy, upscale interiors tend to tip the scale in its direction. Between Chevy and GM the interiors can best be described as Levi and Armani.
7. GMC Sierra 3500 Denali HD
This is one massive, mean looking truck. The Duramax in this bad boy has been tuned to 445 horsepower generating 910 lb-ft of torque.
The Denali has Hollywood style but still performs like the reliable workhorse it is. It's been dressed up on the exterior with extra chrome and on the inside with an upscale interior. Even so, it still pulls a maximum 23,100 pounds with the right configuration.
8. Chevrolet Silverado 3500HD
This is the king of the Chevrolet pickups. Trims run from work truck to high roller. It also has, of course, a Duramax 6.6-liter turbodiesel and 6 speed Allison transmission, and this one is tuned to allow a 23,300-pound towing capacity with the right configuration.
That's a full 200 pounds more than its big brother at GM. You can just imagine some Chevy engineer thumbing their nose at the home office.
2. Ram 3500
For years Ram held the towing title. Last year however, it slipped to No. 2. Until FCA does some innovation with the available Ram engines it's likely to slip another step next year.
The Ram 3500 is still an impressive, hardworking truck that comes with as many options as you can afford. It also has a diesel as its premiere engine. It's a 6.7-liter turbodiesel inline-six that makes 350, 370, or 385 horsepower, depending on which transmission you choose. Top towing for the Ram 3500 is 31,210 pounds.
1. Ford F-450 Super Duty
At 32,500 pounds with gooseneck towing, the Ford F-450 Super Duty is the best truck for towing, at least in terms of capacity.
The F-450 is about 499 times more truck than most people will ever need. It's big, 22 feet long and 91 inches wide. It's got six wheels. It has a luxury class cabin. It's expensive. Most importantly, it can pull 65,000 cans of your favorite beer to your beach party. Does anybody know what the towing capacity is for the Hennessey Velociraptor 6×6?
So, there you have it. A rundown to the best truck for towing available. If you plan on towing more than 35,000 pounds, we highly recommend you hire a pro.
You May Also Enjoy:
The 2017 Ford Super Duty