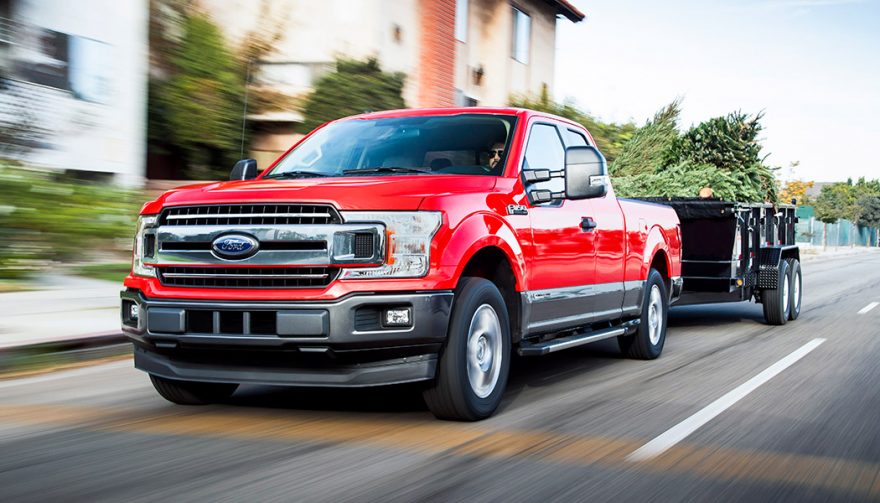 Ford's freshly-deployed F-150 PowerStroke diesel V6 engine is the sixth powerplant option. It manages to be near the top for power and bottom for thirst.
Diesel Driver: 2018 Ford F-150 Powerstroke Review
Ford's freshly-deployed F-150 PowerStroke diesel V6 engine is the sixth powerplant option on offer for F-150 shoppers. And the F-150 diesel is one of its most powerful in terms of torque output, while also being, by a landslide, its least thirsty.
Opt for F-150's new diesel engine, and you get a full function pickup with loads of torque for confident towing, and a slashed fuel bill. The mileage is impressive. In fact, I've (recently) put more fuel through a Honda Pilot, Toyota Tacoma, Nissan Pathfinder, or even a Honda CR-V—though that particular tester was driven in the dead of winter, which bumps fuel use.
In any case, the premise is simple: great-big pickup capability alongside fuel bills in the same ballpark as a mid-sized crossover. If the fuel bills are the only thing keeping you from pick-up truck ownership, you can start to plan your shopping.
Under the Hood
The 3-litre diesel V6 is turbocharged for 250 horsepower and 440 pounds of torque. Those looking to upgrade from a last-generation RAM EcoDiesel may find it a worthy pick: the F-150's PowerStroke diesel turns in a bit more horsepower, higher towing and payload figures, and better fuel economy.
Press the ignition button, and the F-150 diesel fires up instantly—no waiting for glow plugs. The process is virtually noiseless from on board, and all but undetectable albeit a brief shudder through the body as the engine turns over. The idle is virtually noiseless from on board, too. Ditto the engine, in general, while driving. It's smooth, very quiet, and largely uneventful.
Performance is still best from the popular Ecoboost gasoline V6 engine, which nukes the F-150 PowerStroke diesel on power and torque—though the diesel doesn't feel like it's trailing too far behind in terms of forward jam. Perhaps most remarkable? Just how few revs are needed to get cruising up to speed. The diesel engine is a solid performer, but mostly, it's just quiet and peaceful. Should you, somehow, still believe that diesel engines are rattly, soot-barfing contraptions, a quick test drive of this truck will show you just how far they've come.
Also noteworthy? Ford shares design of this engine with Land Rover, who uses a modified version of it in their glitzy Discovery luxury off-roader. All said, F-150's newly-available diesel wouldn't (and doesn't) feel out of place in an $85,000 posh-ute.
Shifting Pace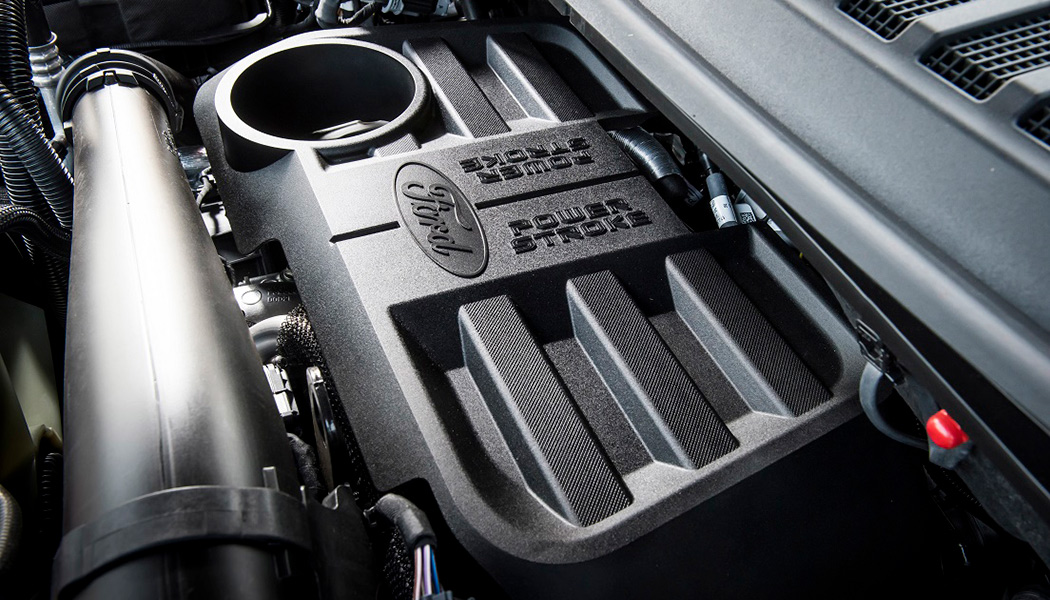 The engine is teamed up with a 10-speed automatic, which has recently become standard on virtually all F-150 models. More gears means better performance and fuel economy, enabled by giving the powertrain more options to use for varying combinations of load, revs and speed. The transmission shifts with invisible smoothness at virtually all times, and can skip gears in each direction as needed to help eliminate hunting. Ten gears is a lot, but this transmission knows exactly which ones to use, and which ones to skip, in all situations. From the driver's seat, you don't notice a thing.
Also notable are the headlights. Shoppers planning to upgrade from an older version of the F-150 will find the new LED units fitted to the current-generation truck to be a solid upgrade in after-dark driving. That's thanks to a big improvement in terms of how far and wide the light spreads, and the color of the lighting, too.
Other upgrades to tech and styling have been applied throughout for F-150's 2018 update. New fascias are the easiest to spot, and the new Ford Sync infotainment system is improved considerably. It's far more responsive, smooth and powerful. Unlike the former system, it worked every time I went to use it, without crashing, too.
On the Road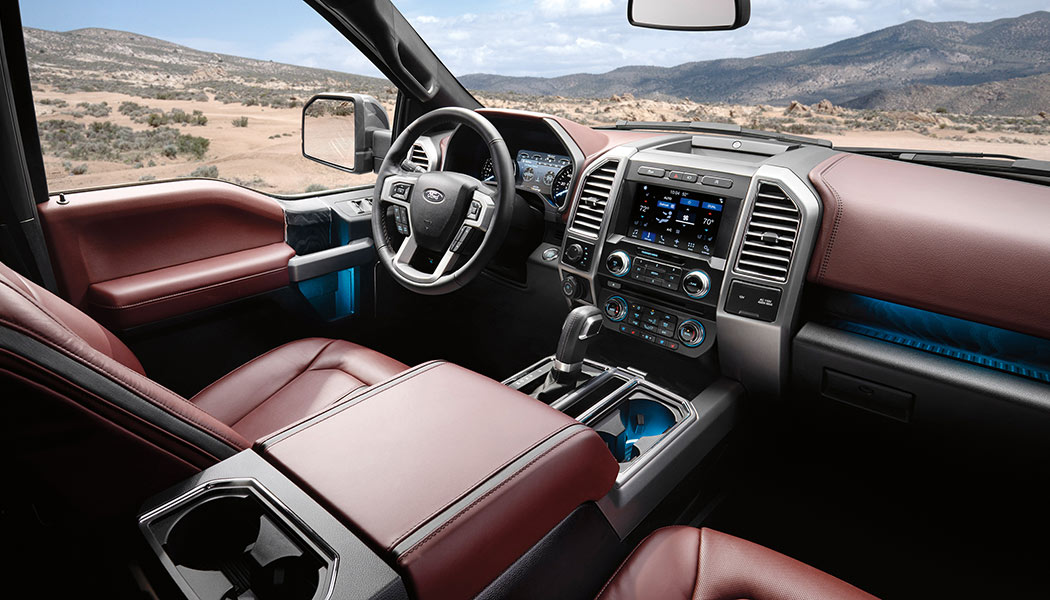 My biggest complaint after a week at the wheel related to the wheel itself. Specifically, at higher speeds, I find F-150's steering to be too light, lazy and vague to effectively lock the truck onto its course. A little more weight and a little less slack in the system could go a long way in helping it stay more easily centred within its lane.
Should you order your F-150 with this new diesel engine? Do your math first, but the answer is 'maybe'.
Using EPA figures, the F-150 PowerStroke diesel engine saves about half a gallon every 60 miles compared with the EcoBoost V6. It's an even bigger gap if you look at the 5.0L V8, and it's probably going to get even wider if you spend a lot of time hitched up. Calculate that savings against the cost of diesel and gas across the country and the diesel could pay for itself in about 144,000 miles. That said, fuel savings are going to depend on your location since the spread between gas and diesel can vary greatly depending on where you live.
Again: this engine gives you access to a full-function pickup with towing and torque to spare, alongside a fuel bill on par with a (much less powerful) mid-sized crossover or minivan. Plus, you can tow over 11,000 pounds, hit the trails as needed, and stretch out in the massive SuperCrew cabin to relax as you enjoy a commanding view of the road ahead with space to spare.
This is about as good as it gets for fuel-efficient capability in a big pickup, and the new F-150 PowerStroke diesel is one of the most refined engines I've recently driven.  Diesel or otherwise.