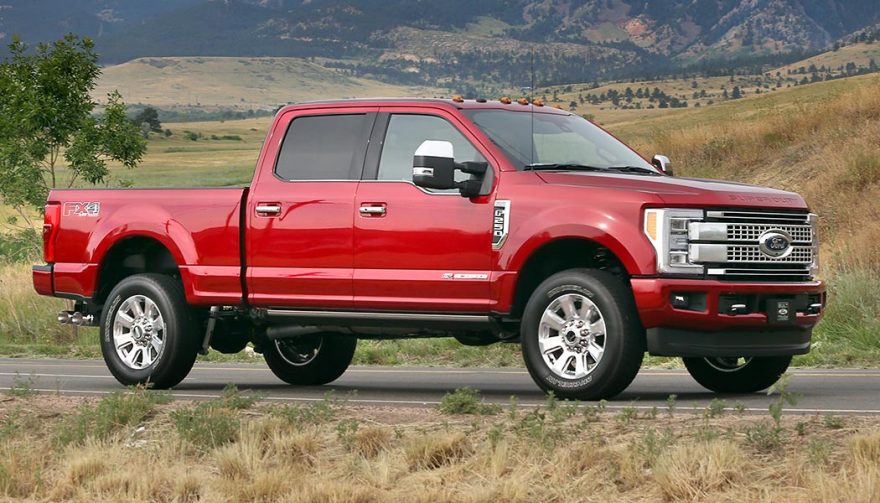 The 2017 Ford Super Duty doesn't become softer by any means, but it is far more modern and sophisticated.
The 2017 Ford Super Duty
Ford has used its Super Duty line of trucks to literally transform the pickup market. It packs a serious punch with tremendous capabilities mated to a cab that's large and accommodating. On top of that, you can get it in a dizzying array of configurations, making it appealing to a pretty broad group of people.
It's a New Super Duty
But you need to forget at least a fair amount of what you know about the Super Duty. After using basically the same platform and cab configurations for close to 20 years, Ford has struck out in a fresh direction with a complete redesign.
The 2017 Super Duty doesn't become softer by any means, but it is a far more modern and sophisticated machine. Some of the changes are the same or similar to the transformation the F-150 went through, addressing the evolving needs and wants of shoppers.
Many Configurations
You'll be able to get the 2017 Ford Super Duty in regular cab, SuperCab and Crew Cab layouts with either a 6.5- or 8-foot bed. Two- and four-wheel drive are also available. Trim levels are familiar: XL, XLT, Lariat, King Ranch and Platinum. With tons of options, you'll be able to build a pretty customized truck right out of the factory.
Lightweighting in a Heavy Way
Everyone knows that Ford decided to use aluminum and some other tricks to shed a lot of weight on the current F-150. It pulled out a similar bag of tricks for the 2017 Super Duty, shedding about 350 pounds, depending on configuration and options. The move not only helps cut down on fuel consumption, it boosts performance, making it a win-win.
Like the F-150, the high strength, military-grade aluminum-alloy body is more dent-resistant than the previous steel construction. In certain critical areas, the thickness of the aluminum far exceeds what you get with the F-150, showing that Ford truly believes the truck is made for heavy-duty use. An example of a reinforced area is the bed, which is also reinforced with thicker crossmembers and a single-piece sill reinforcement.
The boxed frame is almost entirely made of high-strength steel. Thanks to that and other changes, Ford says rigidity has been boosted 24 times versus the old Super Duty.
Functional Changes
Engineers were serious about making the 2017 Ford Super Duty a genuinely tough and capable truck. To realize this goal, they went with a more durable driveline, bigger front and rear axles, larger brakes and more solid transfer cases.
You May Also Enjoy:
Meet Your Truck of the Year: 2017 Ford Super Duty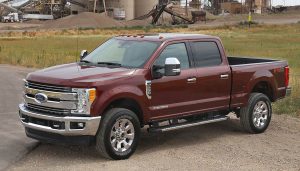 Speaking of towing stuff, Ford engineers realized that being able to tow a lot is great, but it's even better to have excellent control at all times. With this in mind, the Super Duty has a better engine exhaust braking system, standard weight-carrying hitches and adaptive front steering. The blind spot monitoring system still works when a trailer is attached to the truck, just like on the current F-150, which is a nice touch. A dynamic trailer reverse guidance system helps take the guesswork out of backing up with a trailer, helping avoid embarrassing and costly mistakes. Drivers benefit from the trailer tire pressure monitoring system, because most people tend to forget about that sort of a thing, even though it great affects all-around performance. One of the most useful trailer features is a color-coded coaching system that will warn the driver if the trailer angle is nearing any potential danger situations.
LED lighting is a big movement in the auto industry, and it's been applied to the bed of the Super Duty. That makes for better illumination in nighttime conditions, so owners will definitely appreciate the change. The power-extending trailer tow mirrors come with integrated spotlights, helping to illuminate the area around the truck, which is an incredibly useful feature. Ford lifted the tailgate step plus BoxLink from the new F-150, making it even easier to get into the bed and secure/store items of different sizes and shapes.
Modern cars come with all sorts of cameras, and now so does the Ford Super Duty. Buyers can add up to seven cameras to the truck, which makes for genuine 360-degree monitoring capability. It's a handy thing when you're in a tight area and can't quite see all of the many obstacles that could be near the truck. The camera with a zoom function in the third brake light makes it possible to hook up a trailer hitch without a spotter. Doing one better, Ford also offers a camera for the back of a trailer, where you usually can't see anything. All of those cameras send feeds to the same screen, and the driver can switch views at will.
Posh, Functional Interior
Thankfully, automakers these days realize that just because you want a rugged truck doesn't mean you don't care about comfort or convenience. Ford has made the different cab configurations even more livable thanks to several clever design innovations, plus the latest onboard technologies.
The driver and front passenger enjoy all kinds of nice improvements. One of the most luxurious are the multi-contour seats, which can be outfitted with a massage function that's perfect after a long day of hard work. Ford relocated different switchgear like the trailer brake control for better ergonomics, and they're all easier to find now. High-amperage upfitter switches are now a part of the overhead console, with two out of the six powered all the time.
The 8-inch infotainment screen is a decidedly modern touch, allowing you to manage everything from the sound system to navigation on the go. Of course, it comes with Sync 3 and its improved voice commands, plus Siri Eyes Free.
People load things into the cab, not just the bed. To help accommodate larger items, the second-row seat bottoms can fold up, revealing a flat load floor. This doesn't mean there's no under-seat storage. Instead, a long storage box that's lockable and dividable is embedded in the floor, making for a clever way to have it all. Super Cab models come with 170-degree rear doors, providing a wider opening for getting people and gear into and out of the interior.
Rear-seat passengers can charge devices and whatever else they need with two different power outlets. One is a traditional AC outlet which is great for smartphones and the like, while the other is a household-style 110-volt plug that makes it possible to plug in power tools, work lights, or just about anything else.