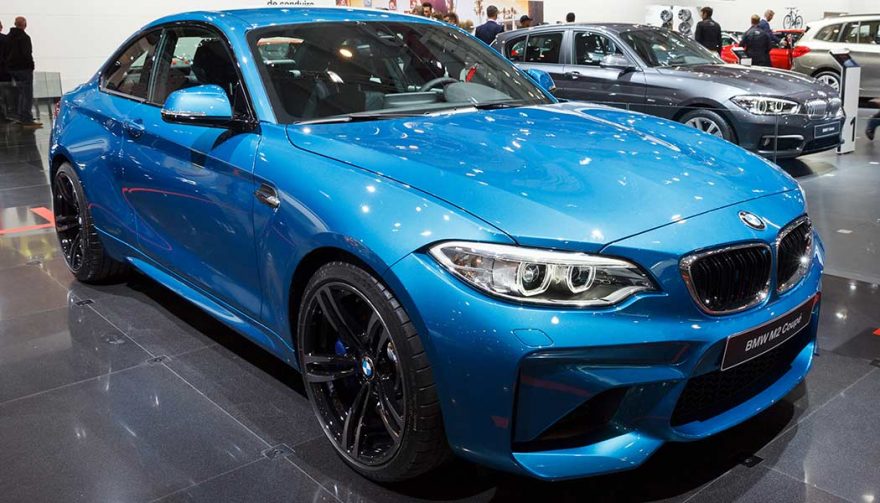 Considering the BMW M2? Better hurry before they're scooped up by everyone else.
The M2 Helps BMW Return to Form
Let's face it: BMW has grown soft. It pipes engine sounds into the M5's cabin to make it seem more engaging. The M3 has become a bloated version of its former self. Quite a few purists and long-time fans of the brand have all but given up hope.
There's a shining light admist all of this doom and gloom: the 2016 M2. It's a fresh, completely new vehicle that promises to turn the company around, at least a little bit. The performance coupe also shows that BMW can return to form, making lightweight and simple cars (relative to their contemporaries) that are a blast to drive. Not everyone wants a vehicle that runs on banana peels and good thoughts, especially if it's about as inspiring to drive as a city bus.
With the first big wave of reviews in for the M2, it's surprising to see that the vast majority are positive. Even more impressive, almost all of those are downright enthusiastic, showing that people who test out vehicles all the time and have become jaded are still impressed with what BMW has produced.
Back to Basics
You're not going to get some plush ride in the M2. It's not punishing, but make no mistake, the car isn't some luxury cruiser masquerading as a performance model. No, it's a thrill ride first and foremost. Not everything in the interior feels premium, but it's all quite purposeful.
In that same vein of simplicity, BMW offers hardly any options for the M2. You can check it out on the company's website, but the car is pretty purist. That means no rear entertainment garbage or other equipment that will make it a bloated thing on wheels.
It's a throwback to the days before every single Bimmer became a rolling status symbol. Sure, it might have been impressive to have one, but they were primarily "the greatest driving machines."
This stripped-down format for the M2 also makes it more accessible than a lot of other M cars. We're talking Chevy Corvette territory with a starting price in the United States of about $52,000.
Performance First
At the heart of the BMW M2 is a 3.0-liter M TwinPower Turbo inline six-cylinder engine. It works with a smooth twin-scroll turbocharger to squeeze out a spunky 365 horsepower. Thanks to some lightweighting techniques applied to certain components, the engine revs high and is a smooth operator. The design also includes a baffled oil pan and a second oil pump/pickup so oil starvation isn't an issue as the car whips through turns, or brakes/accelerates hard. According to BMW, the car can run from 0 to 60 mph is just 4.1 seconds, or make it around the Nurburgring in 7:58. Not too shabby.
The car doesn't just accelerate well, it's built for some pretty tight handling. The electric power steering was created by the M division and includes Servotronic, plus special tuning. For the suspension, there are aluminum wheel carriers and control arms, helping cut down on weight and increasing response. A double-joint sprint strut in the front and five-link configuration in the rear helps with hugging the road or track. When you get in and really push the M2, the genius of this setup becomes apparent.
An active differential that was also developed by the M division helps out with traction when the coupe gets near the limit. BMW uses some other technological wizardry that doesn't impose too much on the driving experience, like dynamic stability control, brake fade compensation and even a start-off assistant so you don't look foolish eating it on a big launch.
DCT
I love manual transmissions, so it pangs me to admit that some automatics and DCTs are faster at switching gears. This is certainly the case with the M2. Testing shows that doing with the DCT instead of the manual transmission means the car runs the quarter mile 0.2 of a second faster. If you want hardcore performance, and some of the fun of rowing through the gears, the DCT makes logical sense.
Kudos to BMW for not just forcing everyone to have the DCT. If you really want some heel-and-toe shifting, you can get a real manual setup. Even though it might be a little slower, there's still something about that third pedal that spells "fun."
The Best M Car
Many have said it, and I'll side with them: the BMW M2 is the best M car on the market today. Period.
Consider that Motor Trend stacked the M2 against the M4 on the Streets of Willow. Even though the M4 looks more impressive on paper, thanks to better peak output and a fancy price tag, it didn't come out on top.
The M2, like the M1, is lightweight and short. That translates into incredible handling, even if the interior isn't as posh as prestige car shoppers would like. It's an enthusiast's machine, a driver's car that is built to eat up curves like they're nothing.
While it's true that the M2 didn't beat out the M4 by too much in the Motor Trend comparison, it was still the winner. If you're the type who likes to flog cars and push them to the limit, you'll find the M2 is a choice you'll never end up regretting. The M4 will be more impressive when you slowly pull up to the country club, if that's what you're after.
Decision Time
If you're considering the BMW M2, you have to really ask yourself what you want in a car. If what you truly seek is social approval and praise, you might want to go with a different option. Many naïve people will think that the M2 is the "little brother" to the M4 and is a wanna-be Bimmer, because all they see is price and interior luxuries.
On the other hand, if you're looking for a vehicle you can take to the local track for hot laps on the weekend, or you just love the feeling of powering through turns on a country road, the M2 is a great option. But you better hurry before the best modern M car gets scooped up by everyone else.