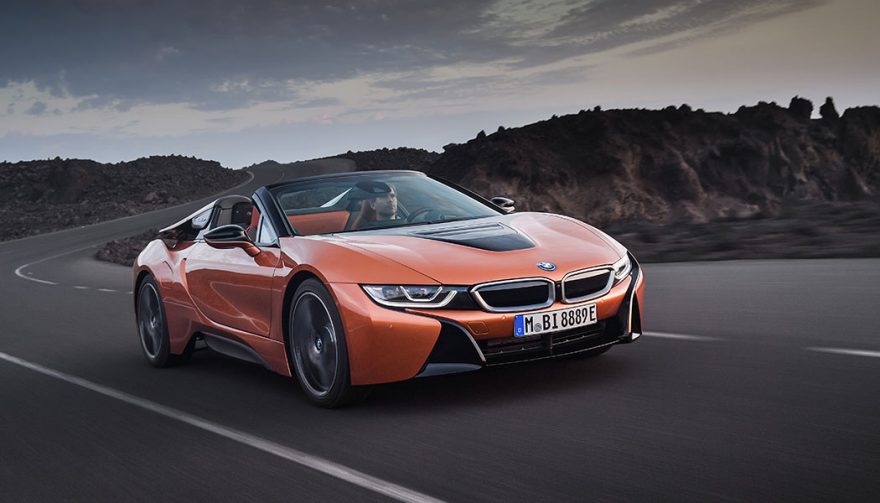 The top drops in 16 seconds at speeds up to 31 mph on the new i8 Roadster
As If the i8 Wasn't Impressive Enough, Now There's a Roadster
You might not think of BMW as a power player in vehicle electrification, but BMW wants to change that. Not only is it working on a whole slew of BMW electrified models, they have updated and expanded the i8 lineup. Now there's a BMW i8 Roadster.
If you've ever seen a BMW i8 in person, they're impressive cars. That helps to explain why they cost so freaking much. To make them even more compelling, BMW has made several improvements. And the BMW i8 Roadster is the latest in a long line of models taking aim at Tesla.
Exterior Styling
Look, the BMW i8 already looks so great, it turns heads everywhere. Did BMW really need to change the exterior design? No. That's good, because pretty much the Bavarians left that alone.
Too many automakers are getting into overwrought designs these days (cough, cough, Honda).
BMW did make some minor tweaks, which you'll only notice after studying the car closely, next to the current i8. Some of the biggest changes are new paint colors: Donington Grey metallic and E-Copper metallic. Frozen Grey metallic accents pair up with both paint options, creating some depth to the design.
Of course, the BMW i8 Roadster has a little different look. That soft top opens and closes in 16 seconds with the push of a button, at speeds up to 31 mph. When you lower the roof, the rear window rises an additional 1.9 inches. That keeps turbulence down, which is good for performance and comfort. If you want to feel the wind through your hair, just press a button to lower the window.
All the equipment for the roof makes the BMW i8 Roadster about 130 pounds heftier than the Coupe. An innovative 3D-printing approach ensures the aluminum connections between the roof and body are super light, yet are arranged in geometric shapes that aren't possible with normal techniques.
Just like the Coupe, the BMW i8 Roadster wears light-alloy 20-inch wheels. This is where BMW shines, because it's truly a master of hardcore lightweighting manufacturing approaches.
What's more, the folded down top doesn't take up much space. That means you can actually throw stuff in the trunk. BMW also says the storage area between the seats and roof box has about 3.5 cubic feet of room, so you could shove a bag or two in there.
As an actual roadster, the BMW i8 Roadster has only seats two. It also has headrest fairings behind the driver and passenger, a classic design element that can help with aerodynamics. In other words, it's not just an i8 Coupe with the roof chopped off, and that's great.
Both versions of the i8 retain those cool gullwing doors. That unique design element really sets what's already a different kind of car far apart from even some more exotic options on the market. The designs give the i8 a presence you don't get with other cars.
Revised Performance
You can always use more, especially when it comes to all-electric range. BMW recognized that, so it changed up the hybrid powertrain for more efficiency and better driving distances.
Really, BMW just updated the battery system so it has an 11.6 kWh capacity. It's amazing what that can do. Peak system output now pushes 369 horsepower, versus 357 horsepower for the current version.
You can also drive 18 miles using just electricity. If you push the eDrive button, the car will even hit 75 mph without burning any dino juice. The gas engine comes on automatically if you really push the car, and don't have it in EV mode.
According to BMW, the i8 Coupe will now go from 0 to 62 mph in 4.2 seconds. It can also hit 155 mph, which is impressive for any car. Choosing the BMW i8 Roadster means a slight sacrifice, since it does 0 to 62 in 4.4 seconds.
Apparently some people buy the i8 for reduced emissions. That's very noble, and from the press release it sounds like these tweaks cut down on emissions even more.
We're going to have a little bit of a wait before these new i8s launch. BMW says they're 2019 models, so expect them sometime next year, if you're well-heeled enough to afford one. The rest of us will stand from a distance and drool.
Interior Chops
Just like before, the BMW i8 interior doesn't disappoint. It features a simple yet futuristic design, like a sports steering wheel. Giga trim includes Ivory White leather upholstery for the Coupe. The BMW i8 Roadster has Ivory White/Black leather upholstery.
Buyers will be able to opt for dark Amido Giga trim on either model. Another option, Halo trim, pairs cloth and leather upholstery in Carum/Dalbergia.
The new interior trim option is Tera World Copper. It pairs cloth and leather in an Amido/E-Copper layout.