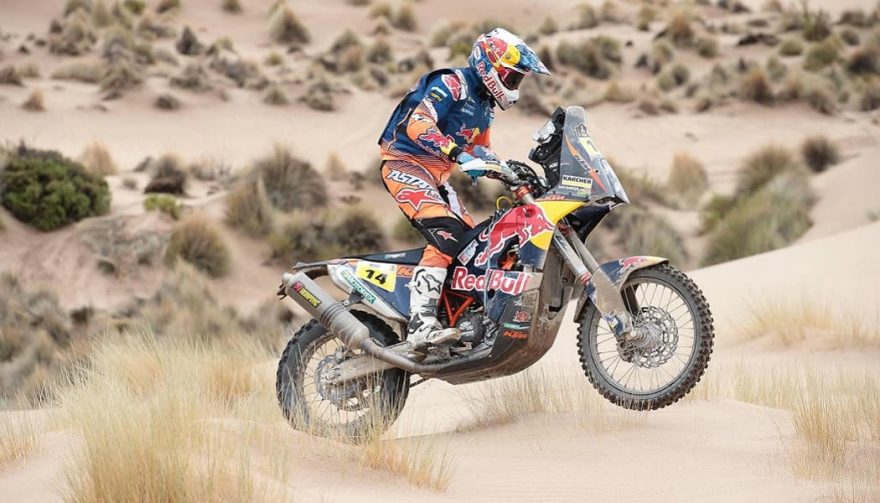 Sam Sunderland won the Dakar Rally Bikes division on just his third attempt.
Dakar Rally 2017: Winners and Results
Twelve days, 10 stages, 5,500 miles, grueling conditions, and only 70 percent of those who started on Jan. 2 crossed the finish line. The 2017 edition of the Dakar Rally – quite possibly the world's toughest race – didn't fail to entertain.
This year's Dakar Rally first left Asuncion, Paraguay, climbing the spine of the Andes to La Paz, Bolivia. The course then cut south back down the mountain range and then east to the finish in Buenos Aires. Stage 6 and Stage 9 were cancelled due to safety concerns. Two others, Stage 5 and Stage 8, needed to be shortened due to weather.
In the end after two weeks, familiar faces and new blood took the podium.
Dakar Rally Cars Division
In the Cars division an epic clash was brewing between Toyota and Peugeots drivers.
Toyota driver Nasser Al-Attiyah, a two-time Dakar Rally champ and last year's FIA Cross-Country Rally World Champion, dropped out after a promising start. Al-Attiyah lost a tire on Stage 3 and was unable to repair it in time for the next day's run. Peugeot driver Carols Sains had a spectacular rolling crash down the side of hill and did not finish as well.
An intense back-and-forth transpired between Peugeot's Stephane Peterhansel and Sebastian Loeb, two race legends, for the rest of the race. With only five minutes between the two, Peterhansel edged out his countryman for first place in the Cars category.
In the end, Peugeot took first through third and Toyota drivers rounded out the rest of the top five places.
Trucks Division
The trucks at the Dakar Rally produce some of the most impressive performances year in and year out.
You May Also Enjoy:
Supercharged: GRC creating all-electric series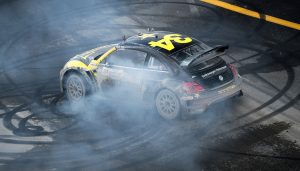 Russian truck manufacturer Kamaz-Master finished first and second with two all-Russian squads. Led by Eduard Nikolaev (his second Dakar victory) and Dimitry Sotnikov respectively,the Russians consistently outperformed the field over the entire rally.
The Ivecos of Dutchman Gerard De Rooy and Argentinian Federico Villagra finished an impressive third and fourth. The third Kamaz-Master of Ayrat Mardeev came in fifth place.
Bikes Division
While Cars and Trucks divisions get a lot of love, the Bikes Division is the most impressive of the five Dakar Rally competitions.
While old hands found their way to top spot in Cars and Trucks, a new face stood atop the podium in the Bikes Division. That's not good news for Toby Price fans. Price won last year's event and was favorite heading into this year. The Aussie crashed out on Stage 4 while leading, breaking his leg in multiple places.
In his place, fellow Red Bull KTM teammate Sam Sunderland gained the overall and ultimately won his first Dakar Rally. It was only his third attempt.
KTM swept the podium. Red Bull's third pilot, Austrian Matthias Walkner, and Spaniard Gerard Farres arrived in second and third. Yamaha's Adrien Van Beveren of France and Honda's Joan Barreda of Spain filled out the top five.
Quads and UTVs
The small four-wheeled classes always bring plenty of fun. This year's Dakar Rally is the first for the UTV class, comprised of the hot new side-by-side off-road vehicles.
For the quads, Yamaha's Sergey Karyakin of Russia never gave up the lead after the rest day on Day 7. Much like the Cars and Bikes, one manufacturer locked out the podium. Chile's Ignacio Casale and Argentine Pablo Copetti finished 2-3 for Yamaha after Frenchman Axel Dutrie fell from third place overall during Stage 11.
Polaris also enjoyed a podium lockout in the UTV division. However, Polaris was the only brand to finish the Dakar Rally in the category's maiden race. Nevertheless, Brazil's Leandro Torres won the division with over four and a half hours to spare over second place Wang Fujiang of China. Torres finished six hours ahead of Russian Ravil Maganov, who came in third.
And there you have it. Legends won another and new guys won their first. Suspense and drama, man-made and from Mother Nature, filled the 2017 edition of the Dakar Rally. There's little wonder why this rally is known as the world's toughest.
There's only 11 months left until the next one, and if it's anything like this year's rally, get your popcorn ready.