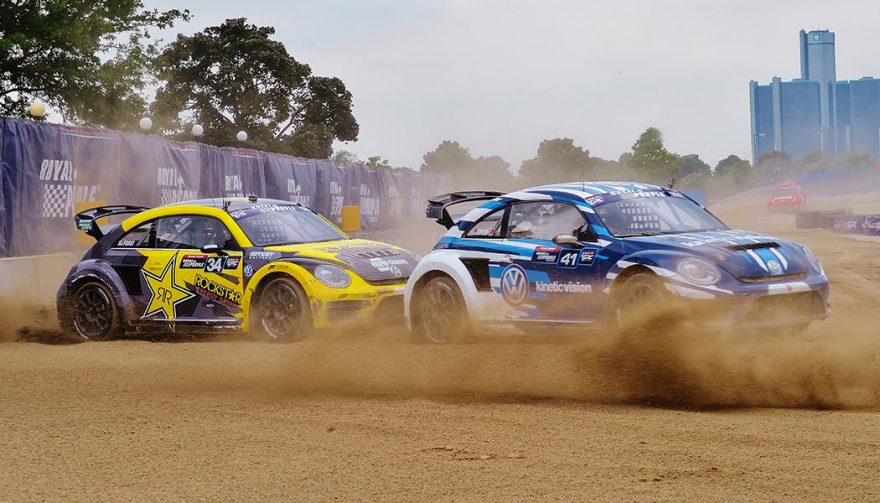 To compete in Rallycross, a Volkswagen Beetle needs some serious upgrades.
Volkswagen Beetle Becomes A GRC Warrior
When most people think of the Volkswagen Beetle, they smile. The compact coupes have always been a little cutesy, maybe even adorable. Pretty much nobody has considered the car to be a hardcore performance machine, or even a good candidate for serious aftermarket tuning.
Together with Andretti Autosport, Volkswagen has shown us all what can be accomplished with the Beetle, engineering know-how and a pile of cash. The result is a car that's been striking fear in the hearts of other Global Rally Cross teams, claiming quite a few podium finishes.
Volkswagen Beetle Development
To compete in Rallycross, a Volkswagen Beetle needs some serious upgrades. The combined forces of Volkswagen and Andretti Autosport had to find ways to address the weaknesses of the vehicle, and their solutions were pretty ingenious.
From the very beginning of the project, the car was designed and engineered for GRC competition. The vehicle was up against some established, tough competition. Not only that, the tracks include pavement, dirt and jumps. With its work cut out for it, the Volkswagen Andretti team had to turn a soft Volkswagen Beetle into a true warrior. The development process addressed power, handling and aero improvements.
Plenty Of Power
For wicked power, the team turned to the trusty 1.6-liter four-cylinder TSI turbo engine. It was intercooled and mounted transversally in front of the front axle, plus had a 45 mm air restrictor per GRC regulations. A Bosch engine control unit was also part of the mix.
The part most people care about is the max output, where we all thump our chests at how much the engineers were able to squeeze out. It was in fact amazing that out of that engine 544 horsepower and 387 lb.-ft. of torque were extracted. That's 340 horsepower per liter of displacement, a thoroughly impressive feat.
All of that power was then sent to a sequential six-speed racing gearbox, which was also transversally mounted. ZF supplied a triple-disk hydraulic clutch, which was made of sintered metal for extreme durability. From there, it was routed to all four wheels via a permanent four-wheel drive, which included a fixed drive between the front and rear axles. The front and rear of the driveline was outfitted with multi-plate limited-slip differentials, which are ideal for dealing with the varied surfaces and tight turns of the tracks.
A Chassis Built To Take Abuse
Moving on to the chassis, it has to take a serious amount of abuse and not break. After all, the car flies over some rough bumps and even goes off big tabletop jumps constantly. The team went with McPherson struts for the front and rear, plus heavy-duty dampers supplied by ZF. That setup allows for about 230 mm of suspension travel.
To make the rapid turns on the track, drivers use a servo-assisted rack and pinion steering system. Yokohama competition tires wrapped around 8 x 17-inch wheels provide gripping power. And to reign everything in are ventilated disc brakes (355 mm diameter front, 300 mm rear). Four-piston aluminum calipers are used for the front and rear.
Still Looks Like A Beetle
Instead of changing the outline of the Beetle, the team wanted to preserve the iconic silhouette. That's why you don't see any wild appendages, with the exception of the large rear wing. The fenders are wider than on a stock Beetle, giving a more muscle-bound appearance. A more aggressive front fascia was designed for better aerodynamics.
Reinforcements were added for GRC compliance. The car's shorter, sitting about 55 inches tall versus 58.5 inches stock. At just 2,667 pounds, the little compact went on a serious diet, which was also required in GRC regulations.
As they say, the proof is in the pudding. Volkswagen estimated the car charges from 0 to 62 mph in 2.2 seconds. The top speed is 124 mph, which isn't too impressive but is more than enough for the tight confines of a GRC track.
Changes For The 2015 Season
With some experience under its belt, the Volkswagen Andretti Autosport team decided to tweak a few things on the GRC Beetles.
One of the biggest lessons learned was that the 1.6-liter TSI provided too little torque. The correction came with a bigger 2.0-liter turbo four-cylinder TSI. It whips out 553 horsepower and 465 lb.-ft. of torque. That extra 78 lb.-ft. makes a big difference. With it, the GRC Beetle goes faster off the line and can accelerate harder out of turns, which are both critical for success in the races.
The GRC changed rules for weight equalization when it comes to smaller engines. As a result, homologation moved closed to FIA World Rallycross specs, tacking almost 200 pounds to the GRC Beetle's curb weight. That puts it at about the same as stock, but the car's still far from a porker.
With this new setup, Volkswagen estimates 0 to 60 acceleration at 2 seconds flat. That's fast, and the car has been performing wonders in the GRC since these updates.
The Beetle's Competition
While the GRC Beetles are unbelievably fast and tough, you should know the competition. The other cars in the Global Rallycross Championship aren't exactly slouches. Incredible vehicles and gifted drivers behind the wheels of the Volkswagen Beetles have established a pattern of dominance.
The GRC Volkswagen Beetles go door-to-door against Ford Fiesta STs, Subaru Imprezas and Honda Civics that have been modified for the races. Each one can flat-out beat hypercars in 0 to 60 acceleration, but none can break 130 mph for their top speed. Chassis reinforcements help with enduring the punishment GRC courses dish out, including the fun tabletop jumps.
Now It's A Super Beetle!
Whatever you do, don't mistake the GRC Volkswagen Beetle for something cute. While that may be true of the stock cars, this modified beast is a true super Beetle. If you haven't, catch a GRC race and see the Volkswagen Beetle in action. It's truly an entertaining sight to behold. At the same time, you'll likely find that GRC races are a blast to watch.