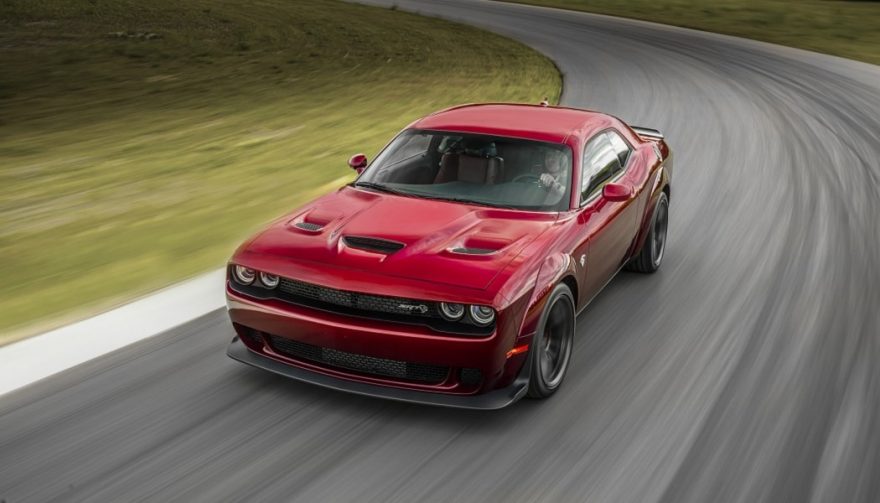 The Hellcat Widebody is 3.5 inches wider than its slimmer sibling
Dodge Challenger Hellcat Widebody: Extra 3.5 Inches Gives You a Lot
Auburn Hills, Mich. – A Dodge Challenger Hellcat Widebody is in the works for the 2018 model year. The performance car features the same front lip spoiler and fender flames on the much-ballyhooed Dodge Demon, just not 840 horsepower.
Along with a more aggressive, wider stance, the new Dodge Challenger Hellcat Widebody has improved grip and performance on the road.
What the Hellcat Widebody Can Do
The wider fender flares add 3.5 inches to the width of the Dodge Challenger Hellcat Widebody. They cover new 20 x 11-inch "Devil's Rim" split-five spoke aluminum wheels. The wheels ride on 305 mm Pirelli P-zero tires for improved performance.
The Widebody Hellcat uses the same 707-horsepower supercharged 6.2-liter HEMI Hellcat V8 engine as its slimmer sibling, but the wider rubber gives additional benefits.
"Our brand, engineering and design teams poured a ton of effort into making the new SRT Demon the world's fastest quarter-mile production car," said Tim Kuniskis, Head of Passenger Cars at FCA North America. "So now we're leveraging that know-how and some of those vital elements and transferring them to the new Challenger SRT Hellcat Widebody for improved performance on the street and a bolder, more aggressive new look."
You May Also Enjoy:
Test Drive: 2018 Dodge Durango SRT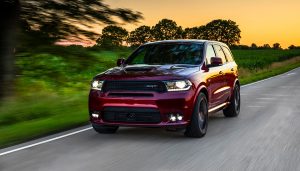 Along with the wider stance, this new Challenger SRT Hellcat Widebody has improved lap times, lateral grip, acceleration and braking compared to the thinner Hellcat:
Road course lap time on a 1.7-mile track lowered by approximately 2 seconds per lap, approximately 13 car lengths after one lap
Quarter-mile elapsed time (ET) improved by approximately .3 seconds (10.9 ET in Widebody vs. 11.2 ET in standard Hellcat)
Lateral skid pad grip increased by .04 g (.97 g in Widebody vs. .93 g in standard Hellcat)
0-60 mph acceleration improved by .1 second (3.4 in Widebody vs. 3.5 in standard Hellcat)
Top speed of 195 mph
Hellcat Gets EPS
The 2018 Challenger SRT Hellcat Widebody features a new standard electric power steering (EPS) system. This is the first time the feature has been included in a Hellcat. The system uses SRT Drive Modes with selectable settings for Street (Auto), Sport and Track.
Dodge says the EPS system improves handling performance. They also claim some owners will notice better steering feel and ease of turning efforts at parking-lot speeds.
With EPS and SRT Drive Modes, drivers can tailor their experience by controlling horsepower, transmission shift speeds, steering, paddle shifters (automatic transmission only), traction and suspension. There is also a Custom setting that lets the driver use individual preferences.
Those Extra Inches Will Cost You
Those extra 3.5 inches of width and tires come at a hefty cost. The U.S. Manufacturer's Suggested Retail Price (MSRP) is $71,500. That price includes the gas guzzler tax. So that's about $8,000 more than the standard Hellcat. However, it's about $12,000 cheaper than the Dodge Demon.
Production of the 2018 Challenger SRT Hellcat Widebody begins later this summer. Deliveries to Dodge//SRT dealers should arrive in the third quarter.