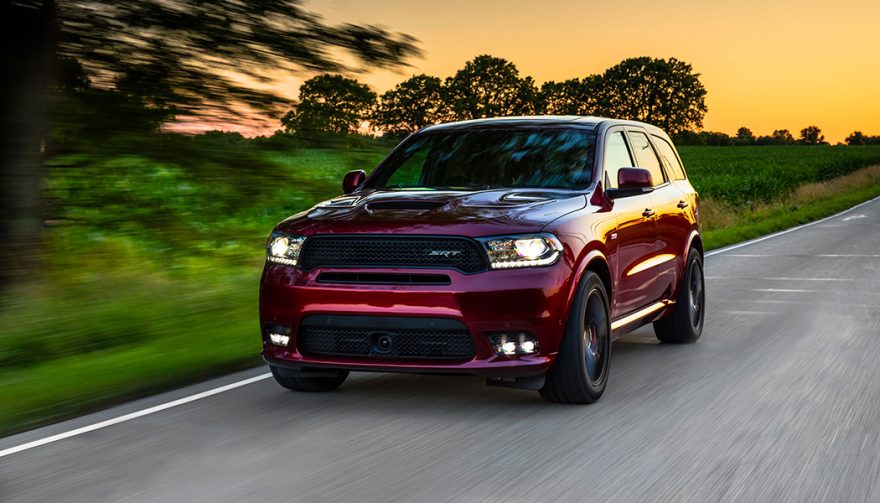 The Dodge Durango SRT packs SRT's biggest V8 into FCA's biggest SUV to bring 475 hp to up to seven people at the same time.
Test Drive: 2018 Dodge Durango SRT
Dodge's SRT division specializes in transforming mainstream vehicles into high-performance playthings. With upgraded powertrains, chassis tweaks, improved braking and looks, and other supportive modifications. Their volume-selling powerplant is a mighty 6.4 litre HEMI SRT V8 engine, which shoppers will find in a slew of products, including SRT-tweaked variants of the Dodge Charger, Dodge Challenger, and Jeep Grand Cherokee. And this one, the Dodge Durango SRT.
That Big Hemi V8
This 'big' HEMI is front and centre in the Durango SRT's performance. The all-motor unit develops 475 horsepower. More than anyone needs. Even if some super-exclusive SRT models add a supercharger to this engine to push output up to 700 horsepower and beyond.
Though there are plentiful replacements for displacement in today's marketplace, the engineers at Chrysler's go-fast SRT division haven't yet hopped onto the bandwagon. By stuffing the big SRT HEMI V8 into the Durango, the result is a handsome and athletic-looking 3-row SUV. One that offers up an extremely pleasing performance experience.
Other SRT augmentations are applied in full. Including a sports-tuned suspension, gnarly exhaust, advanced chassis control systems, and big wheels with sticky tires. Oh, and a giant Brembo braking system. With enormous red calipers clamping down on rotors the size of trash-can lids.
All said, Durango SRT is a well-reviewed and award-winning family hauler that now serves up a taste of SRT's rocket-propelled engineering. Here's the answer if you need to upgrade from a smaller SRT model into something more family-ready.
Durango SRT's grille is opened up for enhanced airflow. The hood gets moulded-in scoops and heat extractors. Special upgrades to the exhausts, badges, wheels and body cladding all leave little to guesswork. From a mere glance, this go-fast Durango looks intensely ready to perform.
Not A One-Trick Pony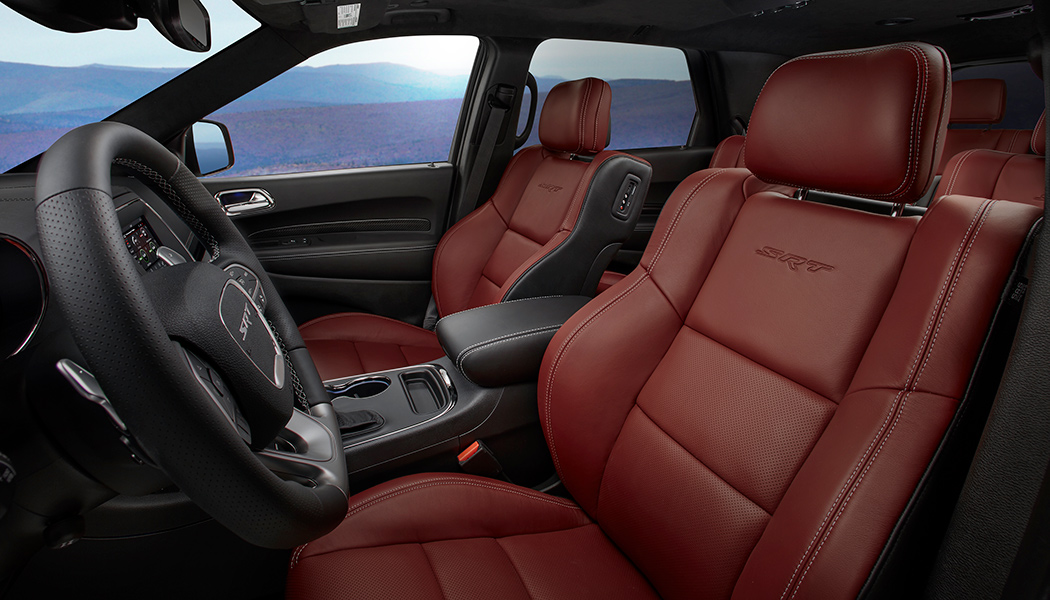 A grippy set of bucket seats lightly clamps onto your backside. Blending comfort and softness with a gentle but proper hold in place that secures occupants for high-speed maneuvers. From your seat, miles of stitching, suede, leather and contrasting materials and textures intersect. Helping richen the cabin up in strong support of the Durango SRT's lofty price-tag.
Don't miss the sporty italicized fonts on most readouts, including the centre-mounted digital tachometer. Or the nearly 200-mile-per-hour speedometer positioned nearby.
Bring things to life with a tap on the red ENGINE START button, and Durango SRT grabs attention. Once again announcing itself with a loud snort after an extra moment of cranking that suggests something substantial is stirring behind the grille.
The 6.4's idle thuds away in the background, at no point leaving your writer wishing he could hear more of it. There are quiet performance SUV's. This isn't one of them.
Stand on the rightmost pedal out of a red light, and the Dodge Durango SRT leaps ahead as if it's been rear-ended by a speeding bus. There's no waiting for turbochargers to spool. And minimal artificial smoothing of the throttle inputs. Power comes on in full when requested, and the AWD system enables neck-snapping starts. As opposed to liquefication of the big-buck Pirellis.
The engine isn't much for revving, calling it quits around the 6,000 RPM rev limiter. Though a broad torque curve and tall gears create a satisfying sense of constant rising action as gears come and go.
It Shifts And Stops As Well As It Goes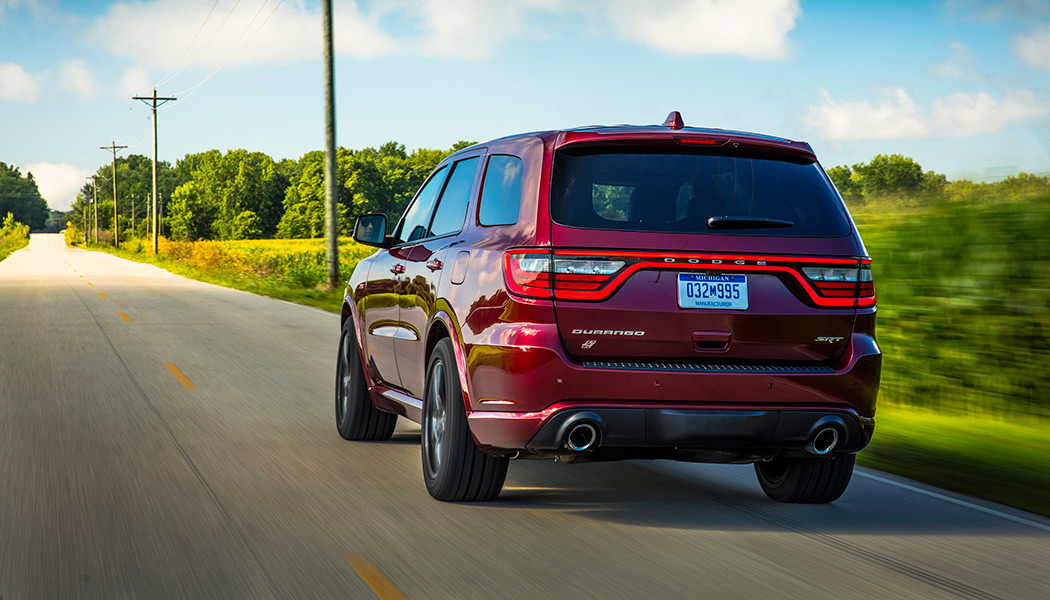 The most enjoyable thing about the Dodge Durango SRT's performance may be how nicely the 8-speed paddle-shift automatic and the big V8 work as a team, at full throttle. Click the right paddle for a sequence of redline, full-throttle upshifts, and the result is mechanical ecstasy. The gearchange seems to take place in milliseconds. There's no lash through the driveline. No perceptible loss of acceleration, and no drama. Specifically, gears shift with a speed, immediacy and smoothness I typically expect in a six-figure performance car running an advanced dual-clutch transmission. Here's a driveline as polished as it is potent.
The big Brembo's lack razor-sharp precision at the pedal, but pull the Durango SRT down from speed with monstrous urgency when called upon, for a fast stop. They'll do this over and over again with minimal fade. Useful if you're, say, lapping it on a weekend road course. Or voyaging over hilly terrain with a trailer in tow.
The ride is pure SRT: taut, firm, and always keeping the body and wheels in very close proximity. Uncomfortable? So-so, actually. It's a pure performance-car ride, but usually, doesn't powder your spine. If you're coming into a Durango SRT from another recent SRT product, you'll feel right at home.
Big Performance Family Haluer
In fact, the only area where the Dodge Durango SRT misses the mark in delivery of a full SRT experience relates to the steering. Simply, it's a lighter and lazier and more vague than I recall from other SRT models, meaning that while the engine and brakes and handling all feel fine-tuned against one another, the steering often comes off as a few steps behind. Specifically, there's a touch more slack and a touch less weight and responsiveness than many drivers will find ideal.
Still, Durango SRT nicely blends the sights, sounds and sensations of any of its smaller siblings and cousins, and all in a package that effectively gives family-oriented SUV shoppers a taste of serious American performance firepower.