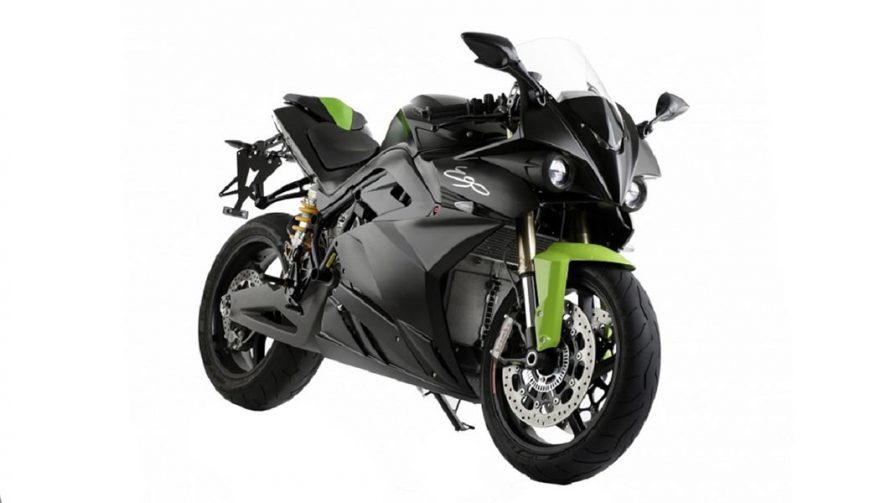 For dyed in the wool bikers an electric motorcycle may seem an impossible machine to adapt to.
Electric Motorcycles: What Hath Tesla Wrought?
You look in your rearview mirror and you see a gang of motorcyclists gaining on you, a shiver goes down your spine. How did they get there without you noticing? There was no chest rattling rumble that normally announces the arrival of motorcycles but you do hear a kind of purring not normally heard on the highway. As they pass you by you realize it isn't a purring you hear but more of a whining.
The bikers are dressed in all the traditional leathers. They look like bikers, but then you notice the name on the back of their jackets…Eco Angles (not a real gang) and you realized you've just been lapped by a group of electric motorcycles.
Forget Engines and Transmissions – Start Thinking Battery Capacities and Recharge Time
Electric motorcycles, who knew anyone would be interested in such a thing? The motorcycle market is perceived as freedom loving individuals who don't want to drive anything, they want to ride a bike and be one with the machine. They enjoy the wind in their face, leaning into a turn, and the often misplaced perception of being bad or at least a rebel.
To achieve that open road freedom experience you have traditionally needed a machine that has a powerful, throbbing engine and an exhaust tone that strikes fear in the hearts of mere mortals. Can a bike with no throbbing engine and no exhaust at all attract a true biker?
Tesla, "paved the way somewhat technologically and absolutely in terms of public opinion" says Mark Fenigstein CEO of electric motorcycle start-up Alta Motors. "It wasn't until Tesla became popular that consumer demand for electric motorcycles really took off."
Of course Alta Motors is a bit biased about Tesla. Founded in 2007 it hired former Tesla engineer Rob Sweney as head of Battery Engineering. Rob's association with two of the original investors in Tesla brought the start-up bike company to their attention and after seeing the advances in both battery and motor technology pumped some cash into the venture.
Alta currently has two models in production the Redshift MX for trail riding and the street ride Redshift SM. Principal advantages of the brand includes their battery pack which they claim is 5 years ahead of the competition meaning it gets more range per pound. The motor is about half the size of the typical 40 hp electric motor meaning that both the power source and the motor are smaller and lighter giving the bikes greater range.
Fenigstein admits that the public won't be fully accepting the idea of a quiet bike for another 7 to 10 years but right now, like Tesla, they are having problems matching production with orders.
A Quietly Booming Market
Like any new industry there are guys with great ideas but very little money and that's true of the fledgling electric motorcycle industry as well. Consolidations and plain old "going out of business" events have left the industry with two major players, Zero and Victory (owned by Polaris), but that doesn't mean the industry isn't healthy.
Even the Big Hog, Harley Davidson is stepping into the fray with its prototype electric bike called Livewire which it plans to retail in 2020. The government is encouraging consumers as well. In the most current version of the transportation bill reinstated a 10-percent income-tax credit (up to $2,500) for the purchase of an electric motorcycle. Electric motorcycles are coming, it's just a matter of when and at what cost.
Like all new technologies, the first units are usually the most expensive (think color TVs) and prices typically drop as unit sales go up and efficiencies are implemented in designs. While Alto's 2 bikes are targeted to newbies (consumers trying bikes of any kind for the first time) and average about $15,250 there are serious, very serious, electric bikes topping the $60,000 mark…and they're selling!
Here's a quick sampling of the most popular electric motorcycles with quick specs and MSRP:
Zero SR
$18.7k – 15.9kWh – 197mi – 1.2kW charger (110V) – 67HP – 106ft-lbs – 458lbs. This is the most popular bike under $20k. With electric bikes it's all about torque and at 106 lb-ft the SR can do 0 to 60 in 3.3 seconds. Standard equipment includes Bosch ABS brakes, Showa suspension, and Pirelli Diablo Rosso II tires. The 2016 model has a longer range and a lower price than the 2015.
Zero DS
$11k – 9.8kWh – 110mi – 1.3kW charger (110V) – 54HP – 68ft-lbs – 381lbs. A dual purpose bike good for trail or street, the DS comes with Showa adjustable suspension, Bosch ABS (the ABS can be turned off for greater control on the trail), and Pirelli MT-60 Enduro tires.
Victory Empulse
$20k – 10.4kWh – 128mi – 3kW charger (220V) – 54HP – 61ft-lbs – 470lbs. This one is special because it is the only production bike that offers a 6 speed transmission letting the rider control the gear much like a conventional bike. The Empulse has Brembo brakes, adjustable suspension and Continental Sport Attack II tires.
Energica Ego 45
$68k – 11.7kWh – 118mi – 3kW charger & SAE Combo fast charger – 97HP – 144ft-lbs – 568lbs. The Ego is the fastest production electric motorcycle with the highest top speed (150 mph) and it has the fastest acceleration (0-to-60-mph in about 3 seconds). The instrument panel has a full-color display and the regenerative braking is more intuitive than any other bike. As standard equipment is an upgrade that allows for super-fast DC recharging.
Key Differences in Experiences
For dyed in the wool bikers an electric motorcycle may seem an impossible machine to adapt to. But if you keep in mind the basics, the open road, the freedom, the curves, or the consequences of dumping one at 90 mph you'll discover there isn't all that much difference.
What's missing with an electric bike is the ambiance. However, that lack of ambiance like the throaty sound of an engine and the vibrations actually enhances the sensation of speed. With no outside distractions those lane markers seem to come rushing at you much faster than they did before.
Of course the big difference, for now, is range and refueling time. The more juice you pull out of the fuel supply the shorter the range. Some bikes come with two drive modes one for getting the most out of every electron and one for fun.
Recharging is also a consideration. Almost every base model has upgrades available that either give you an auxiliary supply or a faster recharging time. Without the upgrades your riding day could be limited to as little as 50 miles like the Alta SM before you need to plug it into a socket.
The first color TVs were far from perfect and required a lot of manual tuning and adjusting but today they are the size of small movie screens and hang on the wall. And, when adjusted for inflation color TVs (can you even buy a black and white) are dirt cheap. That is most likely the path that electric motorcycles will take. Stay tuned!