Review: 2020 Ford F-150 King Ranch
At this writing, an all-new Ford F-150 has been announced for model-year 2021, though full details are yet to be released. This means the currently-on-sale 2020 F-150 (now in its 13th generation!) is readying for retirement as it clears space in the model line for its successor. My tester was a 2020 Ford F-150 King Ranch: an upscale model variant that's long promised the F-150 shopper a taste of the motoring high-life with upscale feature content, looks, and a leather-lined cabin that provides a nearly luxury-sedan driving atmosphere.
In fact, the King Ranch's interior is a major part of this
particular F-150's identity, not to mention one of its most compelling
attributes.
Leather is vigorously applied throughout, with various
colors, accents, details and textures to reward closer examination by the eyes
and fingertips. On entering the cabin, the first impression is its size and
space, followed closely by the widespread use of leather, and then, the displays
and tech. The effect is one of a rich, upscale and modern atmosphere where
high-end touches and high-tech features co-exist.
The 2020 Ford F-150's technology is highly approachable, with many of its features and functions designed, says Ford, to help the truck serve as a valuable tool for its owner—who tends to be the problem-solver in their circles.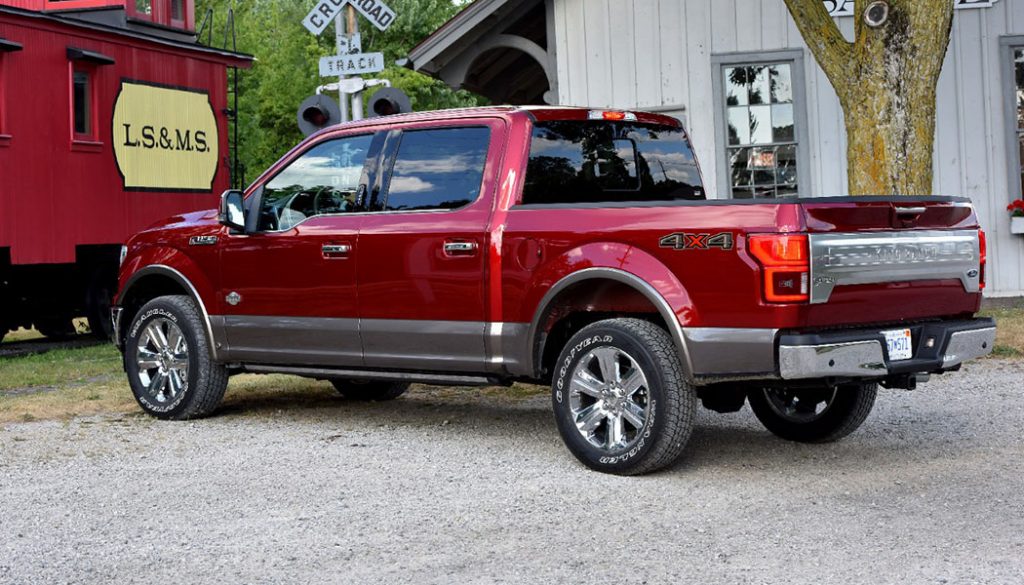 High Tech, Big Space
Most controls are logically placed, easy to find, and
clearly labelled. Digital interfaces and screens flaunt big displays and
top-notch graphics, and the central command interface is logical, easy to
navigate, and easily learned in just a few minutes. It's a truck packed with
advanced tech, though most of it won't cause you any stress. Plus, with plenty
of hard buttons and dials, drivers aren't often forced into using the
touch-screen system unless they want to.
Like its competitors, the 2020 Ford F-150 should leave few wanting for more space, charging, or storage on board. In Super Crew configuration like my tester, a step up into the cabin sees even four larger adults surrounded by stretch-out space to spare. Front seats are surrounded by generous space, a multitude of storage bins and cubbies, and easy access to numerous charging ports and covered storage to you're your items organized, charged and secure on the move.
Rear seating is especially roomy, with even adults
benefitting from enough legroom to cross their legs and relax and socialize on
the open road. Rear seat bottoms flip up, creating a large and flat rear cargo
area that's ideal for larger or awkward items. With the accessory rubber floor
liner, it made a perfect lounge area for my dog, too.
So: a flexible and accommodating pickup with an eye for
blending luxurious appointments and easygoing tech. Elsewhere on the cabin,
test-drivers will likely appreciate the abundant use of tall glass to visually
open the cabin—furthering its roomy feel and enhancing outward visibility. Go
for the panoramic sunroof, and it's like driving a big, comfortable glass box
with good views outward in virtually every direction.
Note, however, that shoppers after the most impressive pickup truck interior in the game today will probably be more impressed by the latest offerings from the more recently-launched RAM 1500. This truck's award-winning interior looks more modern, sharper, and benefits from an available vertical touch-screen that's massive in size. Of course, with a new F-150 coming soon, we'll be seeing the latest in Ford's interior design capabilities very soon.
You May Also Enjoy:
Diesel Driver: 2018 Ford F-150 Powerstroke Review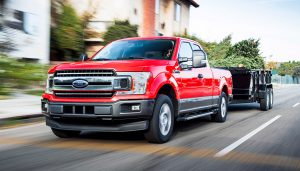 Related Search Topics (Ads)
On the Road
Much of the 2020 Ford F-150 King Ranch's drive is good news.
The highway cruising experience is top notch. Even at
highway speeds, wind and tire noise are nicely muted, meaning occupants needn't
typically raise their voice for a conversation. The ride is smooth and nicely
controlled, imparting a solid and dense feel that many a pickup driver loves
while maintaining laid-back ride comfort that's bolstered by a light and easy
highway steering feel.
Some drivers will wish for slightly more heft and weight to the steering at higher speeds however, which could help F-150 feel more solidly locked into its lane.
Brakes are similar: they perform as intended, but the brake pedal action may leave some folks wanting for a more precise and confidence-inspiring feel during panic stops.
But on the roughest paved roads I frequent, the ride is
busier and harsher than I expected.
On one hand, even when taking no shortage of abuse from the surface beneath, the 2020 Ford F-150 feels tough: quiet, solid, no creaks or rattles, and hardly a peep coming in from beneath the floor. From the driver's seat, however, I wished for more isolation from the roughness of the road beneath. Though rigid and dense to the core, the ride can feel excessively jouncy and see occupants tossed around in their seats more than some will appreciate.
In settings like this, I find the RAM 1500's suspension to feel softer around the edges, to the benefit of ride comfort. The Chevrolet Silverado High Country, by the way, may well prove a more comfortable drive in this setting as well. Remember—these ride quality impressions relate specifically to use on severely neglected paved roads. Still, shoppers frequenting rough surfaces do have smoother-riding options.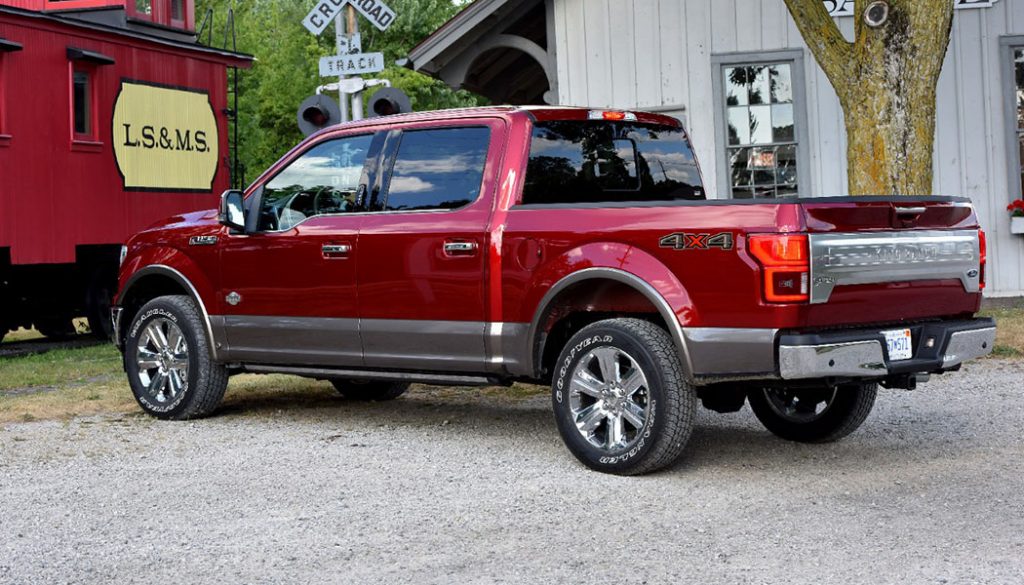 V6 Still Offers Plentiful Power
The 3.5L EcoBoost V6 in the 2020 Ford F-150 delivers thrust to spare while operating as the strong, silent type. Using twin turbochargers, this V6 delivers superior torque output to a conventional V8 engine. Specifically, with 470 lb.-ft of torque, drivers have access to a hearty reserve of pulling power when needed. Notably, that torque is available from thousands of revs earlier than the peak torque figures of a larger V8.
You get more forward pull with less revs. That's ideal for
quieter and more refined acceleration, lower engine noise levels more of the
time, and unbeatable around-town throttle response. The generous helping of
pulling power also means less need for the 10-speed automatic to gear up and
down on hilly terrain.
By the way, despite having 10 gears at its disposal, this
advanced new transmission is programmed to skip multiple gears in each
direction when needed, using each gear ratio as an option, rather than moving
through them in order. At all times during my test drive, the transmission
operated invisibly: smooth, smart, and inconspicuous. You'd hardly even notice
it was doing anything at all.
Designed for smooth and quiet performance to spare, the
near-silent thrust in lighter-footed driving may call an Electric Vehicle (EV)
to the mind of some drivers.
Ranch-Life Luxury
The generally-smooth ride and robust and quiet torque lay the foundation for a pleasing drive that's best enjoyed using some of King Ranch's luxury feature touches. Those looking to decompress during their time at the wheel will enjoy features like heated and ventilated leather seats, complete with a massage function that gently helps keep you moving slightly in your seat, to the benefit of long-haul comfort and blood flow. The B&O stereo system is a mighty listening partner, too: even at very generous volume levels, my favorite music sounded bright, punchy, and vivid.
All said, as Ford winds F-150's thirteenth-generation to a close, the 2020 Ford F-150King Ranch proves a package with many strengths and few weaknesses. Though some may wish for a flashier cabin and smoother rough-surface ride, this remains a pickup with some of the most impressive tech and driveline engineering in the segment today.