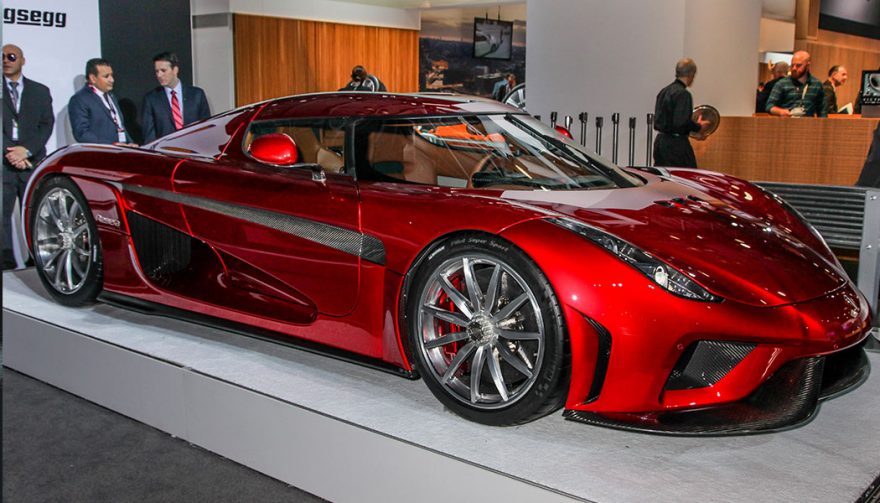 The Koenigsegg Regera was a featured car at the New York Auto Show
Amazing Rides Featured at the New York International Auto Show
The Big Apple knows how to put a show on with style but what else would you expect of a city as sophisticated and cosmopolitan as NYC? Automotive companies from around the world know this is an important event and go all in presenting their products in the most favorable light.
Cars of All Persuasions
They are all here and picking standouts is difficult so we just mixed it up from the exotic to the walking dead to the make-you-look-cool rides:
2016 Koenigsegg Regera
Let's start with the incredibly exotic 2016 Koenigsegg Regera. You get 10 fanatic points if you knew Koenigsegg is the manufacturer's name and an additional 5 points if you know how to correctly pronounce it. This ultra-niche Swedish supercar company has created a real stunner in the aerodynamic lines of the Regera and its hybrid drive train that couples 3 electric motors with a 5.0L twin-turbocharged V8 capable of delivering 1489 horsepower. So how fast can that much horsepower take you? Try 249 mph and you can get there from a dead standstill in less than 20 seconds. If you want one in your driveway you need to place your order now because Koenigsegg is only building 80 but then at $1.9 million a pop that's all they really need to make.
Mazda's 2017 MX-5 Miata RF
Want to be a trend setter in your neighborhood but can't afford $1.9 million? Then be on the lookout for Mazda's 2017 MX-5 Miata RF, a coupe version of the popular convertible that has a retractable hard top. It is a seriously cool looking little roadster that looks like it costs a lot more than it will. While we don't know how much weight will be added due to the retractable feature we do know that the engine will still be the 155 horsepower four banger which raises questions about performance.
2017 Chevrolet Camaro ZL1
If you are more of a muscle car kind of driver watch for the new 2017 Chevrolet Camaro ZL1 which is the ultimate power upgrade from previous Z1 models. Riding on the new 2016 Camaro platform, the 2017 boasts a 6.2-liter supercharged V-8 engine that pushes out 640 horsepower and 640 lb-ft of torque. Match that power with a lighter curb weight, a 10 speed automatic transmission and magnetically-adaptive suspension dampers and you get an impressive combo of brute force and nimbleness. No release date or pricing info is available yet.
You May Also Enjoy:
Test Drive: 2020 BMW Z4 M40i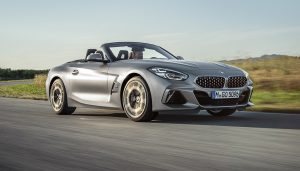 Hyundai Genesis New York Concept
Hyundai is getting really serious about taking a bite out of BMW's and Audi's sales with the introduction of the Genesis New York Concept, a tribute to the host city's taste for style, sophistication and luxury. The design is spectacular and not what you would expect from the Korean manufacturer. However, Hyundai is committed to bringing an upscale, technology focused coupe to the American market and the New York Concept fills that bill nicely. Featuring a 21′ touchscreen in the interior and hybrid setup that's good for 242 horsepower and 260 lb-ft of torque, the New York is an upscale coupe worth watching for. Alas, the New York is a concept car but Hyundai says the production vehicle will be a close match.
2017 BMW M760i xDrive
Do you want big and fast? The BMW 7 series has a new top dog, the 2017 BMW M760i xDrive. While this full sized sedan is not a full blown M car, its 12 cylinder 6.0L twin-turbocharged engine pours out 600 horsepower and 590 lb-ft of torque. That kind of power will press you back in the premium leather bucket seat as you accelerate from 0 to 60 in a very un-sedan time of 3.9 seconds. Equipped with All Wheel Drive and a 10 speed automatic transmission the M760i xDrive is the new top dog of the big rides.
2017 Scion tC RS 10.0
If you are into collectables you may want to consider the 2017 Scion tC RS 10.0, the last of its kind. To its credit, Toyota is making sure the tC RS is going out in style and is limiting production in 2017 to just 1200 units, all in Barcelona Red. The prophetically named "Release Series" model has a full aero kit, a dual exhaust system, and lowering springs from TRD. Other than that, it is mechanically the same as the 2016 model. Did we mention it only comes in red? Sales are expected to begin in June with a starting price of $23,190.
Maserati Levante
In the luxury-performance class there is a new SUV on display. That's right an SUV. Maserati has decided to jump into competition with Porsche's Cayenne and has launched the all new Maserati Levante. Powered by Ferrari-built twin-turbo 3-liter V6 which can be had in 345 and 424 horsepower versions, the Levante looks a bit tighter than the Cayenne but who cares. All you really want from a Maserati is to hear that exhaust tone that is as distinct as a Harley's rumble. Of course at $72,000 a copy you will probably want a few nice touches and the Levante doesn't disappoint with an interior filled with premium leather and silk.
The one thing that all of these auto shows reveal is just how fast the automotive industry has adapted to market demands and advanced both in technology and manufacturing processes. Years ago auto shows would WOW the public with shiny chrome and a radio with stereo sound. Today it's amazing power plants and drive trains, even more amazing electronics, exotic materials and the move to autonomous driving. The takeaway is never miss an auto show when you have a chance.