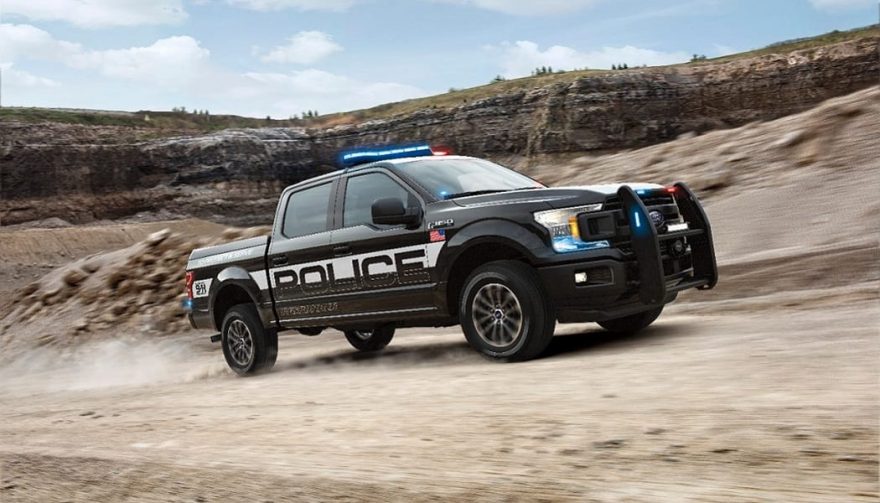 The F-150 Police Responder has a 7,000-pound towing capacity
Ford Unveils Industry First Pursuit-Rated Pickup
Dearborn, Mich. – Ford has released the industry's first pursuit-ready pickup truck, according to a release. The 2018 F-150 Police Responder gives law enforcement a more versatile and capable patrol vehicle. It joins the industry's broadest lineup of law enforcement vehicles this fall.
Ford engineered the all-new F-150 Police Responder for high-performance capability and durability during both on-road and off-road situations.
The all-new F-150 Police Responder can achieve speeds up to 100 mph. It features a powerful and efficient 3.5-liter EcoBoost V6 engine capable of 375 horsepower and 470 lb-ft of torque. Further, with the 10-speed automatic transmission, the F-150 Police Responder has a 7,000-pound towing capacity.
The F-150 Fx4 off-road model serves as the base for the Police Responder. It boasts Ford's SuperCrew body, which gives it the largest passenger volume, payload and towing capacity for any pursuit-related enforcement vehicle. Front and rear shoulder, hip and legroom are all best-in-class.
Other performance enhancements include a police-calibrated brake system with upgraded calipers and front-stabilizer bar for better braking and handling. Underbody skid plates protect the truck from curbs and rough terrain.
Ford loaded the interior to meet any situation an officer may encounter. For added interior durability, the F-150 Police Responder has heavy-duty cloth front seats with anti-stab plates. In the back there's vinyl seating and vinyl flooring.
The gear selector is located on the steering column to make room for extra equipment between the seats. For extra power needs, there's a high-output 240-amp alternator to support numerous on-board electrical devices. There's also a police-calibrated speedometer, as well as engine hour and engine idle hour meters.
Broadest Lineup of Law Enforcement Vehicles
The F-150 Police Responder joins the ranks of Ford's other law enforcement vehicles that fill a variety of needs. Ford transformed the Ford Fusion Hybrid into the Police Responder Hybrid Sedan, the first pursuit-ready hybrid police vehicle. The Police Interceptor Sedan is based on the Taurus, while the Police Interceptor Utility is a heavy-duty Explorer.
"Ford's 2018 F-150 Police Responder is the perfect all-terrain law enforcement vehicle," said Stephen Tyler, Ford's police brand marketing manager.
"Aside from its industry-first on-road pursuit capability, this purpose-built pickup can comfortably seat five, while providing capability in off-road patrol situations for officers in rural environments patrolled by sheriff's departments, border patrol operations and the Department of Natural Resources."
Ford hasn't announced when the F-150 Police Responder will be on duty. However, hope the first time you see one it isn't in your review mirror with the lights flashing.