GMC Terrain vs Honda CR-V vs Subaru Outback: Compact SUV Comparison
There are many compact SUV models to choose from. In fact, with so many on the market, you might feel overwhelmed. Instead of stressing about the range of choices, let's look at the 2018 GMC Terrain vs Honda CR-V vs Subaru Outback comparison.
Each one of these compact SUVs provides a different approach to mixing practicality and utility. Now, here's how they stack up against each other.
2018 GMC Terrain
New, Chiseled Looks
Like other recently revamped GMC vehicles, the Terrain wears a modern design. It looks more muscular than before, but without overdoing it on the details. Among the highlights are the signature LED daytime running lights, a floating roof via the blacked-out C-pillars and the new corporate grille.
The previous Terrain didn't look bad, but the new styling certainly helps it stand out in the crowded sea of compact SUVs. It should also age well, which you can't say the same for all vehicles.
Interior Is a Mix
As for the interior, GMC didn't go with anything too revolutionary. The overall layout is clean and functional. For example, big cupholders feature notches for coffee tumbler handles. Not everything is perfect, but overall it works for everyday life. Of course, you can choose the Denali version, which really pushes the luxury features.
You May Also Enjoy:
GMC Terrain Diesel Is a Thrifty and Road-Ready Crossover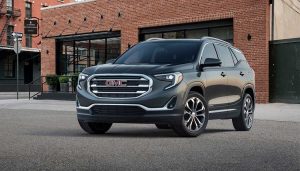 Related Search Topics (Ads)
Big interior drawbacks include less cargo space and headroom throughout. Compact SUVs aren't behemoths, so for GMC to take away space is almost cruel. What's just as bad is the sliding second row is no longer included on any model. That's bad news for taller passengers.
Powertrain Choices
One thing you can get on the GMC Terrain that's not an option on the other two is a diesel engine. Of course, the 1.6-liter turbo diesel tops out at 137 horsepower and 240 lb-ft of torque, which is alright but not great for towing. It works with a 6-speed automatic.
Two other engines mean shoppers have plenty of choices. The 1.5-liter turbo produces 170 horsepower and 203 lb-ft of torque. The upgraded gasoline engine is a turbocharged 2.0-liter. It tops out at 252 horsepower and 260 lb-ft of torque, which is a significant increase. Both gasoline engines work with a 9-spsed automatic.
Both front-wheel and all-wheel drive are available. The Terrain handles well enough with either one.
2018 Honda CR-V
The Golden Child
We already know this compact SUV well enough. The Honda CR-V was redesigned for 2017, making a good thing even better. In fact, many argue the CR-V is the most well-rounded SUV in its class. If not, it's close.
Well-rounded unfortunately doesn't mean fun. Driving the CR-V is like ironing a shirt or making some toast. It's necessary and it works, but you won't smile while doing it. Honda doesn't make any pretenses of this being a performance machine. The CR-V pretty much does everything, except keep you engaged.
Great Interior
Boring doesn't mean impractical. No, the CR-V will swallow up five humans with ease, even tall ones in the back. It can fit all kinds of big cargo items, especially with the rear seats folded.
Overall, the fit and finish of the cabin is of excellent quality. Honda used to be way behind in this area, but it's made huge strides. For example, the available leather upholstery rivals what some luxury brands offer. Storage compartments and pockets abound, so you have places to put all your stuff.
Advanced Tech
When equipped with optional LED headlights and the Honda Sensing suite, the SUV is rated as a Top Safety Pick by IIHS.
Honda Sensing includes all kinds of tech goodies, like road departure mitigation, adaptive cruise control, active lane control and auto emergency braking. All models come with a multi-angle rearview camera.
Other standard and optional tech includes Apple Car Play, Android Auto, rain-sensing wipers and the HondaLink service.
2018 Subaru Outback
The Swiss Army Knife
You could call the Outback a crossover, which is what I'm doing for this review. But it's also a wagon, so you get the best of what cars have to offer, too. That means slightly better handling, greater on-road comfort, and the ability to hit rutted dirt roads, thanks to symmetrical all-wheel drive.
With the rear seats folded down, the Outback can accommodate all kinds of things. That backseat is great for even taller adults, too.
Subaru added to the diverse abilities of the Outback by including a new infotainment setup. It features Apple CarPlay and Android Auto. Numerous exterior tweaks cut down on wind resistance and noise, while the interior has even better insulation than before.
Engine Choices
The 2.5-liter boxer four-cylinder engine found in most Outbacks can feel strained at times. If you upgrade to the 3.6-liter six-cylinder, performance certainly is smoother. But, fuel economy suffers, a lot.
Fortunately, both engines mate to a smooth and efficient Lineatronic CVT. Normally I'm not a fan of CVTs, but this one is especially good. No matter the engine, the Outback can tow up to 2,700 pounds of weight, a decent amount.
Not So Luxurious
Sure, you can get leather upholstery, heated and ventilated seats, and such in the Outback. Soft-touch surfaces abound, and everything is put together well enough. But don't be fooled: there's nothing truly luxurious about the wagon. This includes the top-of-the-line Limited, which quite frankly doesn't stack up with the top models from the other two crossovers.
You'll still enjoy the Outback's interior, like a really cushy hiking boot.
GMC Terrain vs Honda CR-V vs Subaru Outback: The Verdict
Ultimately, there can only be one compact crossover champion. You'd likely be happy with any of the three, if you find it fits your style. But, the overall best option is the Honda CR-V.
Sure, it's not exciting, so if you need some spice, you won't like it. But the average crossover shopper needs something that works for work and play, day after day. And the CR-V is best-suited for that duty.