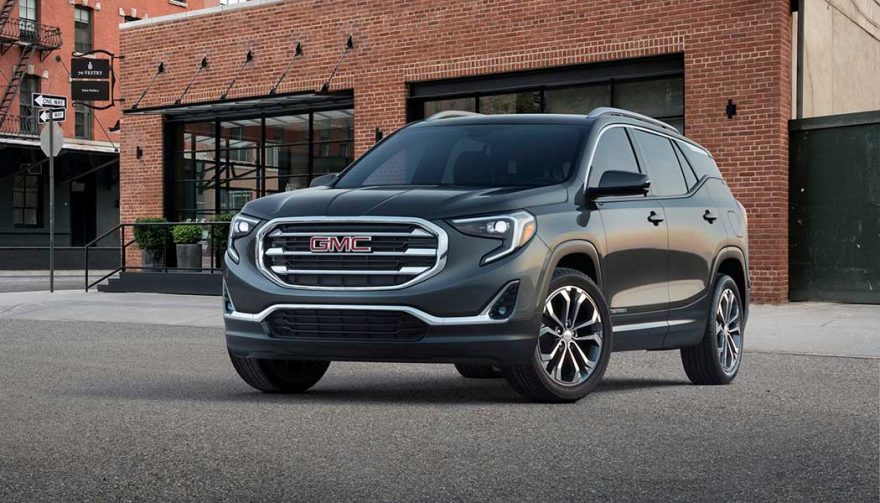 The GMC Terrain comes with an optional 1.6-liter four-cylinder EcoTec Turbodiesel engine
GMC Terrain Diesel Is a Thrifty and Road-Ready Crossover
If you're a diesel enthusiast who finds the industrial, metallic melody of a diesel cold-start charming, the GMC Terrain Diesel delivers. But just briefly. Or not at all if you use the remote start which works from at least 60 feet away through two brick walls.
The GMC Terrain Diesel is one of these modern diesels that hardly comes off as a diesel vehicle at all.
The 1.6-liter four-cylinder EcoTec Turbodiesel on the GMC Terrain Diesel makes 137 horsepower and 240 lb-ft of torque. It's one of the only diesel engines available in the competitive crossover segment, for now.
The diesel engine is one of three four-cylinder engines on offer behind the GMC Terrain. If you prefer gasoline, a 1.5-liter or 2-liter four-cylinder, both turbocharged, are available with 170 or 250 horsepower. That's right, no V6.
Fighting for Your Attention
Ah, the crossover segment: a non-stop shoving match where competitors elbow and prod their way toward the center of your attention. With reduced weight and the promise of thrifty diesel mileage, there's the hope the GMC Terrain Diesel will register on your crossover radar.
How's the diesel? Largely, it feels like a bigger, punchier four-cylinder gas engine. There are stacks of torque at amusingly low revs, so there's no issue oozing through traffic around town with minimal throttle. Downshifts from the six-speed automatic are hardly needed to climb even steeper inclines on the highway. If you're in a little hurry, rich waves of torque whisk the Terrain along well.
But it's no powerhouse. Rather, the diesel engine is matched perfectly to the light-footed driver who frequents the highway and wants to skip the gas station when possible. According to GMC, the diesel Terrain gets 28 mpg in the city and 38 mph on the highway.
You May Also Enjoy:
2017 GMC Terrain: Wait and See What 2018 Offers If You Can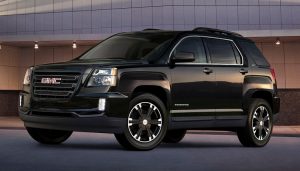 Related Search Topics (Ads)
However, if you're driving enthusiast, this model may leave you wanting more. More overall thrust. More power at higher revs. The little diesel EcoTec can sound strained and feel like it's running out of steam when wound out.
Driving the GMC Terrain Diesel
The GMC Terrain Diesel is available with both FWD and AWD systems. Our tester was of the AWD variety, and it engages full power to both axles in a jiff when needed.
It responds quickly and smoothly to changing surfaces, taking a half wheel's turn or less before corrective action is applied. This AWD system knows what it needs to do, and does it quickly and invisibly. You can even turn the AWD system off to save fuel when feasible, which is neato.
The brakes bite urgently from the first bit of pedal application. Should the ABS engage, it's virtually inaudible and vibrations at the pedal are gentle. The brake feel is well-calibrated and confidence-inspiring.
Steering is similar. At low speeds, it's light and lazy for one-finger parking and maneuvering. At highway speeds, it's firmer and heavier while remaining relatively quick and eager. Here drivers direct the Terrain with small but deliberate inputs, with a feel not unlike a slightly sporty sedan.
Ride quality is another asset. Even the worst roadways failed to make the Terrain feel like it was taking a beating. A measure of softness is dialed in around the edges to help filter out harshness from the road. It all feels set nicely between sporty and spongecake. It's neither too firm nor too gooey. Further, the ultra-rigid new body structure feels dense and robust, to the undoubted satisfaction of crossover customers who crave a solid and tough feel.
New Terrain Cabin
The cabin is dark, formal and tidy. Most of the right materials are used in most of the right places. Since GMC is a pickup truck brand, it's no wonder many of the shapes, controls and accents are chunky and thick.
If there was an opportunity to flaunt something new and exciting in crossover cabin styling, GMC has skipped it here. Nothing on board is thrilling to look at. Visually, there's very little you won't find checking out the competition, other than the electronic gear shift selector.
To the frazzled bewilderment of many, this shifter uses buttons and switches to select the gear you're after. Don't freak out, shifters like this are easy to use. Even if you don't know how to operate a button, you'll get used to it in a day. Just note, this setup makes it difficult to pick a gear if you're wearing thick winter gloves.
All said, the Terrain's cabin hits harder for functionality than looks. Within reach of the driver are a deep center console, four power outlets, two cup holders, and no less than five storage compartments to keep smaller items organized and secure.
Feature content is top-notch too. The SLT-grade tester had an upgrade package which offered heated seats, a heated steering wheel, BOSE audio, full OnStar support, automatic everything, remote start and even in-car Wi-Fi.
No issues with space or entry and exit up front: just a sideways butt-slide and you're seated. The second-row seats have generous legroom, seatbacks that recline, and a hump-free floor. Though headroom tightens rapidly for taller people, the rear seating quarters here are a great place to lounge for those up to about average height. Behind that, the cargo hold is square and wide, and handy handles fold rear seats away with a quick tug.
Complaints and Compliments
Gripes? Wind noise at highway speeds was generous. Some of the controls and switches inside are starting to look a bit dated. What's more, at times I wished the diesel engine had more oomph.
Finally, the engine coolant, and subsequently, the cabin, can lose heat after a few moments of idling in extreme cold.
Those after a comfortable crossover that's an expert winter tourer built for hours of thrifty cruising should add this one to their test-drive hit list.
Other advisable test-drives in this segment include the Honda CR-V and Jeep Cherokee.