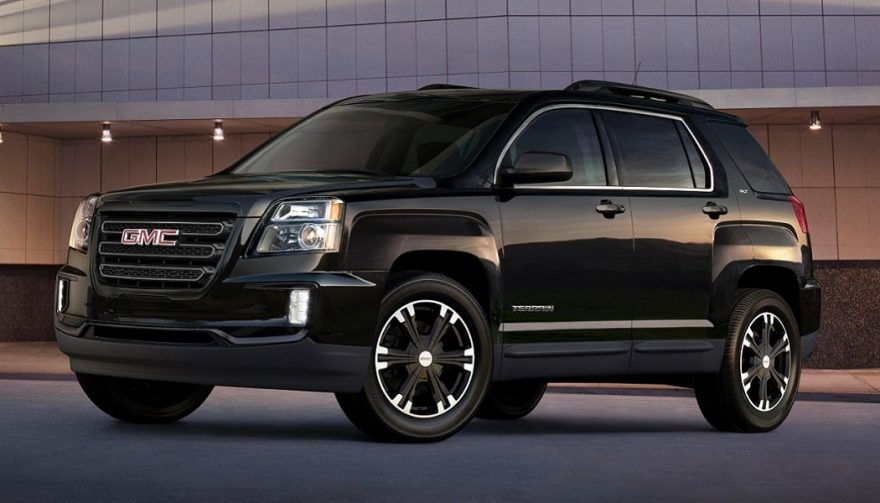 The 2017 GMC Terrain Nightfall Edition
2017 GMC Terrain: Wait and See What 2018 Offers If You Can
A whole new GMC Terrain is coming for 2018, which looks to really modernize this SUV. In the meantime, you might be wondering if the 2017 model is worth checking out.
The truth is that in some areas this vehicle really shines, while in others you can see why GMC is overhauling things.
2017 GMC Terrain Updates
For the most part, the GMC Terrain is the same SUV we got in 2016. A new Graphite Gray Metallic paint color is one slight addition.
The other change for 2017 is a Nightfall Edition. Like other Nightfall GMCs, the Terrain gains all kinds of "sinister" or black and charcoal exterior styling elements, if that's your thing. Plenty of people go wild for this sort of a thing, which has helped fuel GMC sales.
On Paper
With an aging platform, you wouldn't expect the 2017 GMC Terrain to look impressive on paper. The standard Ecotec 2.4-liter four-cylinder engine puts out a decent 182 horsepower and 172 lb-ft of torque. Upgrade to the 3.6-liter V6 engine and enjoy 301 horsepower and 272 lb-ft of torque.
Going for the V6 engine means a max towing capacity of 3,500 pounds.
To help you keep this little SUV in check, you also get a fully independent suspension. Four-wheel disc brakes with ABS also help. While front wheel drive is standard, you can get AWD for even more control in all kinds of conditions.
As far as space, you get over 41 inches of front legroom, and over 39 inches in the rear. Headroom is similarly impressive.
Too many modern SUVs have a cramped amount of cargo, but the Terrain boasts 31.6 cubic feet behind the second row, or 63.9 cubic feet with the rear seats folded down. In other words, you can load a fair amount of stuff into this vehicle.
You May Also Enjoy:
GMC Terrain Diesel Is a Thrifty and Road-Ready Crossover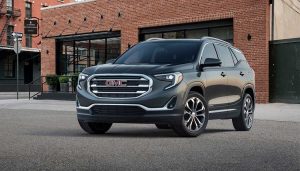 Related Search Topics (Ads)
Even though the Terrain is aging out, it still has some pluses to offer. But with newer engine technology making big power and boosting efficiency, the Terrain is lagging in that section.
Tech Gaps
If you care about onboard technologies, once again be prepared for a mixed bag. Some of the systems included on the GMC Terrain are competitive with other small SUVs, while others  definitely need revamped.
One of the big pluses is the available 4G LTE with a WiFi hotspot. Most other automakers are still catching up in this area. Some options have 3G with WiFi, but 4G is pretty hard to duplicate.
But you can't get a hands-free power liftgate. You might think that's ridiculous, but they do come in handy when your arms are full.
Also, there's no wireless charging pad. I hate cords all over my car, so wireless charging is like a dream come true. And GMC IntelliLink feels dated, and will make you want to just use your phone to get directions or do pretty much whatever else.
When it comes to safety, we see another big gap. Sure, IIHS crash tests on the Terrain all come back with "Good" scores. The Latch ease of use was "Average," but from my experience few cars have Latch anchors you can get to easily.
IIHS did note a problem with the front crash prevention system. It was listed as "Basic," even with optional equipment. In other words, the system will warn you if a front collision is imminent, but that's it. It won't step in and hit the brakes, no matter what. Here's a rundown of some of the safest SUVs, if you're interested.
You also can get a lane departure warning system. Does it apply torque to the steering wheel to help you get back into the lane? No. That's another area where some competitors have pushed beyond what the Terrain has to offer. It's an important driver-assistance technology.
You also can't get a surround-view camera system, or anything beyond just a rear view camera.
Driving Impressions
I'll be honest, the four-cylinder engine will save you a bunch on gas. That being said, it makes the Terrain sluggish, annoyingly so. I much prefer the V6, which takes bigger gulps of gas. Like to the tune of 16 mpg in the city, if you have AWD too. It definitely doesn't make the list of most fuel efficient SUVs.
Aside from that, the GMC Terrain drives about how you would imagine a small SUV to. It has quite a bit of body roll in turns, so you're not going to whip through anything. The steering is a little sloppy, but most people will never think twice about that. As for the brakes, they're okay.
One big issue I think most people will notice, if not at first then later, is rearward visibility. The rear view camera doesn't provide a wide-angle view of everything behind the SUV.
Thick pillars in the rear might be good for the roof's structural integrity, but they really block your view. It's a problem other SUVs on the market have.
However, on a positive note, the GMC Terrain is every bit as big on the inside as you would expect, maybe even more. The fit and finish are good, surpassing what you get in most competitors, especially at the upper trims.
GMC includes some big, deep storage areas, making it easier to stash all kinds of things in them. And the rear cargo area fits plenty of stuff.
Can You Wait for the 2018 Model?
Again, the 2017 GMC Terrain is a good vehicle, but it's not a great one. But, I don't think you can go wrong with it.
If you want to wait and see what the 2018 model is going to be like, and you can afford to hold off, I say go for it. The new generation should hopefully iron out many of the current deficiencies.