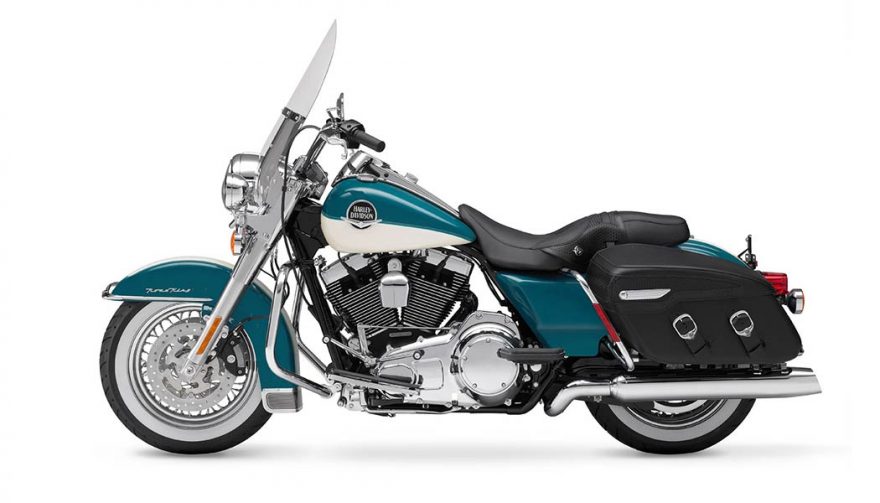 The Harley-Davidson recall includes the 2010 Road King Classic
Harley Davidson Recalls 175K Bikes in US for Brake Failure
A new Harley-Davidson recall affects over 175,000 motorcycles in the United States and over 250,000 units around the world.
At issue with the Harley-Davidson recall is the potential for brake failure in over 30 different models equipped with an anti-locking braking system. Model years 2008 through 2011 are at risk.
NHTSA Investigation
The Harley-Davidson recall is the result of an investigation by the National Highway Transportation Safety Administration. The NHTSA began investigating the problem in July 2016 after getting 43 complaints that included three reports of crashes.
"Deposits may form on components within the brake system if the DOT 4 brake fluid is not replaced for a prolonged period of time beyond the two-year maintenance schedule specified in the owner's manual," the Harley-Davidson recall notice reads.
These deposits can cause valves in the ABS controls to stick. As part of the recall, affected bikes will receive a full flush of brake fluid. No parts will need to be replaced.
According to the investigation, Harley-Davidson had hoped to pursue a field service campaign to inform owners of the hazards. However, the NHTSA pushed for a full national recall.
Dealers will begin rectifying the problems beginning Monday, February 12. Harley-Davidson dealers will flush the entire brake system with new Platinum Label DOT 4 brake fluid.
The following Harley-Davidson models are included in the recall:
▪ 2008-2011 Road King; Road King Police; Electra Glide Standard Police; Electra Glide Classic; Electra Glide Ultra Classic; and Street Glide
▪ 2008 VROD; CVO Road King 4; Night Rod; CVO Ultra Classic 3; and Night Rod Special
▪ 2008-2010 Road King Classic
▪ 2008-2009 Road Glide and Electra Glide Standard
▪ 2009-2010 V-Rod; 2009 CVO Ultra Classic and CVO Road Glide 3
▪ 2009-2011 Night Rod Special and V-Rod Muscle; 2010 CVO Ultra Classic 5 and CVO Street Glide
▪ 2010-2011 Electra Glide Ultra Limited and Road Glide Custom; 2011 Road Glide Ultra 103; Street Glide 103; Road King Classic 103; CVO Ultra Classic 6; CVO Road Glide Ultra; Road Glide Custom 103; and CVO Street Glide 2
If you own one of the affected models, it is best to take it to your local Harley-Davidson service center or trusted motorcycle mechanic.