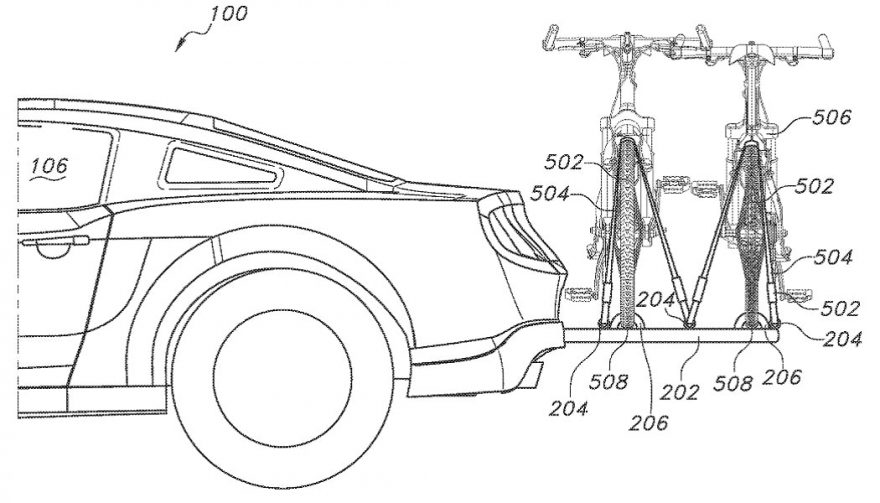 An illustration in a Ford patent application shows an integrated bike rack
Is Ford Making an Awesome Integrated Bike Rack?
Dearborn, Mich. – As one of the less-recognized innovators in the automotive industry, Ford has created many breakthrough designs. The automaker is at it again, this time making it easier than ever to load bikes on your car. It's an integrated bike rack you never need to remove.
A Clever Design
That's right, Ford has been designing a way for a bike rack to slide out of a vehicle's rear fascia. This information comes from a United States patent application.
The car owner would be able to slide out the rack to accommodate up to two bicycles. It slides right into the fascia.
Presumably, when the rack isn't in use, it blends right in with the rest of the fascia.
If you've ever struggled with bike racks, you can appreciate the genius of this invention. Many people just leave them attached, and that's not a good way to save gas. The product would mean drivers could accommodate transporting a bike at a moment's notice.
Chrysler has a somewhat similar concept with the Stow 'N Place roof rack. Admittedly, this would be a much more convenient device to transport bicycles.
Cars and Bicycles
Just as important, this is yet another time automakers recognize the importance of accommodating cyclists.
You May Also Enjoy:
Plugs and Safety Tech: 2020 Ford Escape Revealed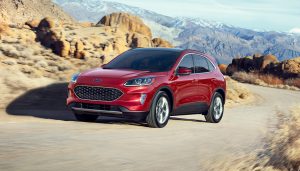 Sure, you should give them three feet when passing on the road. But this patent emphasizes that people who ride bicycles often also drive.
Too often, automotive enthusiasts act as if cyclists are the enemies. And vice versa. The animosity between cyclists and drivers can sometimes assume dangerous proportions.
Market Shift
With this patent, Ford could pose a big threat to companies that make bike carriers. Thule, Yakima and others need to pay close attention to whether this invention moves forward.
Don't be surprised if you see the carrier on a concept vehicle in the near future. It plays in nicely with Ford's pivot to addressing transportation issues in general, instead of just making cars.
After all, in some situations people might drive for part of their commute, and use a bike for the rest.