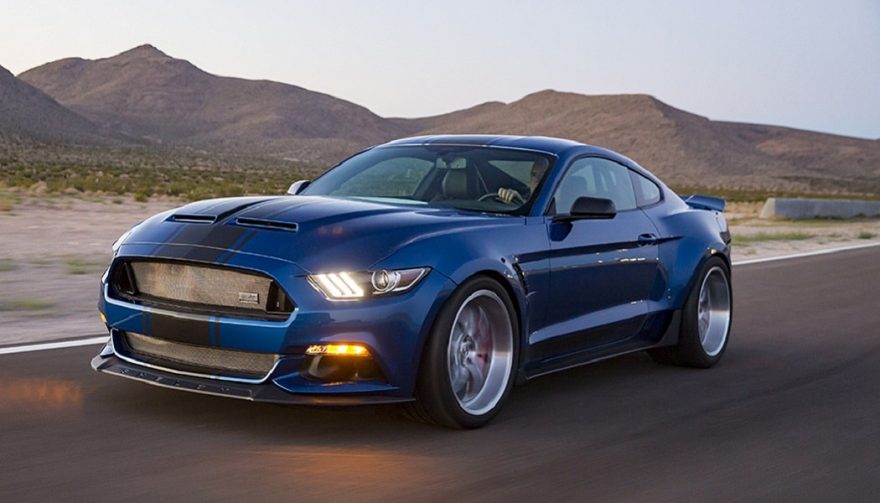 The 2017 Shelby Super Snake wide body concept is optimized for road racing
For Heaven's Snakes! Shelby Unveils New Mustang Concept and F-150
Shelby American unveiled two new vehicles yesterday. The Shelby Super Snake wide body concept and the Shelby F-150 Super Snake truck made their debut at Carroll Shelby International in Southern California.
While the Shelby Super Snake wide body is just a concept, the Shelby F-150 Super Snake is one sale for just under $100K.
In a release, Shelby American said the truck marks "the return of the Shelby muscle truck." Select Ford dealers across the country will have dibs on the 150 trucks available this year. So it's going to be hard to get your hands on one even if you do have the cash.
2017 Shelby Super Snake Wide Body Concept
The 2017 Shelby Super Snake wide body is Shelby American's first factory concept vehicle in over 10 years.
The wide body concept is based on the popular 50th Anniversary Shelby Super Snake. However, Shelby optimized this concept for road racing, as opposed to drag racing. As a result, there is a greater emphasis on handling.
You May Also Enjoy:
Ford Unveils Industry First Pursuit-Rated Pickup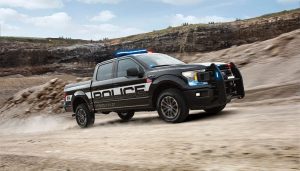 The concept includes a new coilover suspension, Brembo braking system, tire and wheel options. So these features maximize the car's wider track for road racing.
A supercharged Ford 5.0L V8 puts 750 horsepower to the road.
"The wide body Shelby Super Snake concept vehicle is a glimpse at our next generation track-focused car, as well as a demonstration of Shelby American's vitality," said Joe Conway, co-CEO of Carroll Shelby International and CEO of Shelby American.
"The success of our 50th Anniversary Shelby Super Snake, Shelby F-150 and Shelby Cobra program fueled a desire to stretch our team in new ways."
Engineers at Shelby American's Las Vegas facility designed the Shelby Super Snake wide body concept.
Shelby F-150 Super Snake
The Shelby F-150 Super Snake made its first appearance next to the wide body concept. The truck wears the iconic Shelby styling.
New features include a new hood, rockers, spoilers, grilles, rear bumper panel and tonneau cover.
Then there are additional styling cues, including Shelby Super Snake stripes and badges. Further, the theme continues inside the truck, across the seats, dash and floor.
The truck is a response to greater public interest in pickups with increased trail performance, like the F-150 Raptor.
"With the tremendous demand for our off-road focused Shelby F-150, fans of the classic Ford Lighting and our 2009 Shelby F-150 Super Snake have clamored for a new generation muscle truck from Shelby," Conway said.
Under the hodd, Ford's supercharged 5.0L V8 engine pumps out 750 horsepower.
"Lessons learned building the Ford Mustang-based Shelby Super Snake muscle car and the Shelby F-150 were applied to create this incredible street truck," said Vince LaViolette, Shelby American VP of Operations and Chief Test Driver. "True to Carrol Shelby's philosophy, it has more power, more sound, more styling and more handling prowess."