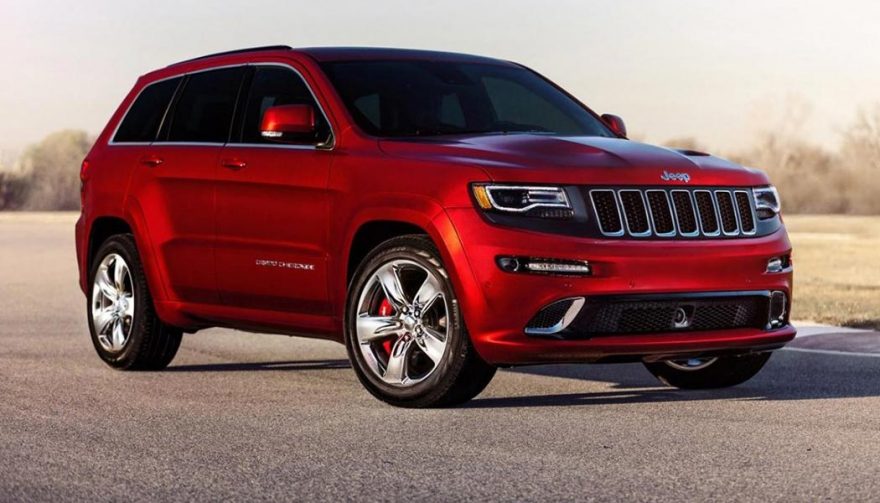 There have been some big changes to the 2017 Jeep Grand Cherokee as the automaker has been in expansion mode.
2017 Jeep Grand Cherokee Buying Guide
Jeep's been in an expansion mood lately, and that includes making some big changes to the Grand Cherokee for the 2017 model year.
A Sea Change for the Grand Cherokee
Not everyone who wants to go off-roading has the desire to feel grit between their teeth, or have their bones rattling for hours on end. The 2017 Jeep Grand Cherokee in some ways is the ideal compromise, blending luxury with a fair amount of trail ability.
What Stays
Expect the same trim levels from 2016 to return, except for the 75th Anniversary Edition models. That means we still have the Laredo, Limited, Overland, Summit and SRT. Another model is joining the lineup – more on that below.
The exterior of these different models will be slightly refreshed overall, but don't expect some dramatic departure from how the Grand Cherokee looks. Naturally, the higher up you go on the trims, the nicer and flashier everything becomes, inside and out. You'll have to weigh your own budget constraints, needs and wants to figure out which one is best for your particular situation. Don't let anyone at a dealership pressure you into going with a specific one.
Summit Changes
While the Jeep Grand Cherokee Summit is returning for 2017, it also is going through a huge transformation. Overall, you just need to think luxe, because that's exactly where Jeep is taking things. That doesn't mean the Summit is becoming the next Escalade, but it's definitely catering to the crowd that's far for likely to park the SUV outside of a day spa than at a campground in Moab.
Several changes have been applied to the exterior, including an updated look for the front fascia and grille. LED foglights are standard, which are great for seeing where there are few to no street lights. The 20-inch aluminum wheels have a new look as well.
Most of the big changes have to do with the interior, because that's where real luxury resides. Anyone who goes with the Summit will get a full Laguna leather interior, plus a Nappa leather dashboard, door panels, center console and seats. Edge welting on the seats is one of the many details that really help elevate the feel of the SUV to a higher level. The fact that Jeep has focused on such things shows that it understands what it takes to produce a true luxury model. It might be the influence of sister brand Maserati, and if so that means being under Italian management does have its benefits, even though a lot of people like to focus on the negative.
If you look up, the headliner is suede, another nice touch. The door sills light up and Berber floor mats top off the overall luxurious feel.
Hate road and wind noise? Jeep has worked to eliminate those, using the same tactics other manufacturers have turned to with Active Noise Cancellation and an acoustic windshield. Taking things are step further, all of the side windows are also made of acoustic glass.
There are different color schemes available for the interior, so as a buyer you can choose the look you want. One is a two-tone combo of Ski Gray and Indigo. The other three options are Dark Sienna Brown, Brown and Black.
One of the points of a luxury model is to cram it full of the latest technologies, and the Grand Cherokee Summit doesn't fall short on that. The standard Harmon/Kardon sound system with 19 speakers, an 825-watt amp and three subwoofers hits hard, but has excellent clarity. Drivers get all kinds of aids like blindspot detection, forward collision warning, adaptive cruise control, lane departure warning and a parallel/perpendicular park assist system.
You could technically take the Summit off-roading, because it has a perfectly capable Quadra-Drive II four-wheel-drive system, an electronic limited-slip differential, air suspension, etc. but all of that would also be useful on snow-packed roads.
Trailhawk
Some people got really excited a while ago and thought that Jeep was working on a Hellcat-powered version of the Grand Cherokee. While that would've been awesome, the "super-secret" project Jeep was actually working on was the 2017 Grand Cherokee Trailhawk.
So it doesn't have a Hellcat V-8 stuffed under the hood, but that doesn't make the Trailhawk a disappointment. As you already probably know, the Trailhawk versions of the Cherokee and Renegade are the most hardcore trail models you can get. A Grand Cherokee Trailhawk concept debuted in Moab back in 2012, and little did we know it would become a production SUV.
To tackle some rugged trails, the Trailhawk comes with the Quadra-Drive II four-wheel-drive system, which is the most hardcore four-wheel-drive system Jeep makes. It works with an Electronic Limited Slip Differential for better traction in all kinds of conditions, including wet or icy roads. Like other modern Jeeps, there's a Selec-Terrain traction control system with several settings, including Auto, taking some of the guesswork out of hitting trails. A Quadra-Lift air suspension is part of the offering as well, letting drivers raise the vehicle when they need better ground clearance. Selec-Speed Control helps with maintaining a good crawl speed, and Hill Ascent Control guards against stupid mistakes when trying to climb like a mountain goat.
You might like the look or not, but the hood decal on the Trailhawk serves a real function. It's coated with an anti-glare finish, that way drivers aren't staring into the sun at the wrong moment when trying to crawl over some rocks.
Spotting the Trailhawk should be easy, especially with the red tow hooks that really stick out. It wears Trailhawk and Trail Rated badges with red accents. Then the Neutral Gray accents on the side mirror caps and roof rack add a subtle touch.
Going with the Trailhawk doesn't mean the interior is rough and rugged. The driver and front passenger sit in performance seats with leather and suede surfaces, plus red accent stitching, so it's pretty posh. There are also Piano Black and gun-metal accents.
One of the coolest features on the Trailhawk is the additional pages in the Uconnect infotainment system. Instead of keeping you up-to-date on the Kardashians, you can access info about wheel articulation, suspension height settings, and other trail-specific data, keeping you from getting into trouble in the middle of nowhere.