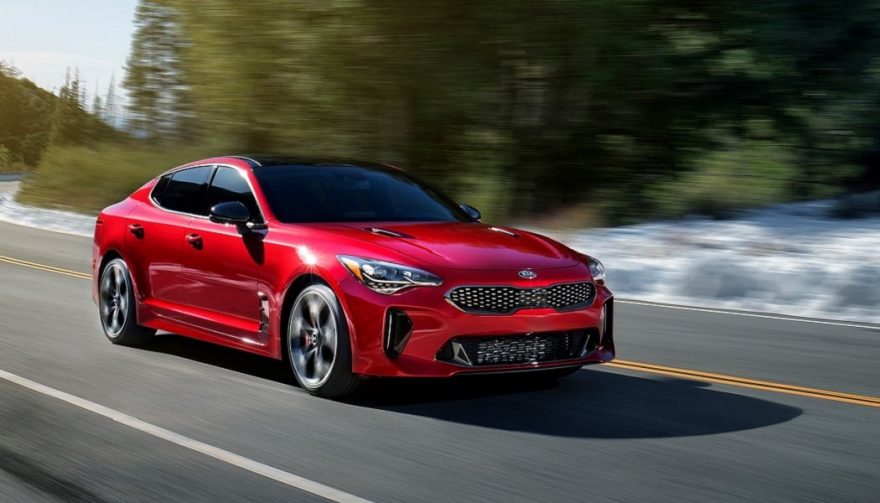 Kia Stinger: all good under the hood.
Kia Stinger Takes a Shot at Luxury Brands
The Kia Stinger is proof the automaker is becoming more daring. After scooping up Peter Schreyer, who's known for designs like the Audi TT, the brand's started really turning heads.
It's come to the point where people compare Kia to the likes of Honda without even thinking. That was laughable only a few short years ago. But that's not good enough. Kia wants more.
Revealing the Kia Stinger, a production gran turismo, shows just how serious Kia is about going after the German brands.
Hot Looks
When I look at the Kia Stinger, I feel funny. It's not just that the car is good looking. It's that it's a Kia. Never did I imagine a Kia would evoke such emotions in me. It's sleek and clean, embodying everything I love to see in a good GT.
Obviously, I'm not the only one who feels this way. The vehicle won an Eyeson Design Award for Production Car Design Excellence. That's a huge honor and validation for the car and Kia as a brand.
Take away the signature Tiger Nose grille, and it's hard to peg the Stinger as a Kia. Deep front vents hint strongly at the car's aggressive nature, along with the wide lower grille. Thankfully, the headlights don't look like instruments of torture, which is great compared to Toyota's increasingly angry front fascia designs.
An interesting detail is how the daytime running lights line up perfectly with the top line of the grille, making for a more flowing, yet subtle aesthetic. It's obvious considerable thought was put into the Kia Stinger.
Instead of putting a bunch of distracting creases in the hood, there are two subtle ones. They work to emphasize the car's width, making it look more planted. The hood vents aren't too large, again showing restraint in the right ways.
The side vents located behind the front brakes are another hint at the car's performance aspirations. Overall, the profile starts with a long hood, like a true GT. The roof line isn't too steeply raked in the rear, which adds to the muscular vibe.
As for the rear, it tapers off quickly, without looking like it was brutally chopped off. There's a tasteful rear diffuser. Four tailpipes are pushed to the corners, again emphasizing the wide stance of the sedan.
Overall, this is a well-composed, clean and surprisingly restrained design. The wheelbase is longer and the body is longer and wider than competitors. And the trunk is more spacious than most.
Interior Panache
After seeing the exterior, I was expecting a sporty interior. To be honest, the lack of a flat-bottom steering wheel is disappointing. Kia could fix that easily.
The overall simple layout is great. Aviation-inspired air vents add a nice touch. Big side bolsters on the seatbacks are another wise move. On the other hand, the seat bottom cushions look too flat. At least the backseat seems to be large.
We'll see how easy the onboard electronics are to use. If other modern Kias are any indication, which they probably are, they should be fairly user-friendly. Placing the infotainment screen at the top of the center stack is a safe move. I'm not sure why any automotive designers place them further down. An optional Harman/Kardon sound system includes 15 speakers and subwoofers under the front seats, if that's your thing.
Road-Holding
The real beauty of a car is under the skin. The Kia Stinger chassis is 55 percent high-strength steel. A MacPherson strut suspension up front and multi-link in the rear doesn't sound too revolutionary.
Dynamic Stability Damping Control lets drivers choose among five modes. Never before has Kia offered such a thing. It's absolutely essential for the segment. Thankfully, the steering system at least is a variable-ratio setup. Anything less would've been a huge letdown.
More Power
Two engine options are planned for the Kia Stinger. Both are still being developed, so final specs aren't available. First is a turbocharged 2.0-liter four-cylinder. It should put out about 255 horsepower and 260 lb.-ft. of torque, which is respectable. If you want more, the alternative is a twin-turbo 3.3-liter V-6 Lambda II. Right now, Kia's thinking it'll put out 365 horsepower and 376 lb.-ft. of torque. This engine should be good enough for a 5.1-second 0-60 time.
Mated to the engine is the same eight-speed automatic transmission already used in the K900. That's where the similarities with the luxury sedan end. A centrifugal pendulum absorber (CPA) torque converter is part of the setup – something you normally only see in race cars.
Rear-wheel drive is standard, which purists will like. A mechanical limited-slip rear differential is included, too. You can go for all-wheel drive, which uses dynamic torque vectoring control, a system that automatically hits individual brakes to keep you on course.
Thankfully, Kia didn't opt for bone-rattling 21-inch wheels for the Stinger. Four-banger models ride on 18-inch wheels, while the V-6 models get 19-inch wheels. Going with the bigger engine also means Brembo brakes, with four-piston front calipers.
Will Anyone Buy It?
There's some stiff competition in this market segment. The Stinger will be going up against the likes of the BMW 4 Series, Audi A4, Mercedes-Benz C-Class, Cadillac ATS, Infiniti Q50 and others. The Kia nameplate doesn't exactly command respect. Sadly, some people buy nameplates to impress others. That crowd won't go for the Kia Stinger.
Kia needs to really play up to enthusiasts, and there's a surefire way to do that: make an even hotter version. Rumor has it that's exactly what the Koreans are up to. Such a vehicle could be pumping out 400 horsepower, with high-performance tires, an aero kit, a stiffer suspension and,  maybe,  a flat-bottom steering wheel. Just a few thoughts, if anyone from Kia is reading this.
Will it happen? Four years ago, I would've laughed at the suggestion Kia would produce a GT. I guess anything's a possibility at this point.