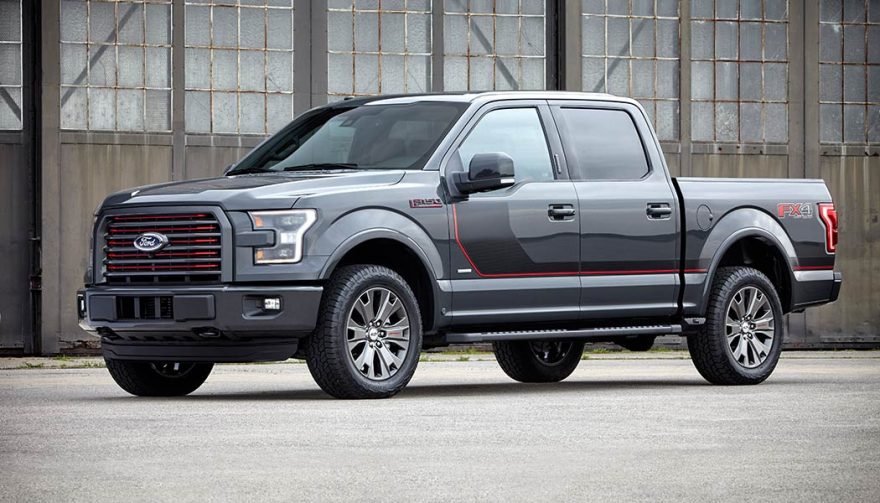 The 2016 Ford-150 is a one of the best least expensive pickupds
Top 5 Least Expensive Pickups for 2016
If you're looking for affordable trucks, well it depends on your definition of affordable. Trucks are hot and when an item is hot the price of that item usually heads north.
Surprisingly however, you can still get into a midsize pickup for a tad over $20,000. To put that in the proper context, some of these 4×4 Cowboy Cadillacs tricked out with every luxury item available can run $80,000 or more. But if you're just looking for affordable trucks and your wallet can stand $20,000 to $27,000 then we have some great suggestions for you.
We offer up one caveat; all the prices mentioned here are MSRP for base models excluding transportation charges, taxes, license and dealer prep so you can anticipate paying a couple of grand more.
If you're wondering, "should I get a truck?" This pickups may help you answer that question.
5. The 2016 Chevrolet Silverado 1500
We talk about affordable trucks but the full size Chevrolet Silverado 1500 might be the best value despite the fact it's the most expensive ride on our list. Newly refreshed for 2016 with an aggressive grille, the Silverado retains its base 285 horsepower 4.3L V6 and six speed automatic transmission that delivers 305 lb-ft of torque to the axels.
Standard features include air conditioning, 17″ steel wheels, cruise control, ABS and driveline traction control and StabiliTrak w/Proactive Roll Avoidance. For Apple fans you'll be glad to hear that the Silverado has jumped on the Apple CarPlay bandwagon.
A full size truck with plenty of power priced at $27,095.
4. The 2016 Ford F-150
Not much is new in 2016 for the iconic Ford F-150 but then 2015 was a good year for major upgrades. Ford's biggest bragging point is its decision to manufacture the cab and box out of high strength, lightweight aluminum alloy. Don't get a parking lot ding because aluminum bodywork is expensive. The weight savings that the aluminum brings increases the performance and agility of the truck not to mention a boost in its EPA ratings.
The XL comes standard with a 3.5L V6 rated at 282 horsepower and a six speed automatic transmission.
You can trick this ride out and spend nearly $60,000 for the top trim but the base XL model sells for $26,540.
3. The 2016 RAM 1500
Also a full size pickup, the RAM 1500 is pretty much unchanged for 2016. Although the full center console connectivity center and mobile device storage, introduced last year as an option, is now standard equipment.
The most distinctive feature of the RAM 1500 is its incredibly civilized ride and handling. Thanks to a coil spring rear suspension the road and ruts are smoothed out for a far more comfortable ride than the typical leaf-spring setup found in the competition. The base engine is a 3.6L V6 that pours out 305 horsepower managed by an 8 speed automatic transmission. Standard equipment includes air conditioning, ABS, 17″ steel wheels, driveline traction control, electronic stability and cruise control.
The RAM 1500 has a base price of $26,145. Definitely worthy of being included on our list of the most affordable trucks.
View on One Page