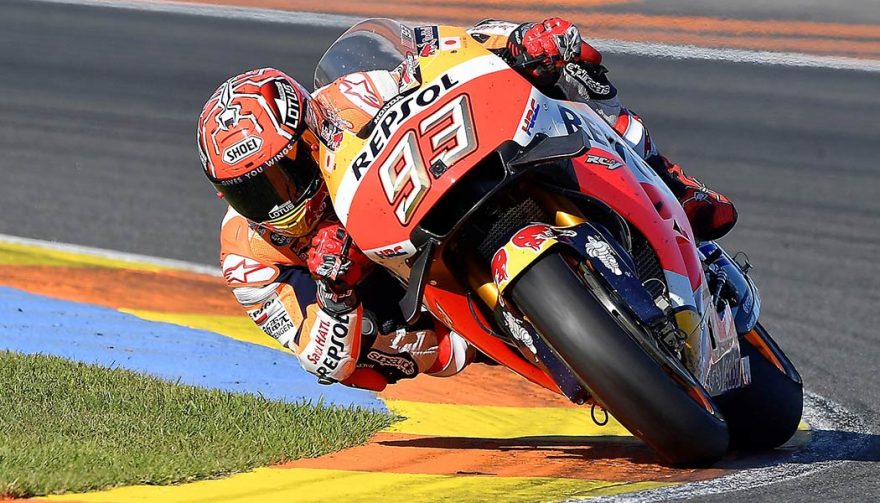 The Honda RC213V that Marc Marquez rode to the MotoGP title has a 1000cc V-4 liquid-cooled, four-stroke DOHC engine putting out over 240 hp.
Marc Marquez Scores Third MotoGP Title On A Honda
Marc Marquez rode his Repsol Honda RC213V to a victory at Twin Ring Motegi in Japan, scoring his fifth win of the season to secure his third MotoGP title in four years.
This gives Honda its 18th premier-class Rider's title on the company's 50th anniversary of its entrance into the 500cc/MotoGP class in 1966. His fellow Honda-riding champions include Freddie Spencer, Wayne Gardner, Eddie Lawson, Mick Doohan, Alex Crivillé, Valentino Rossi, Nicky Hayden and Casey Stoner. Honda has won a record total of 278 Grand Prix victories in this class.
The 23-year-old Spaniard's latest MotoGP World Championship makes him the youngest rider in the history of the sport to win five World Championships (125cc in 2010, Moto2 in 2012 and MotoGP in 2013, 2014 and 2016). He is also the youngest rider to have won three MotoGP titles.
MotoGP Title Drama With An Unexpected Twist
Marquez had gone into this race with Yamaha rivals Rossi and Jorge Lorenzo both within striking distance. He led into the first corner but Lorenzo squeezed past on the exit to lead the early laps. But by lap three Marquez was fully in the groove and upped his pace to overcome his fellow Spaniard the following lap. From there he never relinquished the lead.
First Rossi fell, without injury, but still Marquez stretched his lead over Lorenzo, now in second place. Finally Lorenzo slid off with five laps to go, also without injury. Both his rivals were out, meaning he would win the MotoGP title, so long as he stayed on. Marquez crossed the finish line 2.9 seconds in front of second-placed Andrea Dovizioso, who was riding a Ducati.
Marquez has had an amazing season. Not only has he won the MotoGP title, he is also the only rider across all three categories to have scored points in all 15 races so far. Quite an achievement!
Marquez stated after his win, "It's incredible! Before the race I didn't expect to be Champion, and I said that here it would be impossible. However, when I saw that Rossi was out of the race, I decided to push hard for the victory. I was riding my hardest, and when there were three laps to go, I read on my pit board that Lorenzo was also out. I'm very happy because it came at Motegi, Honda's home. Now we can just enjoy it and go into the last three races with maybe a more 'Marc Marquez' style."
Repsol Honda RC213V Specs
The Honda RC213V that Marc Marquez rode to the MotoGP title has a 1000cc V-4 liquid-cooled, four-stroke DOHC engine putting out over 240 hp. The engine is mounted in an aluminum twin-tube frame fitted with Ohlins front and rear suspension. Wheel size is 17-inch front and rear. Carbon fiber front brakes are provided by Brembo; for the rear disk and the front disk used under wet conditions, the RC213V uses Yutaka steel brake disks. Tires are supplied by Michelin, the exclusive supplier to the MotoGP series. Fuel capacity is 5.8 gallons. The lightweight carbon fiber bodywork makes the RC213V more aerodynamic, while still allowing it to be leaned over nearly ninety degrees!
Check Out MotoGP World Championship Racing!
In this age of spec racing, restrictive regulations, and ever-increasing standardization for the sake of cost-control, the MotoGP World Championship remains one of the last series that offers intense, heart-pounding competition between expert riders who put it all out there for us to see in every single race. If you have yet to try it, watch a MotoGP race and be convinced. It's the real deal!