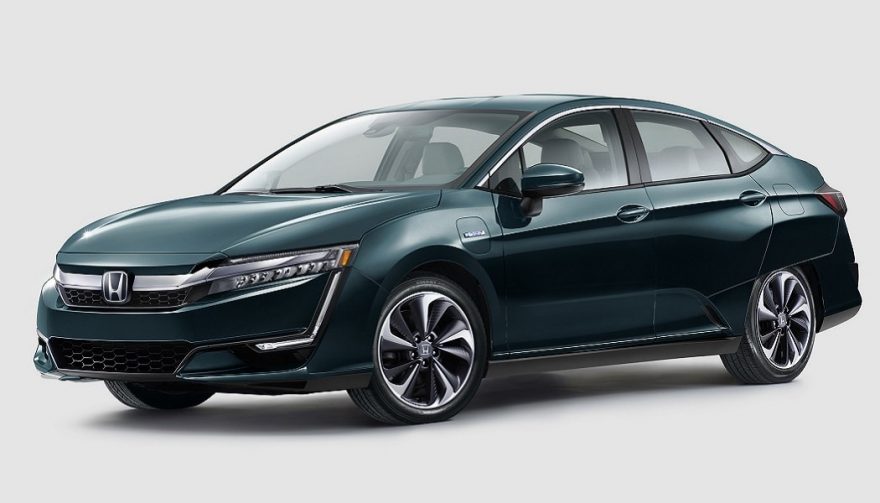 The Honda Clarity Plug-in Hybrid is one of three electrified vehicles under the Clarity nameplate.
Honda Clarity: A Whole Family of New Green Cars
The Honda Clarity is going to be a whole family of green cars. Along with the already-available Honda Clarity Fuel Cell, the Japanese automaker will produce the all-new Clarity Plug-in Hybrid and Clarity Electric.
"The Honda Clarity is aimed at accelerating the deployment of advanced electrified powertrain technology and bringing electrified vehicles further into the mainstream," Jeff Conrad, senior vice president of American Honda Motor Co., Inc., said. He was speaking at the company's press conference during the New York International Car Show.
Each Clarity variety will showcase Honda's new styling for electrified products. However, while under the Clarity umbrella each version will have slightly differentiated front styling.
But it's their different powertrains that really set them apart.
Honda Clarity Plug-in Electric
Honda anticipates the Clarity Plug-in Electric will have an all-electric driving range of 42 miles, which would be the farthest among midsize plug-in hybrids. Combined with the 1.5L Atkinson 4-cylinder engine on longer trips, the Honda Clarity Plug-in Electric has an anticipated overall driving range which will top 330 miles.
Electromotive power comes from a 181-horsepower electric motor which can produce 232 lb-ft of torque. The recharge time is 2.5 hours at 240 volts.
Honda anticipates an EPA fuel economy rating of 105 mgpe (miles per gallon of gasoline-equivalent) combined. That sort of rating would put it in the running for top of the class.
The Clarity Plug-in Hybrid features three driving modes: normal, econ  and sport. And it will be available in two trims, standard and Touring.
Honda Clarity Electric
The full-electric Honda Clarity variant will be powered by a 161-horsepower electric motor producing 221 lb-ft of torque. It has an anticipated fuel economy rating of 111 mpge combined.
A full charge takes just over three hours at 240 volts. However, if the driver is using DC fast charging with the SAE Combined Charging System, only 30 minutes is needed to achieve an 80 percent charge.
As with the Plug-in Hybrid, the Honda Clarity Electric will be available later in two trims. It will start hitting the streets later this year in California and Oregon.
Honda Clarity Fuel Cell
The Honda Clarity Fuel Cell launched in December 2016, but only in California. The Golden State has a growing network of consumer-friendly hydrogen fueling stations. About 100 have been sold, so it's not going to be on any list of bestselling electric cars.
Compared to its predecessor, the Honda FCX Clarity, the new Honda Clarity Fuel Cell has a fuel cell stack that is 33 percent more compact. It also features a 60 percent increase in power density.
The Honda Clarity Fuel Cell has a lengthy driving range. At 366 miles, its the highest EPA driving range rating for any zero-emission vehicle in America. The Clarity Fuel Cell has an EPA fuel economy rating of 68 mgpe combined.
Electric Targets
The Clarity's "3-in-1" platform strategy will help Honda stay competitive in different markets with varying degrees of electrified infrastructure.
Honda says the Clarity series will contribute to an anticipated five-fold increase in Honda's U.S. electrified vehicles sales over the next four years. And by 2030, they want two-thirds of their global auto sales coming from some form of electric vehicles.
That's certainly an ambitious goal. However, it isn't implausible if you look at the continuous surge in electric car sales.
And other company's are putting up big money to boost their arsenal of electric cars, as well. So Honda isn't alone in their efforts.