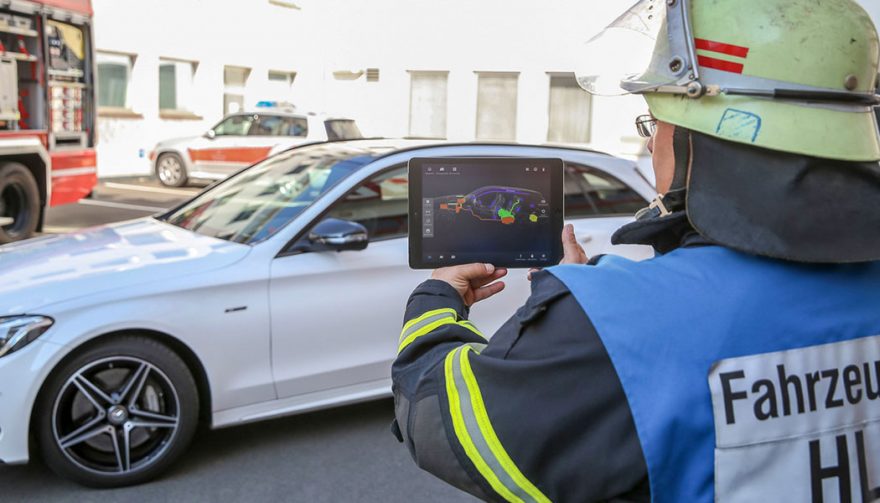 Mercedes has created a new app to help rescurers aid trapped passengers.
Mercedes Announces a Cool New App for First Responders
Mercedes-Benz has announced a new Rescue Assist App, and it's pretty awesome. Instead of just being another app that lets people lock their car doors and honk the horn from halfway around the world, or check the fuel tank level, this one could actually save lives. It's something other automakers should seriously copy.
The Problem with Technology
Technology can be great, but it also presents new problems. Alternative fuel systems in cars, including electric motors, batteries, fuel cells, etc. bring with them a number of changes to how cars are laid out. Most people don't think what it's like for a fire fighter or police officer to deal with these innovations after a car wreck.
People could be trapped inside these cutting-edge vehicles, needing to be extracted quickly as they bleed out, their breathing decreases or they writhe in excruciating pain. In those moments, every second can count, but first responders might waste time trying to figure out where they can and can't cut into the vehicle or use the jaws of life. After all, having a firefighter or two get electrocuted in a rescue effort isn't what anyone wants.
With so many different on-board technologies on new vehicles, it's difficult for anyone, even a trained automotive engineer, to know how to safely deal with each one.
Many Hazards
There are far more hazards for first responders than you probably realize. Most people immediately think of the dangers of electrocution with electric vehicles. While Teslas and some other models have an automatic disconnect for the batteries when sensors detect the car has crashed, others might not. Even with the batteries disconnected, slicing into one while trying to extract someone could turn into a horribly bad situation.
Speaking of batteries, some gasoline- and diesel-powered cars might have a battery in a location other than under the hood. It's an unexpected surprise first responders probably dread.
All modern cars have airbags. Automakers are putting them all over the place: in the sides of front and rear seats, the headliners, roof pillars, dashboards, center stacks, etc. In some crashes, not all of the airbags will go off, thanks to malfunctions, or the sensors not triggering certain ones deemed unnecessary for the situation. Cutting into or otherwise disturbing an airbag that hasn't gone off in a crash would be like detonating a little bomb.
There are also fuel lines inside cars, something fire fighters and others have been contending with for some time. Thanks to the flammable nature of different fuels, including gasoline, diesel and natural gas, avoiding these hazards is a really good idea.
Plenty of other hidden hazards make extracting a person from a crashed vehicle dangerous.
Technology to the Rescue
In a twist of what you could call happy irony, Mercedes-Benz has decided to use technology to combat a problem caused by technology.
All a rescuer has to do is download the Rescue Assist App onto their tablet or smartphone, and they have at their fingertips a wealth of life-saving info. Rescue cards for each passenger vehicle Mercedes-Benz makes, including its vans and even the Smart line, plus some Fusos and commercial trucks.
You May Also Enjoy:
Smart Cabrio Is A Budget 911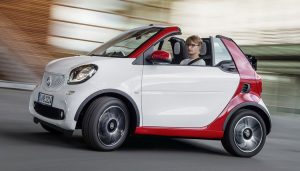 Related Search Topics (Ads)
One of the coolest parts of this app is that the info doesn't just come as a two-dimensional picture. Fire fighters and other first responders can actually virtually walk around each vehicle in a three-dimensional picture. Just like other pictures on a mobile device, they can pinch to enlarge the view, allowing them to see greater detail in an area where they want to make a cut. The images can also be rotated 360 degrees, allowing for a view from any direction.
Even better, if first responders have a way to view augmented reality imagery, they can see the info projected onto the actual vehicle. This is especially helpful if a vehicle doesn't look much like the regular picture, thanks to damage to the exterior panels. Photo-realistic images of different components under the skin allow rescuers to see what they're getting into before making any cuts, so they can quickly and accurately plan an extraction.
Connectivity Issues
One of the big problems with cloud-based apps is that you don't always have a good data connection. It might be a difficult concept for programmers who sit in the middle of a bustling metropolis they hardly ever leave, but some people live in areas where geography and other factors mean there are dead spots without any data or cell service.
First responders could be called to an accident pretty much anywhere, so at least some of the time they might not have access to a data connection. Mercedes-Benz thought of this, making info from the Rescue Assist App accessible without any connectivity.
Eliminating Human Error
Instead of relying on the automotive knowledge of first responders, expecting them to correctly identify what could be an incredibly mangled vehicle at the scene of an accident, Mercedes-Benz has come up with a clever way to speed up the proper identification of each model.
A QR code is attached in an easy-to-spot area on each vehicle's B-pillars. Another one is located inside the fuel filler cap, just in case both B-pillars on the vehicle are too damaged to read the QR code. Scanning the code automatically pulls up the rescue card for that specific model, eliminating human error in the whole process.
While this is a great solution for newer Mercedes, people who own older models might think they just have to take their chances in an accident. Fortunately, that's actually not true. Thinking of pretty much everything, Mercedes-Benz is offering QR codes for older vehicles, with a dealership service department attaching them. For now, this is limited to cars built since 1990, or vans built since 1996.
Worldwide Coverage
Thankfully, the Mercedes-Benz Rescue Assist App isn't a Europe-only offering. It's available all around the world and comes in 24 different languages. For now, the app is limited to iOS and Android devices, which covers just about everything out there these days.
The best part is the app doesn't cost a thing.