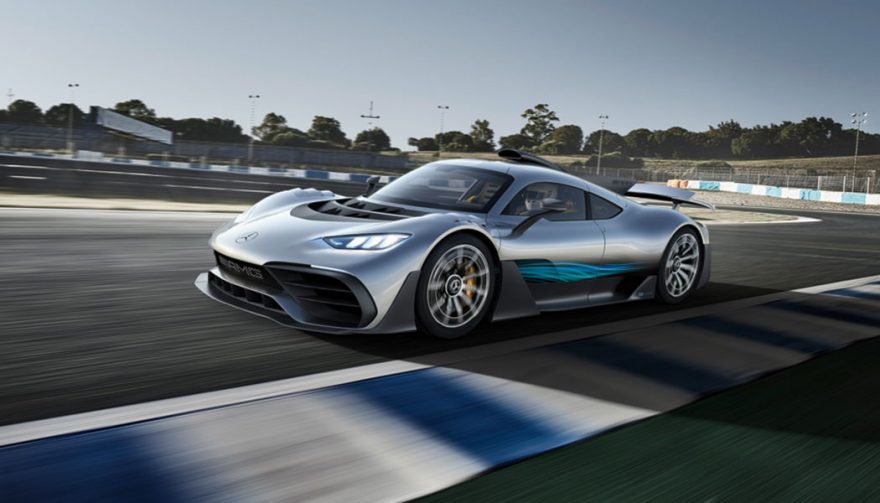 The Mercedes-AMG Project One utilizes a combination four electric motors and one turbocharged engine
Mercedes-AMG Project One Is Out and It's Mind-Blowing
The Mercedes-AMG Project One finally made its world debut. Mercedes unveiled the show car Monday ahead of the opening day at the Frankfurt auto show in Germany.
The two-seater "supersports" show car brings full-fledged Formula 1 hybrid technology from the track to the road. And that tech is staggering. The high-performance hybrid produces over 1,000 horsepower, and Project ONE has tops speeds over 217 mph.
Oh, and it can hit 124 mph in less than six seconds. That would be 200 km using metric measurements, as they do in Germany.
The ambitious project is the result of close collaboration between Formula 1 experts at Mercedes-AMG High Performance Powertrains and with the Mercedes-AMG Petronas Motorsport Formula 1 team.
Mercedes-AMG Project One Powertrain
The Formula 1 component of the Mercedes-AMG Project One is the high-performance plug-in hybrid drive system. It consists of one hybrid, turbocharged combustion engine and four other electric motors.
Further, each of the four electric motors can recapture energy that's stored in a lithium-ion battery.
Concerning the electric motors, one is integrated to the turbocharger. The other is installed directly on the combustion engine with a link to the crankcase. The last two electric motors drive the front wheels.
The 1.6-liter V6 hybrid gas engine with direct injection and electrically assisted single turbocharging comes straight from the Mercedes-AMG Petronas Formula 1 racing car.
Optimum Performance and Efficiency
An extremely complex network of integrated systems work together to ensure that the driver is always getting the optimum combination of performance and efficiency.
If they so wanted, the driver could opt for all-electric driving, with the two front electric motors powering the car. If the driver presses the accelerator more firmly, the V6 kicks in. When the driver pulls their foot off the accelerator to let the car coast, the system switches to electric drive at the front axle.
Just Your Everyday Hypercar
Mercedes-AMG stresses that the Project One can serve everyday purposes. To that end, developers installed small storage compartments behind each seat. What's more, air conditioning and power windows are standard equipment.
Of course, a $2.7 million price tag is anything but everyday or standard. Not that it matters. Mercedes-AMG only plans to build 275 of these supersport cars, and they've already all been claimed.
The lucky Mercedes-AMG Project One owners should begin receiving their new cars late next year. Just around the same time as the Aston Martin Valkyrie.