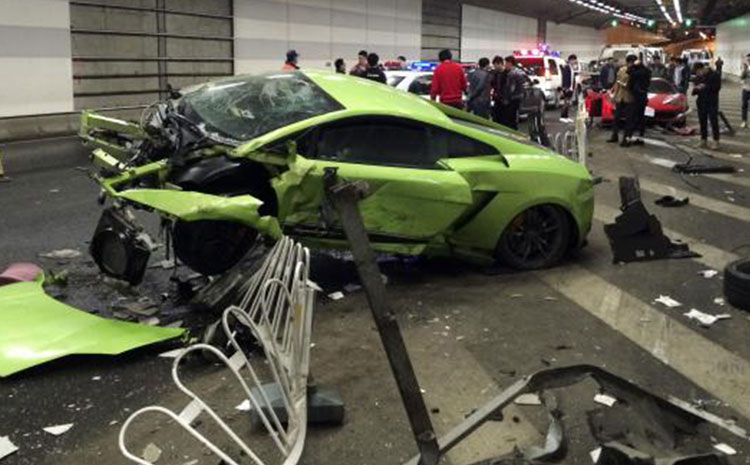 A fantasy world quickly becomes a nightmare when a supercar crashes.
8 Mind-Bending Supercar Crashes
It's a fantasy world where precision engineering and drop-dead gorgeous design collide. The supercar realm is dominated by just a handful of names that include Ferrari, Lamborghini, and Porsche, along with a select few others. That fantasy world quickly becomes a nightmare when a supercar crashes, however.
Well, nightmare may not be quite the right word for it. Maybe a better term would be train wreck. It's a situation where, despite the obvious damage and destruction that could cost hundreds of thousands of dollars, you just can't seem to tear your eyes away.
Unfortunately, just because your car can drive fast doesn't mean you have the skill to handle it. That's often the case in supercar crashes – a show-off decides he's got something to prove and ends up pushing the car beyond what his skill can control.
While there are hundreds to choose from, there are some supercar crashes that are simply jaw-dropping. Here are 10 of the most mind-bending supercar crashes you'll ever see.
Budapest LaFerrari Crash
Late last year, a driver in Budapest decided that he wasn't satisfied trailing another vehicle in traffic. Instead, he thought it to be a great idea to juice it around a slower-moving car and speed past. The problem with his plan is that Budapest roads aren't perfect. He lost traction with his $1.4 million car and the front end dove to the right side… into parked cars.
The image may not look like anything more than an unfortunate fender-bender but rest assured, it's probably over $200,000 in damage to the Italian-built supercar.
London Lamborghini Aventador Smash
It doesn't pay to drive irresponsibly on tight streets, which this Aventador driver learns the hard way. Zipping down Sloan Street, an unsuspecting driver turns their compact car onto the roadway and the speeding Lambo doesn't have room to get by without a crash.
It looks like the driver nearly avoids contact, but just enough of a touch sends the supercar airborne, resulting in massive damage to the Aventador.
Rowan Atkinson McLaren F1
It seems not every massive collision in a McLaren damns it to the scrapyard. Rowan Atkinson, the actor made famous by his role as Mr. Bean, crashed his McLaren F1 twice while he owned it. The second collision cost his insurer millions – literally – to repair after the car was nearly torn in two. Rowan Atkinson sold the twice-smashed McLaren F1 for the tidy sum of $12 million USD in 2015 despite the crash history. I hope he bought a bumper car to replace it.
Ferrari 458 Italia Race Crash
In 2013, a driver lost control of his Ferrari 458 Italia at a race in Suzuka, Japan. The supercar crashed into a barrier by the pits and is utterly vaporized. Bits of its carbon fiber body rained down while one of the tires skitters across the track. The passenger cell comes to a rest on its roof a short distance away.
It doesn't look like a crash anyone could survive, but the driver makes it after a stint in hospital. A track official nearly loses his life in the crash also but manages to dive out of the way in the nick of time and suffers just minor injuries.
Bugatti Veyron Makes a Splash
One of the first owners of a Bugatti in the United States made news with his 1,200-horsepower supercar. Crashes like this don't happen every day and, unfortunately for the driver, his "accident" was caught on camera.
Shortly after insuring his new car for almost double its original selling price, he veered off the road and ended up in a lake. The engine took on water and the car was a write-off. He claimed either a pelican distracted him or his cell phone but the video doesn't corroborate his story. He was prosecuted for fraud and his $2.2-million insurance claim will likely never be settled.
Drunk Driver Crashes Koenigsegg Agera R
In China, a 26-year-old drunk driver was detained by police after obliterating his Koenigsegg Agera R. He ran into a concrete sidewalk barrier at high speed, causing extreme damage to the Swedish-built supercar. After the accident, the driver reportedly sat in the car for two hours before police arrested him, confirming his guilt.
The Koenigsegg Agera R has 1,140 horsepower and sells for $4 million US. What is it worth after the collision? Not that much.
2013 Viper Crash Kills Engineer
One of the top Chrysler engineers died in the horrific crash a few years ago, when the red 2013 Dodge Viper SRT lost control and skidded across the highway. The driver had just accelerated hard off the merge lane and couldn't keep the 640-horsepower car on the road. He slid into the grassy section…but that unfortunately held three steel cables to prevent cars from entering the oncoming lanes.
The steel cables cut into the car, likely causing the driver's massive injuries.
Ferrari Vs. Lamborghini in Beijing
Two street racers are without their cars after the December crash in a Beijing tunnel. Hours before the release of the film Furious 7, the two supercars became entangled with each other at high speed. The drivers were 20 and 21 years of age, so inexperience is definitely a contributor to the accident.