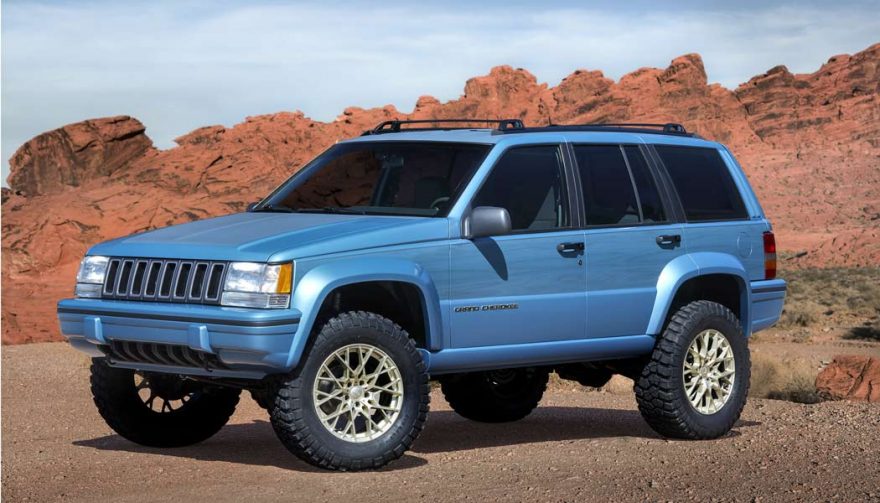 The Jeep Grand One is a 1993 Jeep Grand Cherokee ZJ
Jeep Rolls Out Seven Concepts for 2017 Easter Safari
Seven new Jeep concept vehicles will make their debut at the 2017 Easter Safari. Each year the local Jeep club in Moab, Utah, host the popular off-roading extravaganza.
Jeep and Mopar participate in the event by giving everyone a special treat. It rolls out several new Jeep concept vehicles. These aren't just pretty things that sit on pedestals and that's it. No, employees take them out on the trails, showing they're fully functional off-road beasts.
It's always a surprise to see how many and what kinds of concepts Jeep and Mopar trot out. They often preview future models, or optional equipment. Alas, they didn't trot out the new Jeep pickup truck. But this year we get seven glorious concepts, one of which is more of a resto-mod than a true concept vehicle.
Grand One
About that resto-mod, it's a 1993 Jeep Grand Cherokee ZJ. Jeep did this to celebrate the 25th anniversary of this wildly popular SUV. It mixes the classic ruggedness of the original, plus some modern enhancements.
On the outside, you get a nice blue paint job. If you look closely, there's a faint wood grain treatment hiding in there. It's kind of a cool effect.
The Grand One rides on some pretty stylish 18-inch lace-style wheels. You can't get these anywhere, because they're a custom build. Wrapped around those are 33-inch BFGoodrich Mud-Terrain KM2 tires. To accommodate all that, the rig uses a 2-inch suspension lift and high-clearance fender flares.
Both axles come with selectable locking differentials, so this Jeep can take on Moab trails with grace. Trimmed front and rear fascias make for better approach and departure angles. Jeep extended the wheelbase, too, for reasons I'm not too clear on at this point.
Most of the interior is a restored version of the original. You do get a bed liner on the floor, instead of carpeting, which is completely appropriate. Jeep also added a retro car phone, because why not?
If you like this one, you'll definitely like the 2017 Jeep Grand Cherokee Trailhawk.
Safari
One of the new Jeep concept vehicles is the Safari. As the name suggests, it would be ideal for taking on safaris like ones people do in Africa. It's already generating buzz because the doors and roof are see-through, and people think that's neat.
The roof is a hard, translucent material, with an aluminum rack. A drone is housed in the rack, so if you want to check out dangerous animals without venturing closer, you can.
As for the "windoors" or see-through doors, they're a combination of aluminum and a clear vinyl. If you can't tell from the picture, they're a clamshell design, like what Honda did for the Element. To keep everyone from sweating to death, zipper openings let fresh air flow into the cabin.
Instead of a rear bench, Jeep installed two bucket seats in the back. They're both turned outward, so people back there can easily gawk at any animals outside.
This Safari packs front and rear Dana 44 axles with selectable differential lockers, plus a 2-inch lift. It rides on 35-inch BFGoodrich Mud-Terrain MK2 tires, wrapped around 18-inch custom wheels. The wheelbase is shortened for better trail capabilities than regular Unlimited models. Full-length skid plates, steel bumpers, a custom cold air intake, onboard air system and upgraded brakes are all packed in, too.
View on One Page
You May Also Enjoy:
AWD vs 4×4: What Makes Sense for You?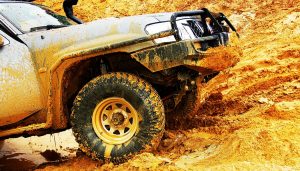 Related Search Topics (Ads)