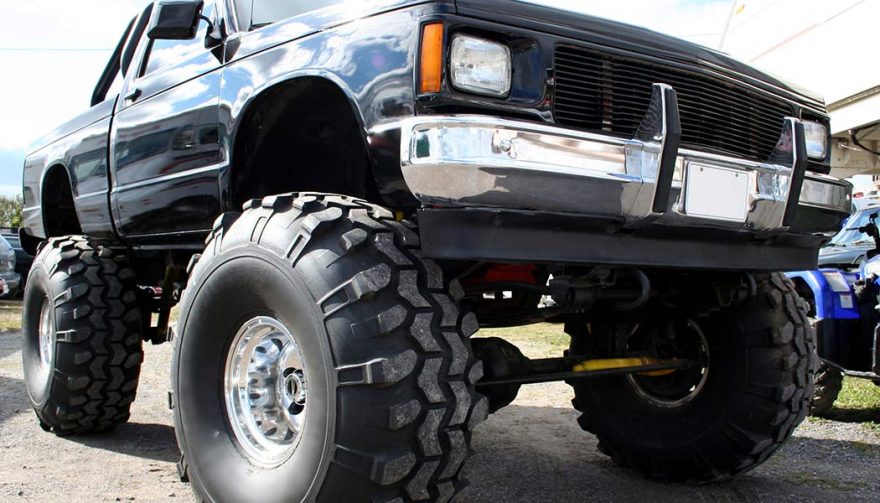 Lifts are eye-catching pickup truck modifications.
Popular Pickup Truck Mods to Enhance Your Pickup
Looking for the most popular pickup truck mods to make your truck stand out? The North American truck market is blistering. Millions of the most popular pickup trucks are sold every year in the US with popular models like the Ford F-150, Chevrolet Silverado, and Ram 1500 taking the top three spots time and time again.
With that many pickup trucks sold every year, how does yours differ from the rest? Have you mistaken someone else's truck for your own in the supermarket parking lot? Do you often see more than one of the same model sitting at the same stop light?
You've got to personalize your truck. Make it your own. Make it special. You want your truck to be the one to draw "oohs" and "aahs" from onlookers as you cruise down the street. You want to be the one to take off from a stoplight faster than the sports car beside you, or catch more attention trying!
You Need Pickup Truck Mods
Almost as massive as the truck sales industry is the truck accessory industry. Whatever you can dream up is available, or can be for the right price. You can make your truck more powerful, taller, lower, louder, and/or brighter. For pickup truck mods, the only limit is your wallet.
Jack It Sky High
Your truck is bound to draw a few gazes if it's lifted. There are options for every budget when it comes to lifting your truck. You can choose adjustable ride height coil-over shock absorbers, re-arc your leaf springs, install air bag suspension, or insert spacers under the body to lift it from the frame. You can lift your truck anywhere from an inch to six or even eight inches without major mods from suppliers such as Ride Tech and Pro Comp Suspension. Whatever option or combination of options you choose, your truck will appear higher, you can install taller tires, and, with suspension lifts, you can increase your ground clearance for off-road capabilities. The added bonus? You can see your truck above everyone else's in the parking lot.
Oversize your tires
Different tires can completely change the attitude of your truck, and that's exactly what you want when you look for oversized wheels and tires. You want bold, sharp-looking wheels like you'll find from Fuel Offroad. Then, you'll want to match those wheels up to an aggressive, oversized tire with massive lugs like those on the Nitto Mud Grappler. Look at sizes like a 33 up to 37-inch tire to stand out from the others. You can surely expect increased road noise from the aggressive tread design but there's no mistaking the bold look and increased off-road ability your truck will have. Upgrading your tires is a pickup truck mod with form and function.
Light up the night sky
In case you missed it, LED lights are the next big thing in vehicle accessories, and that goes doubly for trucks. You can replace your headlight assemblies for euro-styled Recon headlights, smoked LED taillights, or accent your interior by changing those boring incandescent bulbs out for LED colored lights. If you want to get even more lit up, throw an LED light bar on the roof or on the grille with a million-plus candlepower so you can see every obstacle along your path. LED light bars can be used on the backside too, with turn signal, brake light, and reverse light functions. Heck, throw one on the tailgate lip while you're at it.
Lower it to the floor
There are those truck guys who don't believe a lowered truck can still be called a truck, but there's something about a pickup slammed to the ground. Typically air bag suspension and coil-over springs are what allow a truck to be lowered a mere inch or two from the ground, lending a sleek, sexy look to your ride. You won't be taking your lowered truck off-roading, but you'll achieve that personalized look that you've been searching for.
Now you see it
And now you don't with a camo wrap. Made popular by those redneck guys with beards, every pickup truck can be converted into a swamp thing as easily as installing stickers. Camo wraps can be bought for virtually every model and trim level of truck and go on easily without damaging your paint or trim. You can cover your truck top to bottom, just the rockers, or little accents to suit your taste. If you get sick of the look or need to replace a damaged section, it's easy to do because a camo wrap is just a large vinyl sticker. Check out the patterns available for your truck from Mossy Oak Graphics.
Give your truck some growl
It used to be that aftermarket exhaust components were either for show, for noise, or for a cheap replacement for a damaged part. Now, aftermarket exhaust can do it all. You can get an inexpensive exhaust system for any car, truck, SUV, or motorcycle from many of the popular names in the industry including MBRP and Flowmaster. From straight pipes to cherry bombs and dual exhaust to high-flow high-performance pipes, you can achieve a raspy snarl from an aftermarket exhaust system while achieving better performance and efficiency altogether.
Chips are more than snack food
A programmer, AKA "chip", is a device you can plug into your truck to help you change the way it performs. Every programmer operates a little differently and the functions that are controlled widely vary, but in some cases you can achieve hundreds more horsepower without doing anything more than changing the programming. Programmers such as BullyDog are particularly helpful for turbocharged diesel engines where you can increase your turbo boost, but be warned, it's possible to overtune your engine and blow something.
Flare it out
Okay, so you've got your fancy new wheels and tires on your truck, but they're wider than your wheel wells. You can get ticketed if your wheels protrude out past your fenders, but there's a solution for that. Install fender flares to keep your wild wheels street legal. You can get bolt-on, easy-install fender flares from top makers such as Bushwacker that are even color-coded to your specific truck's paint job. It doesn't get any easier without detracting from your truck's original look. Fender flares are one of the most popular pickup truck mods.