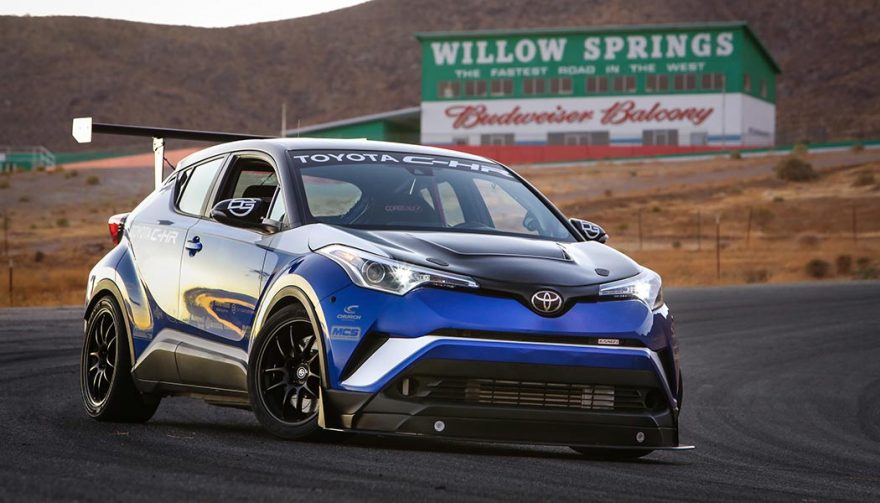 The R-Tuned Toyota C-HR puts out 600 horsepower
10 of the Wildest Custom Vehicles from SEMA
Some of the wildest concept cars come out of SEMA every year. Some of the vehicles in attendance this year are so far from stock, you'll never recognize them.
If you didn't make it Las Vegas this year for this year's SEMA show, here are 10 of the concepts and modified cars to show up at SEMA 2017.
Toyota C-HR R-Tuned
Toyota took the ho-hum but hot-selling C-HR to SEMA. But they made a few small changes for the R-Tuned version. Like a new engine, transmission, and turbo. To the tune of 600 horsepower, a five-speed manual and massive 275 width Toyo RR competition tires.
The suspension comes from Motion Control, and the fastest CUV has a stripped interior with a roll cage. It's faster around Willow Springs Raceway than a Porsche 911 GT3 RS. And it's still front wheel drive.
BMW M3 30 Years American
BMW has been bringing the M3 to the US since 1987. They want to celebrate nearly 30 years of M-powering drivers with the premier compact sports sedan. So here's the 2018 BMW M3 30 Years American edition.
But, um, there's only going to be one. It's a six-speed M3 Competition Pack with frozen red paint and special light wheels. There's red, white and blue on the interior too. Thirty years has seen a lot of changes from the sports sedan that started as a box-flared coupe and is now only a sleek sedan.
Icon 4×4 FJ
Icon 4×4 is known for taking beat-up classics and turning them into modern gems. Like this remake of a 1960s-era Toyota Land Cruiser.
This FJ combines a full concours-level restoration with modern upgrades. The exterior is powdercoated aluminum, the badges and wheels are all new, but look original. The seats are leather that's embossed to look like elephant hide. The dash buttons are aluminum instead of plastic, with upgraded gauges. It looks like it should be in a museum.
Hennessey Velociraptor 6×6
Viper-tuner and hypercar-builder Hennessey Performance is bringing the ultimate Ford Raptor to SEMA this year. It has six wheels! Yup, forget a dually, Hennessey has added an extra axle, bringing the total to three. It also has locking differentials in all of those axles.
The suspension comes from Fox and the tires are off-road ready. And if the stock EcoBoost V6 isn't enough to turn all those tires, Hennessey will boost the Velociraptor 6×6 to over 600 horsepower.
Hyundai HyperEconiq Ioniq
Hyundai wanted to show that hybrids are cool too. So what is it bringing to SEMA? The HyperEconiq Ioniq, in partnership with Bisimoto.
The two built a 1,000-horsepower-plus Santa Fe last year, but this year's target was mpg. The Ioniq's body kit, including those rear spats, are said to deliver over 80 mpg. Other changes include a lowered suspension and carbon-fiber wheels.
Chevy Silverado 3500 NHRA Safety Safari
The NHRA Safety Safari has been working to improve the safety of drag races since the 1950s. Chevrolet's latest concept is helping them do that. It's the Chevy Silverado 3500 NHRA Safety Safari Concept.
The massive diesel pickup has on-board fire suppression equipment including a hose reel and an 80-gallon tank, emergency lighting, cleanup gear including shovels, brooms, oil absorber, and a car dolly. It makes going faster safer.
RTR F-150 Muscle Truck
The RTR F-150 Muscle Truck is the truck that the company wants to fly. No, really. RTR vehicles come from drifter Vaughn Gittin Jr., and their press release reads that "the RTR skid plate ensures the vehicle is protected during off-road adventures and occasional flying." Oh my.
The modified truck has a 5.0-liter V8 that makes 600 horsepower, and an upgraded long-travel suspension for off-road fun.
Audi TT Clubsport
Audi brought a special TT to the show. The TT Clubsport turbo is inspired by the Audi 90 IMSA GTO race car from the 1980s.
The widebody kit takes the TT's silhouette to the extreme with Quattro-style fenders. It's 5.5-inch wider than the stock car. And the 2.5-liter five-cylinder makes 600 horsepower.
Gemballa GT Concept
The Gemballa GT Concept is a Porsche 911 turbo with a twist. Lots and lots of boost crammed into the car's 3.8-liter inline six. Enough to push out an incredible 828 horsepower and allow a top speed of 224 mph.
The GT Concept has a carbon-fibre widebody kit to leave room for enough rubber to put some of that power down to the pavement.
Roush Mustang 729
Ford modifier Roush Performance has built some amazing Mustangs over the years. This might be one of the real greats.
The Mustang 729 gets a widebody kit with a carbon front splitter and rear diffuser. The wheels are from Vossen, and the suspension is a Roush three-way adjustable coilover suspension system. The 729 in the name comes from the power level. The supercharged 5.0-liter V8 makes 729 horsepower.
You May Also Enjoy:
Ford is Bringing These Cool Trucks to SEMA 2018